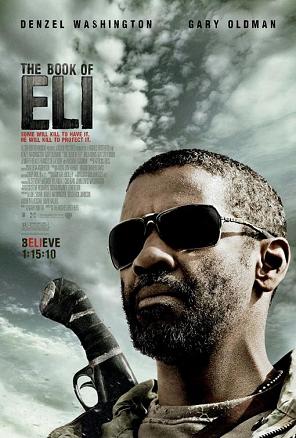 The Book of Eli is rated R for adult content, profanity, images of rape, and excessive violence. It also, rather startlingly, has an overt, fairly profound Christian theme.
So is the Book of Eli a "Christian film"?
That question — and the film — illustrates the ambiguity of the concept of "Christian" anything. Especially Christian art.
Many of the reviewers of the film illustrate the conundrum Christians have created for themselves. On the one hand, we demand clear biblical themes and references. The Book of Eli has these. But on the other hand, we demand sanitized, family friendly fare. And this is where the film falls short. Way short.
During its pre-screening, one reviewer noted that "'The Book of Eli' contains just as much (if not more) Christian imagery as 'The Chronicles of Narnia.'" Nevertheless they asked, Will Christian Audience's Embrace Denzel's 'Book of Eli'?
"I'm really going to be interested to see how this movie plays with Christians," says Paul Asay, associate editor of Focus on the Family's Plugged In, an entertainment site for evangelical Christians. "My guess is that evangelical leaders will have a difficult time fully embracing the film, but a lot of actual evangelicals will go."
The question was, "Will true believers rally around a violent, hard-R movie like 'The Book of Eli' — even if it heavily promotes Christian themes?"
New York Post film critic Kyle Smith, in his review Onward Christian Soldier, the film as an "overtly, unabashedly Christian one."
"The Book of Eli" is not only a well-done action picture but an overtly, unabashedly Christian one in which Denzel Washington plays a soldier of God. He's on a divinely-inspired quest — yes, a literal mission from God — to take The Book to the West as a swarm of wrongdoers led by Gary Oldman try to stop him.
But even though Smith would go on to call 'The Book of Eli' a "Christian blockbuster," the problem is the film's excessive gore, dismemberment, rape, blood splatter, and the standard R-rated language. Both body count and cussword count have kept believers from going "all in" on "Eli."
In fact, not everyone was thrilled about meshing violence with the film's religious content, leading one columnist ask, Is the Book of Eli anti-Christian?
Devout filmgoers will soon realize that "the brand of Christianity on display in 'Eli' is as warped as they come," says S.E. Cupp in the New York Daily News. Washington's character is a "crusader" who defends the Bible by "beheading, stabbing, shooting and head-butting" anyone who gets in his way. Only "violent, fundamentalist" Christians will relate to this "Hollywood caricature." (bold mine)

In i09's interview with the Hughes brothers, the directors admitted reluctance about "the religious stuff or the spiritual stuff" in the script, and were concerned to make sure the film did not come off as "preachy."  But when the interviewer suggests that Eli "walks the line of being an evangelical film," the directors downplayed any connection. It was Denzel Washington, a professing Christian, who sold the story. One Christian review site even described Washington as "protecting" the film the same way his character protected the Book.
"Denzel by nature is a very religious, spiritual man," said [Director] Albert Hughes, "and he makes no secret of that. He brought all that to the project and helped us with it, because we're not exactly the most dedicated Bible readers in the world."

"I spent a lot of time going through the Bible to find passages that Eli could quote at appropriate moments," said screenwriter Gary Whitta. "Denzel found a bunch as well because he's a Christian man. He'd come into script meetings with the script on one hand and the Bible in the other. He found all these parallels, and had Post-it™ notes all over the place because he'd been up all night finding these things."
Apparently, the script and the passion Denzel Washington brought to the project, left a mark on the directors.
"There's a scene where Gary Oldman's character makes a statement that the Bible isn't just a book, it's a weapon, and that made me go 'Whoa!'" said Allen Hughes. "The whole movie leading up to that point had Eli reciting Scripture, and you knew he was a man of the Bible, a man of faith. But when you hear this other character say that, I thought, 'This is deep. It's about something, and not just blowing stuff up.'"
Still, it's hard to get past all the "blowing stuff up."
And that's the dilemma many Christian filmgoers seem to have with "Eli." The Associated Baptist Press review of the film uses this Christian reviewer as an example:
The movie's hard edge may give some religious moviegoers pause. Angela Walker, director of producer relations for ChristianCinema.com, wrote that she pondered the movie's objectionable content for a month after seeing an advance screening before deciding the film's spiritual themes were redeeming qualities.
"Personally, I want to support filmmakers who explore questions of faith in their films," she wrote. "For me, choosing to see this film is casting a vote for Hollywood filmmakers to keep making films about faith. It is telling them I will buy tickets to films they create about topics I'm interested in."
I concur with Ms. Walker's conclusion.
When I first saw The Book of Eli, I liked it. Only mildly. I thought the violence was way too excessive. But the twist ending and the biblical theme won me over. Plus, "I [too] want to support filmmakers who explore questions of faith in their films."
So is "The Book of Eli" a "Christian film?"
While Focus on the Family's Plugged In review counts cusswords —
More than a dozen f-words and half-a-dozen s-words. God's name is paired with "d??n." "B??ch," "b??tard" and "h???" are said.
the reviewer is forced to concede:
The Book of Eli is, perhaps, the most explicitly Christian film I've seen come out of the secular film industry since The Passion of the Christ. Indeed, it's something of a Sunday sermon wrapped in a Mad Max adventure.

Does the violence eradicate Eli's message? No.

Does the message redeem Eli's violence? No.

This, then, is a spiritual tale told through the prism of a dystopian Western; a religious story shellacked with gore.
Even the ultra-conservative Ted Baehr and his Movieguide seems to capitulate:
THE BOOK OF ELI is very captivating, awe-inspiring, and ultimately uplifting, with excellent production standards and absorbing character portrayals. The movie's blatant support of Christianity and the overt references to the Bible are greatly encouraging and very surprising. Throughout the story, Eli prays, teaches others to pray, quotes Scripture, and walks by faith in God. Regrettably, extreme caution is advised for the movie's excessive amount of extreme, brutal violence, some scenes of implied, attempted rape, and unnecessary foul language.
Apparently, as long as a film or book contains "blatant support of Christianity" and "overt references to the Bible," body count and cussword count are excusable.
Really?
Whatever you conclude, "The Book of Eli" may be the perfect example of the dilemma consumers of evangelical pop culture have created for ourselves.