So I recently received this letter from a "devout Christian" who is struggling with reading "dark fiction." Here's the gist of the letter:
I recently read your post concerning Lovecraft and since you seem to have a pretty good grip with Lovecraft, I was hoping you could answer a few questions for me? I was wondering if you'd heard anything about a writer named Thomas Ligotti. I have recently stumbled upon him through the HBO show "True Detective". I've heard him lumped in with Lovecraft but there isn't much on him online. I would like to read his stuff but the book covers look a little… evil? I guess would be the right word. I'm currently having a similar debate with the Lovecraft collection that has the all black cover with gold lettering. I'm a devout Christian and I just don't want to stumble into something I shouldn't.
In all candor, I don't think I've been as sensitive to this issue as I should. I take it for granted that I can read Lovecraft and his more contemporary incarnations (like Ligotti and Laird Barron), and not be bothered. I've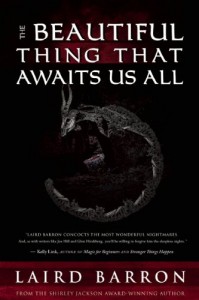 researched their worldview and am able to appreciate the stories and the ethos they evoke without necessarily feeling tainted by evil or something. However, I'm willing to admit that's not the case for everyone.
More than once, I've recommended Laird Barron's books. The problem is — if you could call this a problem — that the majority of my social media friends are Christians. Usually, I'll include a minor disclaimer like: "Contains disturbing, occult, R-rated imagery and language." Nevertheless, I've learned that some readers who picked up a book on my recommendation have felt debauched by the author's dark, disturbing worldview. So when I receive a letter like the one above, it makes me a little more cautious as to how to proceed.
I believe we Christians need to be able to interact with evil and darkness — which would include watching, reading, viewing, listening to "secular" fare — without feeling jerked around or debased, or pronouncing ad hoc condemnations on any artist, genre, or medium we view as "evil." Nevertheless, I fully appreciate that the concerns raised by this writer are real. Frankly, it is a great sign of maturity that he would go so far as to write me a letter, express his concerns, and ask for advice! I'd be more concerned about the Christian reader who has no discernment and wades into reading anything without concern. Still, this makes me even more cautious about the advice I give to such a person.
In a way, it is strictly a matter of the heart — what a reader feels they can and can't handle. It is not my job to convince someone that reading Laird Barron is a sign of maturity or literary appreciation. Perhaps, for them, it's just the opposite. I totally respect that. On the other hand, growing in discernment and appreciation for art that is not completely sanitized seems like a necessary step in spiritual growth. Keeping ourselves "unspotted from the world" does not necessarily mean isolation from the things of the world, but the ability to discern and partition good from evil.
Anyway, I'd be interested in your perspective. What advice would you give to this reader?