Profanity alert! Sarcasm alert! Alert, alert!
* * *
Millennials have been vocal about the shitty job us Boomers did in raising them. I mean, how else can you explain our kids' mass defection from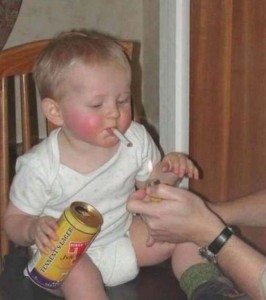 organized religion and their embrace of social liberalism other than as a reaction to their evangelical parents' soft, shallow, narrow-minded,  altogether wacky faith?
For the record, my wife and I are Boomers. Evangelicals. We have raised four kids. Compound this with the fact that they are all PK's from a typically religious conservative environment and we have all the makings for mass defection.
Problem: Our kids are all grown, married, and very much believing.
Obligatory  disclaimer: There are no perfect 1.) Parents, 2.) Parenting strategies, or 3.) Children. Nevertheless, for Christian parents, there's still a pretty clear set of things biblical child-rearing seems to involve. Namely, passing on a set of truths and values to the next generation. Things like
Believing in God
Meditating on God's laws
Following God's laws
Helping others do the same
You know, stuff like that.
But you wouldn't get that listening to some Christian parents. Especially, some of the Millennial bracket. Like author, father, and HuffPo columnist, Ben Irwin in his recent blog post, Nurturing your kids' faith when you haven't figured out your own. Irwin confesses:
I don't have my own faith figured out.

It's not for lack of trying. I keep searching, wondering, fumbling in the dark. I used to be more confident in what I believed (and in the importance of being confident in what you believe), but then, you know… life.
Irwin's religious "searching, wondering, fumbling in the dark," is rather typical of today's nomadic Millennial. Problem is, that type of gauzy, incoherent approach to religion can be a bitch when it comes to raising kids.
We've been told good Christian parents instill rock-solid faith in their kids, the implication being that if we project even the smallest doubt or the slightest hesitation when they ask difficult questions, their faith will melt away faster than you can say "evolution."

We're afraid they'll see uncertainty as weakness, as a sign of something deficient in the faith we (aspire to) profess and live.

But what if our fear is misplaced? What if they see something else in us when we admit to not having all the answers? What if they see authenticity? Honesty?

What if we don't have to figure out our own faith before we can pass it on to a new generation?

What would happen if we modeled a different kind of faith, one that leaves room for uncertainty? What if we gave our kids permission to be inquisitive, to wonder, to even doubt?

Would it really be the end of Christianity as we know it? Or is it possible our kids will find an inherently inquisitive faith to be more attractive than the kind that insists on having all the answers?
Perhaps I'm reading too much into this, but the idea that we SHOULD raise children with an "inherently inquisitive faith" requires a set of beliefs and a method to teach said beliefs. In other words, we must assume healthy faith should  look more open-ended, less dogmatic. But on what grounds do we assume this? Biblical grounds? Anecdotal grounds? Furthermore, are there any parameters to modeling "a different kind of faith, one that leaves room for uncertainty"? Or are we more or less releasing the rugrats into a philosophical free-for-all?
The big problem with trying to pass on faith to the next generation before you've figured yours out, is that you will pass on THAT type of faith: unresolved, open-ended, self-styled faith.
Unless you ARE assuming biblical faith has parameters.
And this is the rub. The idea of "rock-solid faith" and raising kids to have it, has its problems. But at least it implies a foundation. Foundation-less faith has more in common with jello than concrete.  And unless you don't mind your kids growing up to be Wiccans, Atheists, or Scientologists, pouring some concrete parameters for your kids' faith seems like a biblical thing to do.
It's one thing to teach kids to ask questions and to think through what they believe. It's entirely something else to teach them to believe whatever the hell they want.
Photo courtesy of Funny Dumpster.