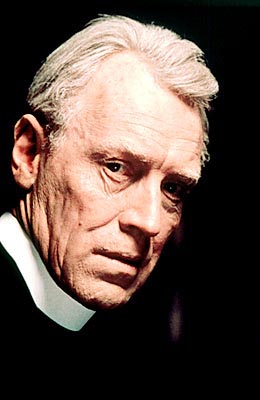 I have postulated elsewhere why a Judeo-Christian worldview and moral absolutes are essential to good storytelling. I was reminded of that idea while reading this interview with William Friedkin, director of The Exorcist, who ventures a similar  idea by suggesting that the film worked because he was a believer. Via The Hollywood Reporter:
1973's The Exorcist, the first horror film nominated for best picture, earned $441 million because its creator believed in God, said director William Friedkin.

"I made that film as a believer," he said March 26, speaking to students at Loyola Marymount University's School of Film and Television. "The reason that all the sequels to The Exorcist are rotten chunks of excrement [is] because they are made by non-believers. And what they all attempt to do is to defrock the story and to send the thing up."
According to Friedkin, one reason that the sequels sucked (which is much kinder than calling them "rotten chunks of excrement") was because their makers sought to "defrock the story." I'm assuming he means stripping them of genuine religious content or a biblical worldview.
The story's author, William Peter Blatty, made a similar connection a while back. In his interview with Huffington Post, Blatty responded thus to the following question:
Why do you think the story of "The Exorcist," in its many forms, has resonated so much for so many people?
BLATTY: I can only guess based on what has been written by others.
Obviously, of course, a popular novel has to be a page-turning read. Second, everyone likes a good scare, so long as we know we're not really threatened.
And third – and most importantly, I think – because this novel is an affirmation that there is a final justice in the universe; that man is something more than a neuron net; that there is a high degree of probability – let's not beat around the bush – that there is an intelligence, a creator whom C.S. Lewis famously alluded to as "the love that made the worlds." (emphasis mine)
So the author of The Exorcist unloads the ultimate spoiler. All that snarling, churning, head-spinning, projectile-vomiting, was about…  "an intelligence, a creator"… "the love that made the worlds."
Is it a coincidence that both the writer and director of one of the scariest stories ever written / filmed were professing believers? I don't think so.
Leave it to an atheist to almost muck up the works.
In his interview with the Hollywood Reporter, Friedkin reveals this fascinating account of acting legend Max Von Sydow and how his atheism became a monkey wrench in the project.
During one scene, when his character, Father Merrin, is conducting the exorcism, "He says at the top of his voice, 'I cast you out, unclean spirit, in the name of the Father and the Son and the Holy Spirit.' When we came to that moment, Max froze up. We had this false ceiling that had to crack. We had six ceilings made and we went through six takes that day and he couldn't do it. He couldn't get those words out. I stood there, kind of paralyzed. I ordered six more ceilings and we came back a day later. Same result. On the third day, I called Bill Blatty, who wrote the novel and the script. I said, 'Please look at these [takes].' He sat down in a room and he looked at them and he said, 'You're right. They're awful. He doesn't believe what he's doing.' We were going to re-write the script and have von Sydow die in that moment. We went in to see von Sydow, who was a very simple man. I said, 'I'll bring Ingmar Bergman in here to direct this scene with you.' He said, 'No it's not a matter of Bergman. I just don't believe in God.' "
Von Sydow's atheism prevented him from convincingly renouncing an evil spirit "in the name of the Father and the Son and the Holy Spirit."
The film worked only when Von Sydow believed what he was saying.
It's an interesting window, I think, into perhaps the greatest horror film of all time. It may also be a reminder how a Judeo-Christian worldview and moral absolutes are essential parts to a good horror story.