You know that Greek guy who famously said, "Know  thyself"? I'm guessing he was NOT a writer.
At any given time, the writer's head could be occupied by a plethora of personalities — psychopaths, parasol-twirling mademoiselles, mad scientists, country priests, zombies, or Navy Seals. Which turns "knowing thyself" into an exercise in psychotherapy.
I got a late start on this writing gig, and as a result, still feel like I'm on the front end of the learning curve. That curve does not just involve understanding procedure but recognizing personality. It's not enough for the writer to know how to plot, build worlds, lay down a first draft, and edit; they must know themselves. In other words, growing as a writer is as much about temperament as it is technique.
I've recently recognized a peculiar bent in myself. It looks like this:
Reading fiction helps me write non-fiction
Reading non-fiction helps me write fiction
Not sure if it's a left-brained / right-brained thing, but reading the opposite of what I'm writing frees my mind. Surely someone has chronicled this phenomenon. Maybe not. Nevertheless, when I'm making up fictional tales, reading factual content works wonders for my creative spark. On the other hand, when I'm writing about real-life details, make-believe keeps me grounded.
This phenomenon is not articulated in the following info-graphic. Nevertheless, I found the Six Types of Writers contained more than enough psychological accuracy. Author Alexei Maxim Russell goes into more detail on his website.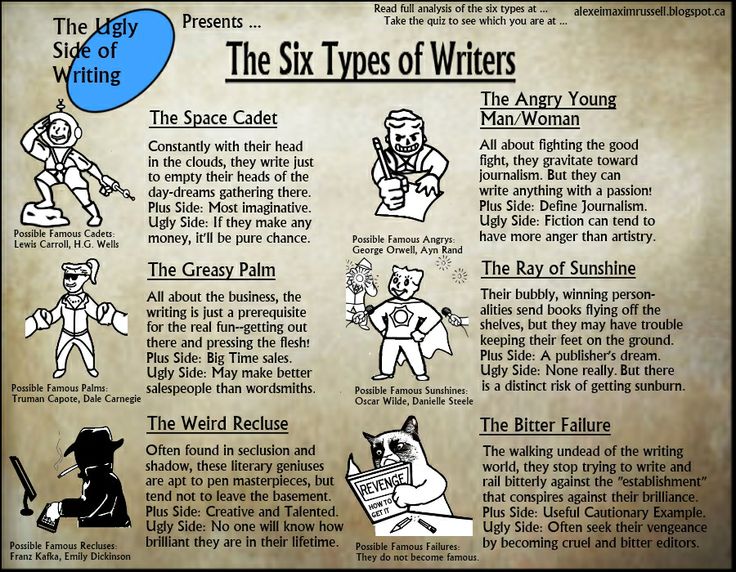 If I were using this graphic to construct a psychological profile of the type of writer I am, it would look something like this:
%35 Space Cadet
%30 Weird Recluse
%15 Ray of Sunshine
%13 Angry Young Man
%5 Greasy Palm
%2 Bitter Failure
My Space Cadet status won't surprise anyone, nor the Weird Recluse. The saving grace is that the Ray of Sunshine wins out over the Angry Young Man in me.
Either way, it makes "knowing thyself" an interesting exercise for us writer types.