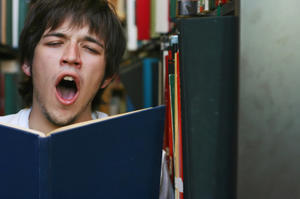 I tackled Melville's Moby Dick almost a decade ago. It was long, rambling, lyrical, surreal, insightful, and maddening. I loved it. So I was a tad puzzled when so many of my critique partners panned it. Verbose and boring, they said. And WAY too long. It left me undeterred about reading other "classics." Robinson Crusoe, Dracula, The Man Who Was Thursday, Heart of Darkness, Huckleberry Finn, The Picture of Dorian Gray, and others. Along the way, I learned something about myself: I tend to like the voice of the classic novels — the lengthy descriptions, literary constructions, and leisurely pace.
So it's kind of a bummer to learn that some of what makes the classics classics, is what makes them boring for today's readers.
Jodie Renner touched on this on today's post at The Kill Zone entitled Pick Up the Pace for a Real Page-Turner. She suggests that the primary reason authors need to "pick up the pace" of their novels is because readers have changed.
Readers of fiction often complain that a book didn't keep their interest, that the characters, story and/or writing just didn't grab them. Today's readers have shorter attention spans and so many more books to choose from. Most of them/us don't have the time or patience for the lengthy descriptive passages, long, convoluted "literary" sentences, detailed technical explanations, author asides, soap-boxing, or the leisurely pacing of fiction of 100 years ago.

Besides, with TV, movies, and the internet, we don't need most of the detailed descriptions of locations anymore, unlike early readers who'd perhaps never left their town, and had very few visual images of other locales to draw on. Ditto with detailed technical explanations – if readers want to know more, they can just Google the topic.
It's hard to deny that culture has changed (if not shaped) reader's expectations. This was the basic idea behind sociologist Neil Postman's controversial Amusing Ourselves to Death. Nevertheless, I admit struggling with the notion that "readers" — at least the inference that a majority of readers  — "have shorter attention spans."
And that having "shorter attention spans" demands novelists "pick up the pace."
Maybe I'm being blinded my own love of things "classic." In fact, the very things Renner describes as archaic is stuff that I like: "lengthy descriptive passages… literary sentences, detailed technical explanations… leisurely pacing."
I mean, I thought that The Road was "a page turner." And there wasn't a single car chase.
So while I'm not prepared to suggest that culture HASN'T affected readers' attention spans, I'm also not prepared to concede that all readers have been magically zapped by eTechnology, drained of their ability to think linearly, appreciate a more literary style, imbibe "lengthy descriptive passages," and enjoy "leisurely pacing." The popularity of 50 Shades of Gray SHOULD concern us, not just for the smarm factor but for the apparent tolerance for bad writing. But must we whitewash ALL readers with the 50 Shades phenomenon?
Likewise, are we really prepared to say that the page turner" is the only type of novel contemporary readers want? Of course, this isn't an appeal for drama-less navel-gazing and nonsensical wordsmithing. As if writing boring novels is the only way to counter such assertions. But who decides what readers want and how much they can handle? Suggesting that "[t]oday's readers have shorter attention spans" is accurate, but only to a point. Who knows how many readers can actually handle more cerebral novels with thicker descriptions and intentional pacing?
Especially if novelists are constantly being taught to speed things up.
It makes one wonder what came first,  "shorter attention spans" or novels that exclusively appeal to them?