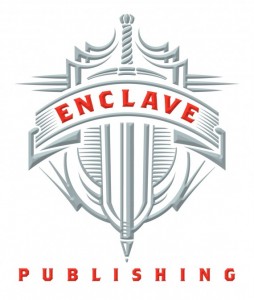 Despite having no dog in the fight, I am quite fascinated by the ongoing discussions about the direction of Christian fiction, particularly as it involves speculative fiction. Most recently, that discussion has centered around the sale of Marcher Lord Press, the most identifiable name in Christian speculative fiction.
While there's been much discussion about the actual sale, the name change, the logo, and what it means for the future of Christian spec-fic, I continue to find the most fascinating elements of these discussions the philosophical ones. What is it that distinguishes Christian speculative fiction from general market speculative fiction?
In his recent interview with Stephen Burnett at Speculative Faith, Steve Laube, the new owner of Enclave Publishing (formerly Marcher Lord Press) was asked "From a theological perspective, any thoughts about "Christian fiction" and "general fiction"? Steve answered,
In my opinion there are two ways Christian fiction is different from general fiction. First is that the author is writing from a Christian worldview that permeates their stories. Second are the underlying themes that can be found in the best Christian fiction. There are themes of Hope, Redemption, and Truth. This does not mean there is a salvation scene in every book. It doesn't mean that every character has to have Bible verses on their lips when crisis happen. It does not suggest or require there to be a forced message in every story.

Every novel has a "message" whether written for the general market or the Christian market. That message might be existentialism (see Camus or Kafka) or any number of things. It is fascinating that Christian novels are penalized for carrying redemptive themes while novels in the general market are not penalized for themes of a much darker nature.
This idea that "Every novel has a 'message' whether written for the general market or the Christian market" is a common retort among defenders of Christian fiction. And… I pretty much agree! Artists bring their worldview into their worldbuilding. How can they not? Even stories that aren't intended to be "message heavy" nevertheless import perspectives on things like morals, ethics, race, religion, human nature, the afterlife, sexuality, hope, and redemption. So, yeah, "Every novel has a 'message.'" This is not something unique to Christian fiction.
So then what about our "message" distinguishes us from general market fiction? This, to me, is where things totally break down. Why? Because
Much general market fiction is written from a Christian worldview.
Much general market fiction contains a "Christian message."
The list of general market fiction that contains a Christian worldview is probably quite extensive. For instance, I recently finished The Reapers are the Angels by Alden Bell. The book is not Christian fiction but, from my perspective, there were many Christian themes. For example, look at this lay reviewer's comments on the novel at Amazon:
As I'm sure you can guess from the title, there is much discussion of religion and God throughout the novel and Temple's (the protagonist) moral compass is very much tested throughout the book. Temple sees the beauty in much of the world that remains and believes this is all a part of God's plan and her background of having never known a world without "meatskins" (zombies) gives her an interesting perspective and makes her quite a compelling protagonist; her attitudes towards society and other humans gives the novel further depth. (bold mine)
I concur with this reviewer's observations about the prominent spiritual themes that pervade the novel. Nevertheless, despite its biblical themes, The Reapers Are the Angels is NOT Christian fiction.
Why?
I'd like to use this novel to offer two suggestions, both of which may help us better understand how religious readers distinguish Christian fiction from general market fiction.
For one thing, The Reapers Are the Angels is R-rated, which automatically removes it from consideration as "Christian fiction." Though the importance of clean fiction is often underplayed in the defense of Christian fiction, I have come to believe that this is one of  the most prominent components of the genre. The absence of sex, grittiness, and profanity is as important to Christian fiction as "underlying themes…  of Hope, Redemption, and Truth." In fact, it could be argued that no amount of "Hope, Redemption, and Truth" can make an R-rated story "Christian."
Secondly, the concept of a "Christian worldview" is still rather open-ended and squishy. As we see with The Reapers Are the Angels, the presence of a "Christian worldview" is no guarantee that a book will be considered Christian fiction. Even though a story contains a "Christian worldview" it still must be explicit enough of a worldview to be considered "Christian."
So let me toss out an idea.
When we talk about a "Christian worldview" we are talking about a continuum, distinctives that range from implicit to explicit. It could look something like the graph below (10 being "implicit biblical ideas" and 1 being "explicit biblical ideas"). Notice: Everything on this continuum could be considered part of a "Christian worldview." But only the more explicit ones technically qualify a story as "Christian fiction."
CHRISTIAN WORLDVIEW CONTINUUM
10.) There is a God.
9.) There are Absolute / transcendent morals.
8.) There is an afterlife and a future judgment.
7.) Human beings are intrinsically special, created in God's image.
6.) The world is Fallen; Utopia is impossible.
5.) Human beings need redeemed from their fallenness, divine assistance; they can't save themselves.
4.) God is active in the world, seeking to redeem us.
3.) God provides a way of redemption through His Laws, His Spirit, His Son.
2.) A conviction of personal sin and need for forgiveness is essential to redemption.
1.) Repenting of sin and receiving Christ is the only way of redemption.
If such a scale (or paradigm) exists, then what we're talking about is not so much "redemptive themes" as it is more explicit redemptive themes. Which is one reason why books like The Reapers Are the Angels, while having Christian worldview themes (in the 10-4 range) are NOT considered Christian fiction.
Fact is a biblical message / worldview is just a small part of what constitutes Christian fiction. What separates Christian fiction from general market fiction is NOT just a biblical worldview. It is a G/PG-rated presentation of an explicitly outlined biblical worldview. As much as we'd like to believe that a "Christian worldview" is what distinguishes Christian from secular fare, nowadays, worldview distinctives are really only a small part of what's required for a story to be considered "Christian fiction."