"All fiction is largely autobiographical…"
                                            — P.D. James
I suppose the question facing a lot of novelists is not IF your story should be autobiographical, but HOW autobiographical your story should be? It's no secret that novelists assemble their stories from the stuff of experience, drawing from the places they've lived, the people they've met, and the lessons they've learned. Of course, this could be a tad unnerving when a relative discovers themselves speaking through one of your characters. Especially if that character is a pompous ass or a goody two-shoes.
I used to hedge at this notion. You know, I believed I could separate myself and my experience from my tales, forge characters from starstuff, as it were. Let alone, keep my family out of the telling. Silly me. Now, with a small, but growing, canon of stories behind me, my life is littered everywhere. At least, for those who have ears to hear.
One such "telling" came by way of Avram Davidson's Adventures in Unhistory. Subtitled Conjectures on the Factual Foundations of Several Ancient Legends, the book covers the historical or (pseudo-historical) underpinnings of such basic mythological iconography as mermaids, werewolves, mandrake roots and Prester John. It's a fun read and one that has sparked several conceptual brush fires in my noggin.
One was Vocal Memnon. It was just a reference in Davidson's book, maybe a paragraph in passing, but the story intrigued me. So I did some research of my own.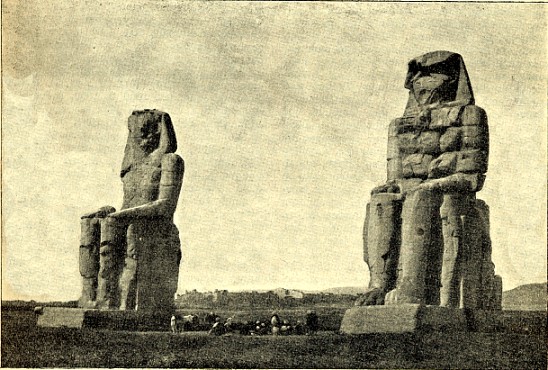 Vocal Memnon were two 60 foot Colossi, carved of quartzite sandstone and seated in the Theban necropolis, along the Nile River near modern day Cairo. The statues had been commissioned by one of the Pharaohs to guard a sacred memorial temple. However, an earthquake partially destroyed one of them, fractured it in several places. From that point on, it sang every morning at the break of dawn, at least according to legend, a moan or whistle probably caused by temperature change or evaporation. (The scientific term is Solar Thermal Automata and the concept has been used in the development of specific audio technologies.)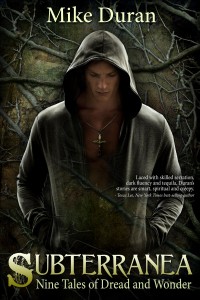 Even more fascinating was the mythology that arose around the singing Colossi.
And this is where Vocal Memnon intersects a couple of my stories. For instance, I have included the myth in my short story Consonance (which is included in my anthology Subterranea) as well as in my second novel The Telling. What's my infatuation with this odd archeological trivia? The Vocal Memnon myth embodies something autobiographical and deeply personal to me.
Cleo, the cephalopod-like extraterrestrial in Consonance explained it this way:
"…pilgrims flocked there. They said the lucky ones—the ones who heard [the Colossi singing]—got healed, prayers answered, wishes granted, things like that. For hundreds of years it went on, singing at sunrise, padding its stats, performing for all those sad lost souls. And then it stopped. Just never uttered another sound."

She wandered to the vanity, swung one of her trunks over her shoulder, and toyed aimlessly with the knuckles.

"But why?" She stared quizzically into space. "Why, after all that time, does the singing stop?"
The protag of that short story eventually unravels the myth by discovering his own gifting — a gift that heals and helps others.
It sang from its brokenness, isn't that what she'd said? The Colossi, shorn of its majesty only to find glory in its diminishment.
Singing from brokenness. Finding glory in diminishment.
Perhaps I have an inflated sense of self-worth. But I've grown to feel that — I feel insecure even saying this — God has given me a gift that can help and heal others. The problem was / is that that gift only functions through brokenness. I had to / have to diminish and be made low for the singing to start.
Which is why this line, toward the end of my second novel The Telling occurs. It is spoken by one of my secondary protags, an exhortation to the scarred and troubled young prophet Zeph Walker, who is finding his way home:
"Sing!" Little Weaver shouted. "Sing, Brother Walker! Out of your brokenness, sing!"
Few, if any, would know what I'm referring to in those snippets. But having stumbled through life, fallen out of the ministry, railed against God and resisted my calling, any goodness that comes out of my life now seems like a song of brokenness. Like Jacob wrestling the angel, God has "blessed" me with a limp. Thus, I must find glory not in acclaim, but in diminishment.
Lord, let it be.
So, yeah, my fiction is autobiographical. How about yours?