I spoke with a writer friend who recently returned from a book festival. He had his own booth to sell his books and commented on the different ways people decide if a book is for them. There are five types of book buyers from his observation.
The "back of the book" readers who consider the story synopsis
The cover-art-sold-me-readers
The endorsement page inspectors
The read-the-first-page-readers (this includes those who opened to a random page in the middle of the book)
The combo form of the above 4 methods
I'm definitely a
First page
Cover art
person. If the writing looks solid and the cover looks good, I'm already to third base.
Of course, some have turned book buying into a virtual science. Take this comprehensive Power Point 2010 Survey of Book-Buying Behavior presented by the BEA. Not only do they statistically break down "avid readers," their "purchasing behavior," and the outlets they prefer, the survey charts the "Primary Factors in Book-Purchase Decision" (see graph below). "Author Reputation" and "Personal Recommendation" are at the top of the list. Interestingly enough, "Price" is the next most important factor, followed by "Reviews" and then "Cover Artwork / Blurbs."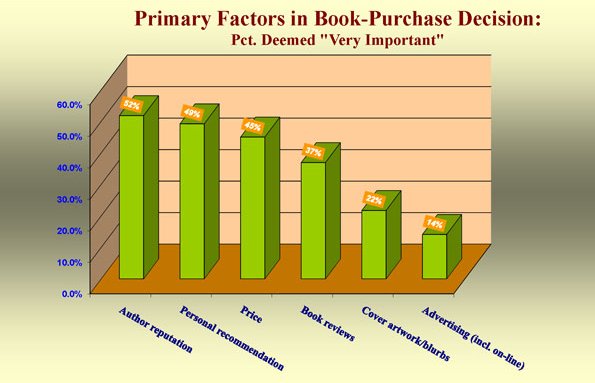 I would definitely move cover art up on my personal ranking scale. But that's just me.
The gals over at Bookslut, in a post entitled How to Choose a Book by Its Cover, whittle it down to these six components:
Cover artwork
Cover Font
Back Blurbs
Description
Author Photo
The Spine
Of course, a lot of things have changed in the 12 years since that post was written. Namely, the digital revolution has made books spines less meaningful.
In a way, I almost hate to admit that I WILL choose a book by its cover. I hate to admit it because, for the most part, the cover design of a book is usually out of an author's control. Unless the author is actually designing her own cover, she still must surrender to another artist's eye. Yes, good books can withstand bad covers. And bad books can unjustly benefit from good covers. But the bottom line remains: Good covers sway book shoppers. For better or worse.
I'm writing this because I'm in the throes of planning my next self-pubbed release. My going theory is that, apart from the story itself, which I control, cover art is the next most important thing. Investing in a good cover is hugely important for an indie author. Your book cover is front and center, an emblem of your commitment to the reader. Of course, there is the subjectivity quotient. What I think is a good cover, you might dislike. Then there's the reality that good covers can't make bad stories better. Meaning, one can go overboard in believing good covers improve novel sales.
Question: How important is good cover art to you as a reader? And how important is good cover art to a novel's sales?