I'm an ex-pastor.
Ugh. I hate that term.
No, I didn't have an affair with the church secretary or get caught pilfering funds from the ice cream social. I was a young, untrained, inexperienced Christian who was launched, probably prematurely, into the ministry. As a five year-old Christian, father of four, with zero trade skills, I started my own church. I was forced to learn theology on the fly, as well as preaching, counseling, administration, accounting, property management, vision casting, leadership training, community outreach, missions, and officiating funerals.
After eleven years, I was fried. The experiment came to an end and the church was disbanded. Some applauded my years of faithful service. Others gave me the finger. They were probably both right.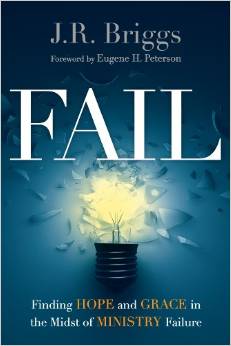 I slunk back into the secular workforce, scratching my head. Grieving. Second guessing. Lost. Was I the victim or the cause? Had the devil won, or was God still in control? Was I ever really "called" in the first place? What could I have done to prevent this humiliation?
Either way, I failed at ministry.
Because of this, I've been quite fascinated in a relatively new movement for pastors entitled Epic Fail. The purpose of the group is to create a place of honesty and vulnerability, where pastors can confess their struggles and be challenged with God's idea of "success." Unlike traditional pastor's conferences, Epic Fail is not about the latest church growth model or celebrity pastor, but rather humbly admitting that there is no Super Pastor. It's founder, J.H. Briggs, recently released a book on the subject entitled Fail: Finding Hope and Grace in the Midst of Ministry Failure. The back cover copy reads:
What do we do when we've failed? Some ministries are shipwrecked by moral failures like affairs or embezzlement. But for most of us, the sense of failure is more ordinary: disillusionment, inadequacy, declining budgets, poor decisions, opposition, depression, burnout. Many pastors are deeply broken and wounded, and we come to doubt that God has any use for us. J.R. Briggs, founder of the Epic Fail Pastors Conference, knows what failure feels like. He has listened to pastors who were busted in a prostitution sting or found themselves homeless when ejected from ministry. With candid vulnerability, Briggs explores the landscape of failure, how it devastates us and how it transforms us. Without offering pat answers or quick fixes, he challenges our cultural expectations of success and gives us permission to grieve our losses. Somehow, in the midst of our pain, we are better positioned to receive the grace of healing and restoration.
It's no surprise, I guess, that this resonates with me. I've come to see my own ministry failure as a gateway to grace. I've learned so much about God, myself, and the Church through it. Not to mention, I probably would not be writing this, or be a writer at all, if I'd not left the ministry. All that to say, I like the idea behind the Epic Fail conference.
Nevertheless, it still makes me wonder how much "failure" the average pastor and congregant can really tolerate.
If the ministry scandals of the past have taught us anything, it's that congregations deserve a full disclosure from those at the helm. But how honest about weakness and failure should your pastor be? Some say they want a pastor who is totally honest, accountable, transparent, willing to admit his faults and be up front about his failures. It is common nowadays for people to leave a church because of the charge of hypocrisy. The church is full of phonies, they say. We need pastors who are transparent and church members who are more open and honest about themselves, their struggles, and their doubts. But do we really want this? Especially of our leaders?
I sometimes doubt it.
One of the dumbest things I ever did during my years in ministry was to publicly admit I was burning out. Really, it changed the course of my pastorate. One Sunday after worship, I took the pulpit, closed my Bible, pulled up a stool and sat down. I told the people assembled there that I felt incapable of preaching; and so instead of "going through the motions" I confessed how burned out I was, how inadequate I was to lead the church, and how flawed I was as a man, a husband and a father. It was an awkward time, as you can imagine, but it ended with the congregation gathering around me in tearful, heartfelt prayer. We closed in worship and the service ended.
Neat, huh? Wrong!
Shortly thereafter, I received a letter from a member of the church. We don't need to hear all the gory details about our pastor, he wrote. What we want is a good sermon, someone who can lead the church with confidence, not a weak, shamelessly transparent man. Mike, save your confessions for another time and place. With that, he announced his family, and several others, would be leaving the church.
So much for honesty and transparency.
In a way, I don't blame them. If I showed up at a church expecting to hear God's Word preached only to have the pastor sniveling about his struggles, I probably wouldn't be back either. But it creates a genuine dilemma for church-goers. On the one hand, we say we want openness and honesty from the pulpit. On the other hand, when the dirty laundry is aired, we cringe and run for cover. We want pastors who are human, but not human enough to air their doubts, foibles, and failures. Of course, no one would advocate for a lack of openness or genuineness from spiritual leaders. However, the opposite may be just as unhealthy.
Anyway, I'm not surprised that my confession caught some people off guard that day. It was the wrong thing to do, something I should have shared only with the elders. Then again, maybe that was the price of having a young untrained Christian at the helm of a church.
It seems fitting that Christ would not enlist supermen, but paradoxical followers, full of quirks and frailties, as his spokespeople. But as much as I appreciate the heart of the pastors at Epic Fail, it begs the question of how much vulnerability and weakness the average church-goer is willing to tolerate in their pastor.