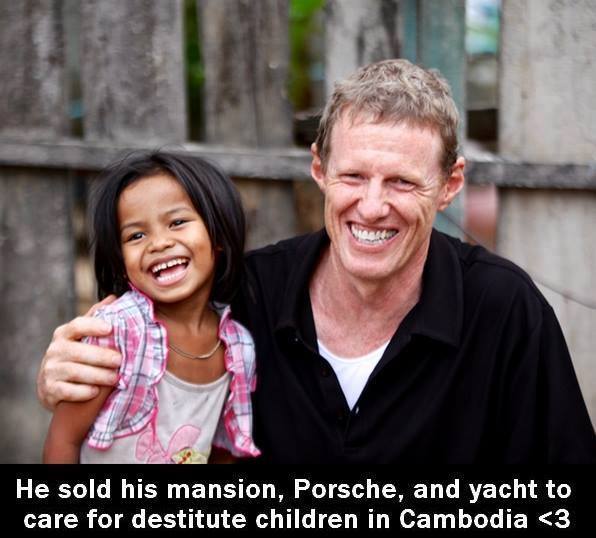 This info-graphic has recently been shared around on Facebook. The man pictured  is  Scott Neeson, former head of 20th Century Fox International. Neeson sold his mansion, Porsche, and yacht, and left Hollywood for Cambodia's garbage dumps. There, he's sought to provide food, shelter and education to destitute children. The former studio exec now cares for more than 1,000 Cambodian children and their families.
Neeson is viewed as a hero, a great humanitarian. And to those Cambodian children and their families, indeed he is! But everyone can't be like Scott Neeson. And I think that's a good thing.
American Christians' views about wealth and poverty have changed lately. We used to applaud the believer who, through hard work and wisdom, left a life of debt, deficit, failure or poverty, rose above their disabilities or disadvantages, and became a "success" of some sort. They graduated, were drafted onto a professional sports team, started their own successful business, multiplied some talent, etc. It was the Protestant work ethic in motion. But things have changed. Now we applaud the entrepreneur who sells everything to build an orphanage, feed the hungry, or live among the homeless.
A while back, one of my pastor friends mulled this new phenomenon and wrote THIS on his Facebook status:
I see this pattern at conferences and church events, where the speaker, or staff member is introduced as someone who was "a rising star at a fortune 500 company, but left their promising career and six figure salary for (insert current ministry role)." I'm not sure why this narrative seems to be repeated in Christian circles. I'm sure it belies some underlying perspective or value, but I can't put my finger on it yet.
Though my pastor friend is not necessarily making the same point I am here, his observations highlights an important sea-change in the American church. Evangelicals seem to have replaced a preoccupation with modernism for a preoccupation with monasticism; whereas we once used to idolize prosperity, now we idolize poverty. Our hero is no longer the Christian businessman who has "stepped up," but the Christian businessman who has "stepped down."
Nowadays, the preferred testimonial is about "the rich man" becoming "poor" for the sake of the Kingdom, not "the poor man" becoming "rich" with the help of the Kingdom.
In my mind, both are equally skewed.
In her book Giving 2.0,  Laura Arrillaga-Andreessen notes that the United States is the international leader in kindness, both on a corporate and individual level. Americans are more likely to volunteer time, donate money, contribute to causes, and help strangers than any other people on the planet. We are also the wealthiest nation on earth. And it shows in our giving.
So is our prosperity a good or a bad thing?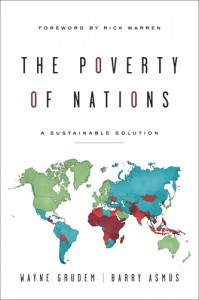 In reality, the wealth that Scott Neeson acquired — the wealth that many well-meaning Christians now eschew — is the very tool he is leveraging in his fight against poverty.
In their book The Poverty of Nations Wayne Grudem and Barry Asmus argue that foreign aid has not reduced global poverty. In fact, nations that receive the largest amounts of foreign aid tend to remain deeply entrenched in poverty. Of course, there are numerous factors involved, such as the corrupt governments who receive said aid. Nevertheless, the point stands. While selling everything we have to give to the poor can be a great, noble, very spiritual thing to do, poverty is not solved through long-term aid. Rather, the authors argue that capitalism is, in essence, the answer to global poverty. Respect for property, hard work, creativity, personal incentive, opportunity, entrepreneurial freedom, financial wisdom — these things will ultimately lift people and nations out of poverty.
Abandoning wealth is not the answer to fighting global poverty. Creating wealth is.
Yes, we need the Scott Neesons of the world. God bless him! But if we all became him… who would support us?