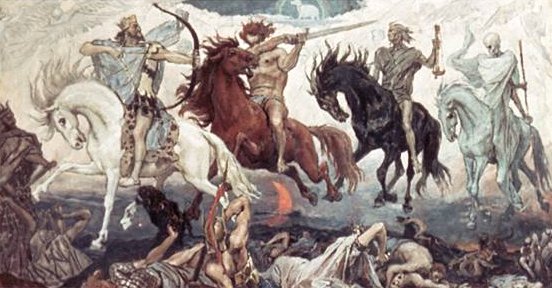 The Hunger Games has spawned numerous copycat novels and revived the dystopian genre. But while the YA dystopian bubble is sure to eventually burst, humanity's nagging belief in societal collapse and impending apocalypse remains alive and well.
Dystopian themes have been a part of our pop cultural landscape for a very long time. Stories about crumbling governments, pandemics, plagues, and looming apocalypses, whether made by man, alien, or artificial intelligence, cycle through or collective psyches with startling regularity. Whether it's George Orwell's 1984, Ray Bradbury's Fahrenheit 451, Blade Runner, Soylent Green, Mad Max, Terminator, Children of Men, or The Hunger Games, we seem instinctively drawn to stories about the worst possible End.
Of course, there's a difference between shambling zombies, nuclear winters, biological fallout, tyranny, and alien invasions. Not all of these fall neatly into the category of dystopia. Nevertheless, all of them are tied to a view of the future that is bleak.
So why do we keep coming back to this particular view of the future? Why are dystopian themes so compelling? You'd think we'd want to focus on futures more rosy. I mean, what happened to our belief in utopia, the one where we'd cure cancer, stop nuclear war, stop fighting, and evolve? Frankly, it got T-boned by reality.
Utopianism is rooted in modernity — the belief that technology and human ingenuity can build a better world. Industrialization bolstered the utopian dream, leading us to believe we could harness the better angels of our nature, conquer disease, aging, poverty, etc. But it wasn't long before reality sunk in. Several world wars, genocides, natural disasters, governmental collapses and overthrows, overcrowded jails and over-medicated masses, has deflated the notion that we are anywhere able to right the world's wrongs. Much less, our own personal wrongs. There isn't enough silicone on earth to keep us from sagging — both physically and morally. No amount of good deeds can stop the decay. And as long as a human walks the earth, dystopia is inevitable.
Sure, it sounds pessimistic. But it's a fact. Manmade utopia is simply an oxymoron. As such, a dystopian future seems far more realistic than a utopian one.
Interestingly enough, our inclination to envision a dystopian future has roots in a very biblical worldview.
The Bible does not paint a rosy picture about the fate of mankind. Whether it's Jesus warning about natural and cosmological catastrophes, plagues, and times of great deception, or the apostle John's hellacious account of the end of the age, Scripture paints a picture of things getting worse before they get better.  Apparently, all our peace accords, technological advances, and therapeutic skills still land us in Armageddon. Far from Shangri la, we end up in an arena, pitted against God, nature and, each other. No amount of firepower or psychobabble can stave of these approaching hoofbeats.
The genre of dystopian books and films reinforces a vital biblical theme — Man is broken. No amount of moral or technological "tweaks" can correct the malfunction that is Us.
In a way, our embrace of dystopia is both a rejection of utopia and the notion of inherent human goodness. History and personal experience have shown us, over and over again, that when left to his devices Man fails. No amount of drugs, diplomacy, technology, education, or entertainment can prevent collapse, both internal and external. Dystopia is an admission of depravity. We are the anti-Midas: Everything we touch rots. And the bigger our contribution, the more pervasive the decomposition.
In this sense, the dystopian trend is evidence of a creeping realization that we are broken and things will only get worse. So whether it's Katniss against the Capitol, Logan running from Termination, 1984's Thought Police, Blade Runner's glitching replicants, or Wells' Morlocks, something rings true about a screwed up future. Why? Just look in the mirror.
In this sense, the dystopian trend is a very good thing. It is an affirmation of a Christian worldview, one which admits that no earthly power can save us from ourselves. In popular culture, dystopia trumps utopia, not because we are inherent pessimists, but because some truths are too obvious to be fiction.