In an odd twist to our tabloid-driven obsession with "celebrity deaths," Lena Dunham admitted her own fixation upon mortality. Although hailed as "the voice of [her] generation" and a Glamour magazine Woman of the Year, in her new book Not That Kind of a Girl, the actress, screenwriter, humorist, and feminist firebrand fesses up to a painful, unfulfilled yearning — to "work the death thing out."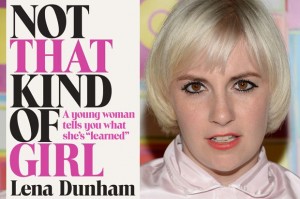 While Dunham's book is being criticized for far more scandalous revelations,  it is her ruminations about death that I find most fascinating.
In an exclusive excerpt, the Guardian revealed the extent of this 20-something's preoccupation with dying. In typical Dunham fashion, she crudely muses about hypochondria, existentialism, and anal sex, on her way to working "the death thing" out.
I think a fair amount about the fact that we're all going to die. It occurs to me at incredibly inopportune moments – I'll be standing in a bar, having managed to get an attractive guy to laugh, and I'll be laughing, too, and maybe dancing a little bit, and then everything goes slo-mo for a second and I'll think: are these people aware that we're all going to the same place in the end? I can slip back into conversation and tell myself that the flash of mortality awareness has enriched my experience, reminded me to just go for it in the giggling and hair-flipping and speaking-my-mind departments because… why the hell not?
It is rather comforting to know that even the rich and famous still get that "flash of mortality awareness." Apparently no amount of wealth or applause can completely anesthetize  us against the inevitability of our own demise. In Dunham's case, however, the specter of death seems to do little more than produce a sort of flippant moral abandon, reminding her "to just go for it in the giggling and hair-flipping and speaking-my-mind departments because… why the hell not?"
Why the hell not. Indeed.
While much of celebrity culture is doing their best to NOT think about the inevitable, Dunham deserves kudos for at least contemplating the D-word. However, if you're looking for answers, some sort of deep, philosophical or spiritual truisms  to guide you through your own existential wrestling, Lena Dunham is the wrong sage to glean from.
Recounting her first really personally confrontation with death, that of her grandmother (Gram, she calls her), Dunham writes
My head throbbed with questions. Where is Gram? Is she conscious? Is she lonely? And what does this all mean for me?

The rest of the summer was characterised by a kind of hot terror, a lurking dread that cast a pallor over everything I did. Every ice pop I ate, every movie I watched, every poem I wrote was tinged with a sense of impending loss. Not of another loved one but of my own life. It could be tomorrow. It could be 80 years from tomorrow. But it was coming for us all, and I was no exception.
So how does one resolve the "hot terror" and "lurking dread" that death imposes. In Dunham's case, it was her father's rather vapid philosophizing.
Finally, one day, I couldn't stand it any more: I walked into the kitchen, laid my head on the table, and asked my father, "How are we supposed to live every day if we know we're going to die?" He looked at me, clearly pained by the dawning of my genetically predestined morbidity. He had been the same way as a kid. A day never went by when he didn't think about his eventual demise. He sighed, leaned back in his chair, unable to conjure a comforting answer. "You just do."

My father can get pretty existential. "You're born alone and you die alone" is a favourite of his that I particularly hate. Ditto "Perhaps reality is just a chip implanted in all our brains." He has a history of staring out into nature and asking, "How do we know this is actually here?" I guess I inherited it.
Nothing like resolving life's greatest question with the assertion that "reality is just a chip implanted in all our brains."
It's no wonder that Dunham concludes,
"We talk about enlightened beings, what it would mean to transcend the human plane. 'I want to be enlightened, but it also sounds boring,' I tell [my father]. 'So much of what I love – gossip and furniture of different furniture brands and food and the internet – is really here, on Earth.' Then I say something that would probably make the Buddha roll over in his grave: 'I think I could be enlightened, but I'm not in the mood yet. I just want to work the death thing out.'"
It's rather fascinating that someone who's been "obsessed with death" since childhood reaches a conclusion that is so devoid of any real answer.
The Bible contains no such ambiguity or flippancy about death and the afterlife. "[P]eople are destined to die once," wrote the author of Hebrews, "and after that to face judgment" (Heb. 9:27 NIV).
Death comes for us all. Even hipster celebrities. That "flash of mortality awareness" is God-given, a vital barometer in our search for Truth and Meaning. Unlike Lena Dunham's "inherited" worldview, the Christian faith hinges upon One who "taste[d] death for everyone" (Heb. 2:9) and conquered death by rising from the grave. His authority is light years away from the crude, uninspired musings of  a rich, privileged, spokesperson for Planned Parenthood who is hoping to be "the voice of [her] generation." And according to Him, we should definitely "work the death thing out."
All joking aside.