There's significant discussion among Christian novelists about the aim of storytelling. Should Christians create fiction…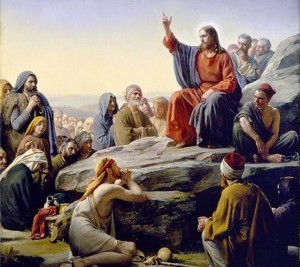 to inspire and encourage fellow Christians?
to sow seeds in non-believing readers?
to simply entertain?
a combination of all of the above?
Jesus' teaching methods often come up in this regard. While Christ's methods appeared to vary per audience — sometimes He was didactic, other times He was more ambiguous or elusive — His teaching was always rich with allegory, symbol, and metaphors.
The Gospel of Mark describes Jesus' dual approach in regards to the peasant crowds and His own disciples:
He did not say anything to them without using a parable. But when he was alone with his own disciples, he explained everything. — Mk. 4:34 NIV
The general idea being that Jesus' teaching method differed from general, non-believing audience to insider, initiate audience— to the "crowd," he spoke in parables; to "his own disciples," he explained everything.
Some use this to approach to draw parallels regarding Christian fiction. They suggest that Christian fiction should be more didactic than parabolic; it should be aimed at "disciples" rather than the "crowds." This isn't necessarily to insinuate that Christian authors should not write for general audiences, but that when they do, their method should be more parabolic, using similes, metaphors, ambiguity, and allegory, rather than straight-forward proclamation of the Gospel.
However, this idea of Christian fiction as evangelism is not without its opponents.
Some suggest that Jesus used parables not as a way to illuminate truth to the unenlightened, but as a way to harden those not called by God. For example, notice this discussion at Goodreads on Christian Fiction's role in evangelism. One commenter (Nathan) said this:
Some say that Jesus taught in parables, which is an example of using fiction to teach the gospel truths. But do you remember the reason He did so? He clearly told His closest disciples. It was so that those who had not been elected unto salvation before the foundation of the world, those NOT given to the Son by the Father, would NOT hear and obey the truth. Lest they be saved!
Interestingly, this opinion is not without biblical foundation.
In his classic, The Parables and Metaphors of Our Lord, British preacher and evangelist G. Campbell Morgan, tackles this apparent discrepancy: Did Jesus use parables to illuminate Truth to the spiritually hungry or harden the hearts of the unregenerate?
After His teaching of the multitudes, the Gospel of Mark notes Jesus' follow-up:
When he was alone, the Twelve and the others around him asked him about the parables. He told them, "The secret of the kingdom of God has been given to you. But to those on the outside everything is said in parables so that,
"'they may be ever seeing but never perceiving, and ever hearing but never understanding; otherwise they might turn and be forgiven!'" — Mk. 4:10-12 NIV
From this, some (perhaps correctly), interpret Jesus' parabolic method as a means to further harden the hearts of the uninitiated. Parables were used to reinforce their unenlightened, unforgiven state.
Morgan challenges this interpretation, suggesting that Jesus' use of parables was indeed a tactical approach.
"When [the multitudes'] hardness of heart made Him angry, then in a very different and enlarged form He began to use parables." (pg. 14)
Morgan traces this "hardness of heart" to the previous chapter wherein Jesus sought to heal the man with the shriveled arm and was forthrightly challenged by the authorities.
He looked around at them in anger and, deeply distressed at their stubborn hearts — Mk. 3:5
This stubbornness of heart and public resistance of Christ, according to Morgan, led to a change of approach. But is it reasonable to believe that the parabolic method was employed to prevent men from understanding and receiving God's mercy? Morgan answers,
"That would surely be blasphemy, and would contradict the whole purpose of God in Christ, and of Christ in the world." (pg. 14)
So Morgan digs deeper, looking at Mark's account alongside Matthew's.
"According to Matthew, the disciples had inquired the reason for speaking in parables. The Lord's answer was that it was given to them to know the mysteries. He told His disciples that the difference in method was do to a difference in relationship. To those of His disciples who were obedient, who submitted to Him, the mysteries could be made known. To those without, those not yielded, and not obedient, those refusing and hardening the heart, the parabolic was the necessary method.
"Go on to verses twenty-one to twenty-five in this fourth chapter of Mark. He used the lamp as His illustration. This lamp is not put under the bushel, which would extinguish it. It is put on a stand. The parables therefore constituted a lamp, a lamp shining. It was not in order to hide things, but that the hidden things may be brought to light. These people could not, because of the attitude they had assumed, receive the mysteries, the profound things of the kingdom of God. His disciples could receive those mysteries; but to those without, the parable was the lamp." (pg. 15, emphasis mine)
Morgan concludes,
"He gave them parabolic pictures so that they might inquire. The purpose of the story, the picture, was to lure them to think, in order that they might find their way into the higher mystery." (pg. 16, emphasis mine)
Ones' interpretation of the purpose of the parables will indeed affect how they answer the question of Christian fiction as evangelism. If the purpose of the parable is to harden the hearts of the stubborn and resistant, then (as commenter Nathan concludes in the comment thread I linked) Christian authors should avoid such an approach because we have no idea whom God has chosen. The far better approach, this interpretation would conclude, would be a more didactic, unambiguous presentation of the Gospel (think Jesus interpreting the parables to His disciples).
However, the Christian author who sees the purpose of the parabolic method as a way "to lure [the reader] to think, in order that they might find their way into the higher mystery," ambiguity, allegory, symbolism, and metaphor are indeed powerful tools in our writing toolbox.