When talking to Christian authors about their novels, I've recently begun by asking them to describe the content of their book in terms of explicit Gospel content. On a scale of 1 to10 — 10 being straight-forward, conspicuous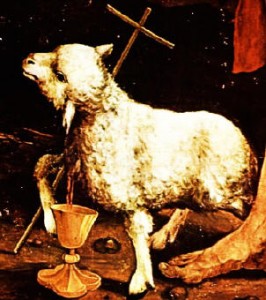 Christian themes and 1 being inconspicuous or non-existent biblical elements — where does the book fall?
It's interesting to watch Christian authors mull that. Mainly because they realize the risk of ambiguity. The further one moves from explicit Gospel content, the less  genre readers may consider their novel "Christian." Contemporary Christian fiction readers seem to be intolerant of a lower standard of symbology and allegory in order to confirm a much higher standard of theological clarity. They'd rather not be left guessing as to what something might mean.
Back in 2008, I posted an article Is Christian Horror Becoming a Trend? over at Novel Rocket. I was especially interested in something Tony Hines, author of The Falling Away, said in his comments. Tony was comparing ABA (general market) readers with CBA (Christian market) readers. He concluded,
…I do feel there's a difference between ABA and CBA readers. And to be brutally honest, ABA readers are more sophisticated. I'm a little shocked when I see some reviews of my work on Christian book sites, with people decrying the lack of "Christian" content in a few of my works. I think, symbolically and metaphorically, the Christian content is rather obvious. Maybe a bit too obvious, as Publisher's Weekly said of their review of my second book, "The Dead Whisper On."

I do find it troubling that a fair amount of CBA readers (at least in my experience) have a hard time seeing symbolism; we should, after all, be BETTER about seeing these kinds of things since many of Jesus's teachings were told in parables. (emphasis mine)
No doubt some could misinterpret this as suggesting that CBA readers are simple-minded, naive, or uneducated. I'm sure that's not what Tony was implying. But how is it, in this case, that a secular review site (Publishers Weekly) picked up on the Christian symbology that some Christian readers missed?
Which brings me to one of the downsides of symbolism and allegory in Christian fiction:
Symbolism in Christian fiction is risky because it's open to interpretation.
And if it's open to interpretation, some could interpret it wrongly. Or maybe even miss the symbols altogether.
In one of his sessions at the 2010 ACFW Conference, keynote speaker and novelist Tim Downs used a wonderful illustration to describe the use of symbolism, metaphor, and allegory in Christian storytelling — an Easter egg hunt. For the the younger children, Downs said, we hide Easter eggs in open sight, so that they can be found easily. But for the older kids, we must be more "sophisticated" and cunning, go to greater lengths to actually hide the egg. Likewise, sometimes Christian writers must put their message in plain sight for the younger, less mature, reader. At other times, Christian writers must be more crafty about their message , thus inspiring a harder "search" from the more mature reader.
The downside is obvious — some Easter eggs can be so well hidden that they are never discovered.
In my last post, Christian Fiction, Evangelism, and Parabolic Storytelling, I discussed how Jesus altered His message to suit His audience.
To the multitudes, Jesus spoke in parables.
To His disciples, Jesus spoke more directly.
Jesus spoke in parables not to conceal the Truth, but to lure His listeners to think, "in order that they might find their way into the higher mystery." The downside of this method is obvious, some will miss the message or misinterpret it. Which is why many Christian fiction writers opt for overt symbology: it limits interpretive wiggle room and guarantees a higher probability of theological clarity.
But there's another downside to symbology and metaphor:
Using symbolism is risky because it trains readers to read in code.
Perhaps the worst part of writing fiction laden with symbols and allegory is the effect that reading such fiction has upon its readers. Like a literary version of "Where's Waldo?" the reading experience is reduced to a search for "clues" rather than aesthetic enjoyment.
Are readers who are accustomed to looking for particular symbols in their stories more or less likely to be good readers, sophisticated readers, discerning readers?
Of course, every author has a worldview, agenda, or message they are (perhaps subconsciously) bringing to their stories. Some are more or less overt in revealing that "message." However, Christian fiction is especially reliant upon symbolism to either communicate or cloak its message… depending upon the author's audience and aim. As Jesus revealed in His use of parables, speaking in metaphor and symbol is a powerful way to get readers to think. In the case of the mainstream Christian audience, however, the use of symbology has a downside.
For like that young child, we've come to expect the Easter eggs be "hidden" in plain sight.