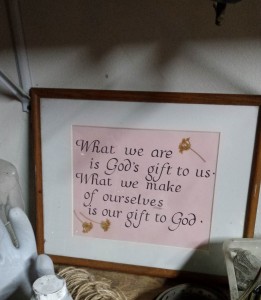 There is a scene in my first novel, The Resurrection, when my protagonist, the dim-witted but earnest Pastor Ian Clark, trashes something very important to him. It's a plaque with the words Follow Your Dreams. The words were burned into the wooden plaque by his sister to commemorate Clark's ordination into pastoral ministry. But after a failed marriage and a failed church — and his sister's tragic death —  Clark's "dreams" are shipwrecked. So he removed the plaque from the wall, carried it out back, and apologized to his sister as he tossed the memento into the trash can. Along with his other dreams.
The scene is blatantly symbolic. And very personal.
When the church I was pastoring disbanded back in 1997, numerous dreams went with it. My "call to the ministry" had come quickly, but prematurely. I was a talented guy, artistic, literary; but I'd squandered my gifts, meandering through various creative outlets without passion, persistence, or a sense of purpose. So when the opportunity came to help others grow spiritually, to develop as a teacher and spiritual mentor, to serve and inspire others, I saw God's hand in it and responded.
Indeed, for a while the ministry fulfilled my yearning to create, to inspire, to grow. But the rigors of church life and my own sin and immaturity frayed the edges of inspiration. What had started as a "dream" got pummeled by reality until, after 11 years, it all just caved.
And like Pastor Ian Clark, I simply chucked it all.
A "dark night of the soul" followed. I was a failure. My dreams were just illusions. I was destined for mediocrity. After 3-4 years of wallowing and wasted time, writing rekindled that spark. It started small — a short story contest. An Honorable Mention. An unexpected offer to join an online writers group. And things sort of snowballed. The "dream" was rekindled.
Mind you, my "dream" was not to be a writer. Or an artist. Or a teacher. Or a pastor. My dream was just to use what God had given me; to not bury my talent. To reach as high as I possibly could in this life. My "dream" is to hear the Master say, on that final day, "Well done, thou good and faithful servant."
Shortly after I became a Christian (in 1980), I framed the saying pictured above.
What we are is God's gift to us. What we make of ourselves, is our gift to God.
Pretty hokey, huh? I'd read it somewhere and was inspired enough by the sentiment to inscribe it for my own. I realize that the theology is a bit screwy. I mean, can we ever really make something of ourselves apart from God? But it was that idea of maximizing my talents, taking the "clay" that God had commissioned to me and molding it into something I — and HE — could be proud of.
And here's the thing: Pursuing a career in writing can crush your dreams. The competition. The critique. The unfairness. The massive amounts of time you must invest to even get a sniff. And the rejection. It breaks my heart to hear writers give up on their "dreams" in frustration. Mind you, a career in writing isn't for everyone. Perhaps being honest about your talents, or lack thereof, is a good thing that can help you discern where your real talents lie. Whatever the case — what hurts is the death of a dream.
Dreams, like flowers, are fragile and often must be crushed to release their scent.
Whatever your dream is, let me encourage you to keep at it. Sure, that could mean trashing one pursuit in favor of another. But in the process —  whether your dream is to be a writer, an artist, a pastor, a whatever — let me encourage you to aim higher.
Perhaps the best dreams are not those that rest in an accomplishment, achievement, or a career, but in the simple objective to use what God has given us to make something better of ourselves.