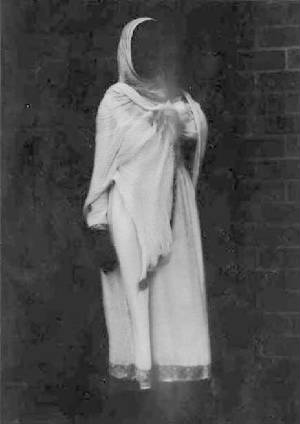 I didn't expect to be talking about ghosts as much as I have lately. But thanks to the release of The Ghost Box, that's exactly what has happened. One reader was surprised to learn that ghost boxes are real things. At least, they purport to be real things. In fact, you can even purchase ghost boxes, spirit scanners, and ghost hunting kits online. Course, the one in my novel is 20 stories high and sitting in the middle of downtown Los Angeles. I've also conducted two different radio interviews, both in which I was asked about ghosts, especially from an evangelical perspective.
While the Christian Church is largely resolved as to the nature of the afterlife (heaven and hell) and its denizens (angels and demons), there is no consensus as to an "in between" state and possible "overlaps" therein. Are the dead aware of us? Can they interact with us? If so, what forms do those interactions take? Or is all such "contact" categorically evil?
The more questions one asks, the further we get into territory beyond our explaining. And beyond biblical proof-texting. This, however, has not stopped us from trying to explain paranormal phenomenon. Ghosts are no exception.
Evangelicals, for the most part, have come to define ghosts as demons. There are several reasons – good reasons – to do so. One is the Bible's position on death. "…man is destined to die once, and after that to face judgment" (Heb. 9:27 NIV). Souls don't get second chances. And hauntings seem to lack the finality that Scripture seems to suggest. Another reason is the fixed nature of our eternal state. It's either heaven or hell. Forever. (Even those who believe in purgatory see it as a holding tank for one or the other.) As such, the Bible provides glimpses of souls in eternal torment or eternal bliss. Frankly, we don't see many souls traipsing about unsure of where they're headed. A final factor in the "ghosts are demons" position is the biblical warnings about "deceiving spirits" (I Tim. 4:1; I Jn. 4:1). We are in a "struggle" against "spiritual forces of evil in the heavenly realms" (Eph. 6:12). Not only are there spirits out there, many of them want to do us in and perpetrate "another gospel" (Gal. 1:8) . The medium who claims to speak to the dead, but communicates a message contrary to the Gospel, is probably speaking to someone other than Uncle Bob's ghost.
But while there is good reason to see ghosts as demons — at the least, something malevolent — the Bible seems to offer some "contrary" evidence as to their nature and existence. The most famous and perhaps the most puzzling "ghost incident" in Scripture is Saul and the Witch of Endor (I Samuel 28). When Saul compels a seer to summon the prophet Samuel, they witness "a spirit coming up out of the ground" (vs. 13 NIV). The spirit is recognized as the dead prophet who validates himself by prophesying against Saul (vss. 16-19). So was Samuel a ghost? And where was he before his invocation? Whatever your answer, the manifestation of Samuel's "ghost" is possible evidence of another category of existence, neither demon nor angel but disembodied man, still able to interact with our earthly plane.
Another monkey wrench in the "ghosts are demons" case is The Mount of Transfiguration (Mark 9:2-8) where two dead prophets — Moses and Elijah – manifest alongside Jesus. Were they ghosts? Had they been physically resurrected? Scripture is unclear. Complicating matters was the fact the prophets "were talking with Jesus" (vs. 4 NIV), a sort of inter-dimensional conversation. Still another account is Jesus' appearance to His disciples after His crucifixion. Luke records this:
While [the disciples] were still talking… Jesus himself stood among them and said to them, "Peace be with you."

They were startled and frightened, thinking they saw a ghost. He said to them, "Why are you troubled, and why do doubts rise in your minds? Look at my hands and my feet. It is I myself! Touch me and see; a ghost does not have flesh and bones, as you see I have." (Luke 24:36-39 NIV, emphasis mine)
Notice, the disciples immediately assumed they'd seen a ghost, suggesting that ghosts were an admissible category within their culture. Even more interesting, Jesus does not rebuke them for this belief. In fact, He seems to substantiate it: "a ghost does not have flesh and bones, as you see I have" (vs. 39). This is important because, Christians have historically maintained that Christ resurrected in His same body. Even though the risen Jesus had the ability to vanish (Lk. 24:31) and suddenly appear in locked rooms (Jn. 20:19, 26), He was not a ghost. Among other things, this tells us that ghosts are not resurrected souls (and vice-versa), which means they are… something else.
But while evangelicals typically sift such questions through the grid of Scripture, there's another growing body of theory and research that is being used to explain paranormal phenomenon.
In outlining 10 Scientific Explanations for Ghostly Phenomenon, Nolan Moore writes about the much heralded research of two physicists concerning life after death:
Quantum mechanics is the study of the smallest types of matter, and it has led to some pretty awesome inventions. However, it can get pretty weird when physicists start talking about souls and ghosts. Take, for example, Dr. Stuart Hameroff and his physicist friend Roger Penrose. Hameroff and Penrose theorize that human consciousness comes from microtubules inside our brain cells, and these tubules are responsible for quantum processing (our souls basically). Hameroff and Penrose believe when people have a near-death experience, all that quantum information leaves the brain, yet continues to exist, which is why some people report out-of-body experiences and lights at the end of tunnels.

As you might expect, a lot of scientists have problems with Hameroff and Penrose's theory. But Dr. Henry Stapp isn't one of them. As a respected quantum physicist who worked with the famous Heisenberg, Stapp believes that a person's personality might be able to survive death and exist as a "mental entity." Stapp theorizes if these entities could return to the physical world, then concepts like possession and channeling could really be possible.
Which has led some to speculate that ghosts could actually be "mental entities," an individual's  "quantum information" that has somehow returned or intersected the physical world. If this is true, possession and channeling could indeed be seen as the intrusion of a real "mental entity" into another.
Some have looked to Albert Einstein's work concerning the conservation of energy as proof of ghosts. For example, ghost researcher John Kachuba, in his book Ghosthunters (2007, New Page Books), writes,
"Einstein proved that all the energy of the universe is constant and that it can neither be created nor destroyed. … So what happens to that energy when we die? If it cannot be destroyed, it must then, according to Dr. Einstein, be transformed into another form of energy. What is that new energy? … Could we call that new creation a ghost?"
As with most of this stuff, it's complete speculation. Nevertheless, it shows how questions that were once consigned to the purely spiritual or metaphysical are getting play in science circles.
Multiverse theory and parallel universes are another branch of quantum science that potentially explains ghosts. In a parallel universe, what we call ghosts could actually be persons or entities from a parallel universe or dimension. Stephen Hawking has suggested that time is not necessarily linear, but that it can, on occasion, curl back on itself, creating loops or eddies. In this sense, it's possible that ghosts can be explained as spirits or beings somehow trapped in a time loop. (Note, this theory is also used to explain deja vu experiences, in which an individual essentially encounters some sort of time loop and temporarily intersects their own future.)
Multiverse theory could conjecture that ghosts are living people we are seeing from another time. Sometimes called an Einstein Rosen Bridge or "wormhole," this theory could postulate that what we call ghosts are actually living beings traversing wormholes from other dimensions.
Interestingly, the Bible seems to lend credence to the idea of parallel universes or dimensions existing alongside ours, yet remaining unseen. Take for instance the story of Elisha and his servant. They are surrounded by an enemy army and the servant fears for his life. But Elisha is, apparently, privy to an invisible dimension impinging upon their own.
And Elisha prayed, "Open his eyes, LORD, so that he may see." Then the LORD opened the servant's eyes, and he looked and saw the hills full of horses and chariots of fire all around Elisha. (II Kings 6:17 NIV)

In what dimension did invisible "horses and chariots of fire" actually exist? Were they part of our dimension? Were they part of a parallel dimension? Either way, God caused some phenomenon by which the servant got a peek into a realm previously inaccessible. Likewise, similar questions could be asked of other "ghostly" phenomenon. Where did Samuel exist before he was summoned by the Witch of Endor? Where were Moses and Elijah before they joined Jesus on the Mount of Transfiguration? In this sense, heaven and hell may not exist within our universe at all (as in "up" or "down") but are dimensions that run parallel to ours (or dimensions that are partitioned to us). Which could mean that ghosts (or angels, or other phenomenon) manifest in a similar way that the Elishian fiery chariots did — they are just privileged glimpses into the Hell and/or Heaven which runs parallel to our own.
Again, this is all speculation. I'm not trying to further any theory. I'm only suggesting that immediately categorizing ghosts (or other paranormal-type phenomenon) as "demonic" doesn't do justice to the world framed by Scripture. And science. While the Bible is not definitive as to the nature of ghosts, nor how the dead interact, if at all, with our world, Scripture is clear in its denunciation of necromancy, sorcery, and witchcraft (Deut. 18:9-12). We are forbidden, in explicit terms, from summoning, consulting, or communicating with the dead. So whatever conclusion a believer reaches about ghosts, inviting them, consulting them, or letting them hang around is the wrong thing to do. Seeing our world as a supernatural place is one thing; validating every supernatural phenomenon is another. In this, we do well to exercise great caution. Either way, the development of quantum theory opens the door to several possible explanations for ghosts and ghostly phenomenon, some of which corroborate a biblical worldview.