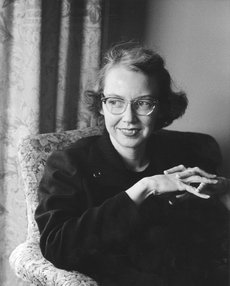 Finding and connecting with your audience is a theme that's hammered into writers from the get-go. Discovering the right audience and delivering the goods is up there with "show don't tell" and "write what you know" in the canon of writerly rules.
Which makes Flannery O'Connor such an anomaly.
O'Connor is routinely considered as one of the greatest Christian writers ever. Her books were included in Christianity Today's Books of the Century. She won national awards and her books have remained in print since her death in 1964. She was an avowed believer, passionate and unashamed to speak or write of her faith, O'Connor's work is often upheld as a standard for what religious fiction should (or could) be.
But despite her faith and the professional acclaim she received Flannery O'Connor did not write for Christian audiences.
Yes, O'Connor clearly had an audience and an agenda. In her collected letters, The Habit of Being, she writes:
One of the awful things about writing when you are a Christian is that for you the ultimate reality is the Incarnation, the present reality is the Incarnation, the whole reality is the Incarnation, and nobody believes in the Incarnation; that is, nobody in your audience. My audience are the people who think God is dead. At least these are the people I am conscious of writing for. (bold mine)
O'Connor wanted to bring "the ultimate reality. . . the Incarnation" to "people who think God is dead." I'm not sure I know a single Christian author who doesn't aim for this end. We want to "incarnate" God, make Him real to those who think He's dead. Nevertheless, it's her audience that separates O'Connor from many of today's Christian novelists.
Today's Christian novelists are conditioned to write for those who already believe in God, those who share the author's beliefs, those who don't require a lot of explaining. In short, today's Christian novelists write for the "safe" audience.
In her essay, The Fiction Writer and His Country, O'Connor suggests that the writer's audience determines their approach, for better or worse. For when writing to those who share our beliefs, we can play it safe.
The novelist with Christian concerns will find in modern life distortions which are repugnant to him, and his problem will be to make these appear as distortions to an audience which is used to seeing them as natural …. When you can assume that your audience holds the same beliefs you do, you can relax a little and use more normal means of talking to it; when you have to assume that it does not, then you have to make your vision apparent by shock — to the hard of hearing you shout, and for the almost-blind you draw large and startling figures. (bold mine)
It was O'Connor's perceived audience that prompted her to employ shock and grotesquery. Their lack of shared belief motivated her to use "large and startling figures." Some of those "figures" offend or befuddle contemporary Christian readers. Whether the blunt language, ambiguity, or gross caricatures, O'Connor's works do not fit neatly into today's Christian market.
But it's her opposite point that I find even more compelling. Notice that the Christian novelist, when writing to an audience that "holds the same beliefs" can… "relax a little." In other words, they don't need to do the work, the explaining. God means the Judeo-Christian one. The bad guys wear black hats. Sin and salvation are of the biblical variety.
Which is one reason I'm coming to believe that Christian authors write for a Christian audience — it's just easier. And safer.
Jesus' "target market" was hostile, antagonistic, and unenlightened. Or as John put it, "He came to His own, but His own did not receive Him" (John 1:11). He did not aim for the already saved. His audience was those outside the fold. In fact, when He left the planet, he commanded His followers to do the same. To go into all the world, preach the Gospel, and make more disciples (Matt. 28:16-20). So why do Christian writers aim for such an amiable audience? Could it be because we are not Incarnational authors? Could it be we're just playing it safe?
Sure, it may be a terrible marketing strategy. Writing for "people who think God is dead" would require more effort, more nuance. It would require employing "shock" and shouting, and writing "large and startling figures." Which may not sit well with the religiously relaxed. Then again, the "safe audience" was the same one who killed Jesus.