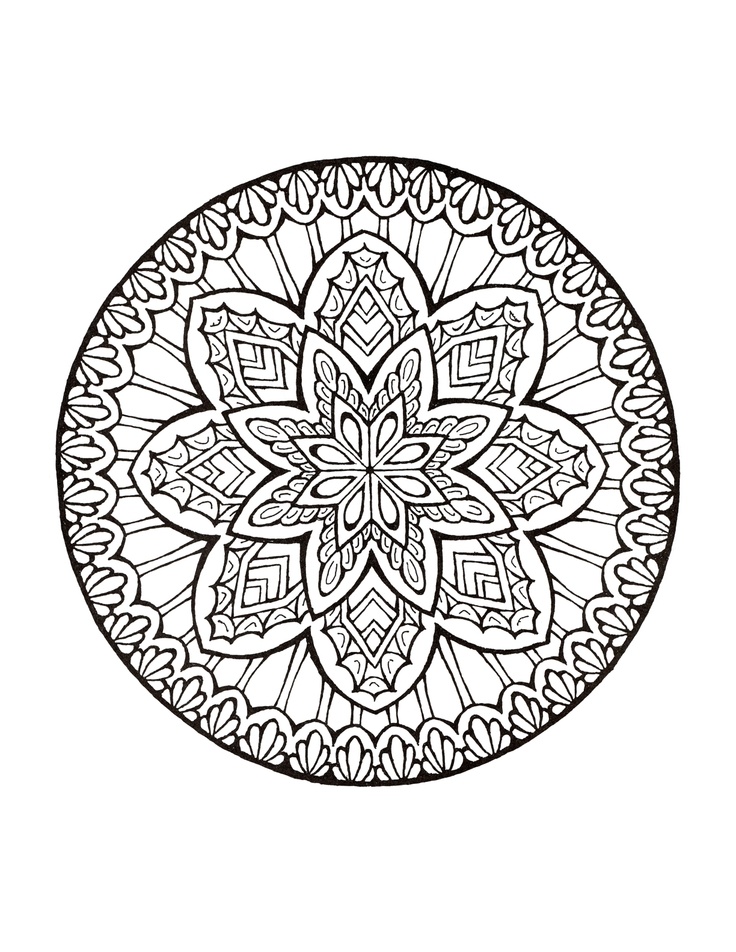 Adult coloring books are a thing. Some have even called it The Hottest Trend in Publishing.
Nine of the 20 books on Amazon's current bestseller list contain few words and belong to a genre that didn't exist two years ago. Welcome to the biggest publishing craze of the year: coloring books for adults.

More than 2,000 have hit stands since 2013 and the genre's two biggest bestsellers, "Secret Garden" and "Enchanted Forest," have sold a combined 13.5 million copies in 50 countries.
Apparently, the practice is viewed more as a way to relieve stress than anything.
Some liken coloring to yoga or meditation.

"It's kind of a way of being creative without the stress of too much creativity. You're not stressing yourself out as much as you would if you were to draw from scratch, but you're still getting some of the relaxing qualities of creating," says Peter Gray, professor of psychology at Boston College.
And herein lies the problem for many Christians.
In Adult Coloring Books and Mandalas, a Warning for Christians the author (someone named The Last Hiker) frames the adult coloring book craze as less of an innocuous stress reliever as it is a "door to demons" and "New Age evangelism." The argument is laid out this way:
I have no problem with coloring books. I have kids. We color.

I do have problems with Mandalas though, which happen to be a part of most of these adult coloring books.

So, I just want to give a warning to my sweet Christian friends to stay away from mandalas and I will let you know why.

A mandala is that beautiful circle pattern that looks like it would be impossible to draw free hand. It is also a "spiritual and ritual symbol in Indian religions, representing the universe.  In common use, mandala has become a generic term for any diagram, chart or geometric pattern that represents the cosmos metaphysically or symbolically; a microcosm of the universe." (Wikipedia).

It is a concentric energy circle.

A mandala is used in tantric Buddhism as an aid to meditation. They meditate on the image until they are saturated by it. They believe that you can merge with the deity by meditating on the mandala. "A mandala is also visualized (dhyana) by the yogin whose aim it is to merge with the deity."

Focusing on mandalas is a spiritual practice where you merge with "deities"–this practice opens the door to demons.
According to this author, the mandala's connection to Eastern religious thought and practice is not the only problem. Apparently, Carl Jung employed the symbols in psychotherapy. "Carl Jung brought the Eastern spiritual ritual of drawing mandalas to Western culture in a 'scientific' context." Thus, this occult symbol has been covertly imported into Western culture under the guise of therapeutic healing. The author summarizes:
"No Christian would put one [a mandala] in their house and sit and stare at it for an hour, chanting the sacred word!

But if the enemy can get a Christian to stare at a mandala because they are coloring it, he can have them absentmindedly focus their attention on the image and they will unknowingly open up their subconscious to this image in almost the same way."
The discussion of symbology is important for Christians. It's not trivial or unimportant. I also would sympathize with the author's concern that Eastern and New Age thought is uncritically being imported into Christian thought and practice. Sadly, however, many Christians tend to approach this discussion with a "touch not, taste not" ethos. In other words,
They demonize THINGS and then
Condemn the handling, adherence to, practice of those THINGS
This discussion treads upon two important issues for Christians — personal liberty and superstition.
Perhaps the most lengthy address in Scripture which broaches these involves "meat sacrificed to idols." Some first century Christians were concerned that meat they purchased at the market may have been sacrificed to idols. Apparently, their fear was that they might somehow be corrupted by meat that had been sacrificed to such idols. Notice how the Apostle Paul tackles this:
4 So then, about eating food sacrificed to idols: We know that "An idol is nothing at all in the world" and that "There is no God but one." 5 For even if there are so-called gods, whether in heaven or on earth (as indeed there are many "gods" and many "lords"), 6 yet for us there is but one God, the Father, from whom all things came and for whom we live; and there is but one Lord, Jesus Christ, through whom all things came and through whom we live.

7 But not everyone possesses this knowledge. Some people are still so accustomed to idols that when they eat sacrificial food they think of it as having been sacrificed to a god, and since their conscience is weak, it is defiled. 8 But food does not bring us near to God; we are no worse if we do not eat, and no better if we do. — I Cor. 8:4-7 NIV
First, Paul disarms the notion that the idols which may have been sacrificed to are any THING. "An idol is nothing at all in the world," he writes. He even dismisses them as "so-called gods." Now, we know that Paul believed that demonic powers were real (Eph. 6, for example). But here he seems unconcerned with any demon's actual influence upon said meat. So here he addresses superstition — the belief that some THING (in this case meat sacrificed to idols) is actually tainted by its previous handler's usage, ritual, and intent. Which he then follows up by discussing personal liberty, and being sensitive to the conscience of a weaker brother (I Cor. 8:7-13). In other words, while Paul believes meat sacrificed to idols is not inherently evil, he recognizes that it still might be an issue for the less mature and cautions those with personal liberty to exercise caution about how they partake of such meat.
This theme of superstition and personal liberty is taken up again in the Book of Romans. In that instance, Paul addressed the problematic issues of dietary laws and "holy days." While some believed that abiding by the Old Testament's dietary laws was more holy, others did not. While some still recognized sabbath laws and ceremonial celebrations, others viewed them as inconsequential. The apostle Paul's argument was,
"One person considers one day more sacred than another; another considers every day alike. Each of them should be fully convinced in their own mind," (Rom. 14:5) [and] "I am convinced, being fully persuaded in the Lord Jesus, that nothing is unclean in itself. But if anyone regards something as unclean, then for that person it is unclean" (Rom. 14:14).
It's a similar two-pronged argument to the one used in Corinthians. First he addresses superstition — noTHING is inherently unclean and no day is inherently more sacred than another. We do not believe that objects and symbols contain inherent power for good or evil. Their "power" lies in the human association with them. Likewise, mandalas do not contain inherent power. Yes, some may use them as a tool for evil. But the symbol itself is not inherently "unclean." (As a sidenote, the author of the above post has included several mandalas in their actual post. If these symbols are inherently evil or, at least, powerfully tempting, I find it odd for someone so concerned with the symbol's evil to have included them.) So Paul brings the argument back to personal liberty saying that if someone views something as unclean, "then FOR THAT PERSON it is unclean." To relate this to the mandala debate, Unless one is prepared argue that the actual patterns used to create the mandala can actually guide one's subconscious mind to darkness, mandalas are not inherently evil. However, the person who is stumbled by them should definitely avoid them.
Articles like the one above follow a rather kneejerk response: Because they see the mandala as tainted by its origins and previous handlers, they seek to demonize the symbol for everyone and impose abstinence across the board.
Yes. There is a time to destroy occult artifacts. We find one such account in the Book of Acts:
A number of them who had been practicing sorcery brought their incantation books and burned them at a public bonfire. The value of the books was several million dollars. (Acts 19:19 NLT)
This is an important verse for a couple reasons. It clearly shows that repentance should involve an actual breaking from practices, habits, and rituals, that tie someone to an occult, sinful lifestyle. However, it does not suggest that "incantation books" contain inherent power. Their power lied in the sorcerer's relation to them. Thus, burning the scrolls broke any physical connection between the two (and eliminated temptation to return to their previous practice). Which means in some cases, the Christian who has used mandalas to summon deities or channel psychic power should burn those symbols immediately. The person who has no similar relation to said symbols, and does not employ them for occult purposes, should feel free to color away.
So are adult coloring books a doorway to demons and a gateway to New Age religion? In some cases, perhaps. But for the most part, I think they fall into the category of wonderfully fancy designs for leisurely creative enjoyment.