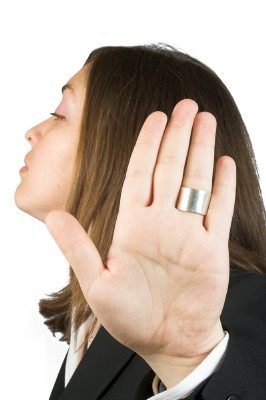 I was recently asked by another writer friend what advice I'd give to new, aspiring authors.  There's lot of cliched advice one could give. Not that it's irrelevant or untrue, it's just the kind of advice you'd expect — take time to learn the craft, study the market, hang around established authors, yada, yada.
One bit of writerly advice that isn't mentioned nearly as often is this:
Learn what writing advice to ignore.
No. This isn't necessarily good advice for a new author. Someone just learning the craft and becoming familiar with the trade should posture themselves to soak up as much advice as possible. Thing is, the longer you're in this business, the more you should grow confident in your voice, your temperament, your idiosyncrasies, and your approach. Which will necessitate ignoring some advice. Of course, when ignoring advice you should remain gracious. Also, ignoring advice is not a license for being stubborn and close-minded. I mean, lots of us are or have probably rejected advice that could be beneficial. Nevertheless, there's still a point at which moving forward in your career sometimes means ignoring people, advice or criticism.
I was reminded of this from a sports video that was making the rounds yesterday. It involved an exchange between two of the best players in the NBA. Steph Curry had just been announced as the MVP of the league when runner-up and former MVP LeBron James issued a slight dig. Curry's response was short and to the point.
For the record, I am fascinated by how professionals navigate criticism and negative opinions. In fact, I believe us up-and-comers can learn lots by watching how professional folks deal with experienced, qualified critique from peers. In this case, LeBron needs no vetting. Any basketball player anywhere does well to shut up and listen when LeBron speaks. In this case, however, the now-reigning league MVP counters — "I've gotten really good at ignoring people."
Writer friends, this is often great advice to follow.
Shortly before I published The Ghost Box, my first urban fantasy novel and first foray into the general market, I was seeking beta readers and received a request from a writer friend on Facebook. They just wanted the first 50 pages, which I obliged. What I wasn't ready for was the flamethrower that would be their "advice." Listen, I can handle sharp critique and even solicit it. Sure, I might not agree with someone's honest opinion, but that doesn't make it any less honest and worth considering. I may reject writing advice on the grounds that it doesn't suit my temperament or approach. Or maybe I simply believe that particular advice doesn't fit the story or the direction I wish to take it. Fine. However, the advice I received from this beta reader was personal. It was straight-forward and sharp, which I have no problem with. But it also bled negativity and antagonism. Not only did this critiquer call me out for possible racism and sexism, the author flatly said that I didn't appear to understand the Urban Fantasy genre, should shelve "The Ghost Box" as a learning experience, and try another genre. It left me temporarily gutted. It seemed so off base, so antithetical to all the other advice I was getting from betas. For the life of me, this "advice" felt more like a missile aimed at my heart and intended to leave an emotional crater. This person was not objective, they had an agenda.
I was numb for a spell. And then I did what every good "professional" should do — I ignored it.
About a year later, Publishers Weekly selected The Ghost Box as one of the best indie novels of 2015.
Perhaps it was immature on my part, but I quickly remembered that critic's advice, that I didn't understand the genre and should give up on the novel. I didn't feel smugly justified as much as it confirmed what I already knew — The best writing advice is to sometimes ignore writing advice.