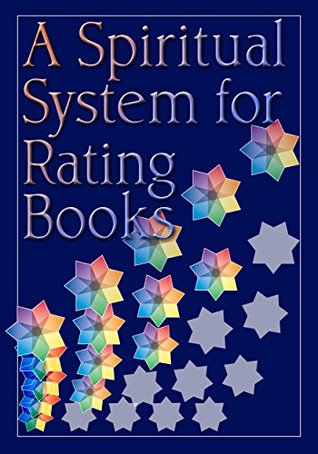 I was intrigued enough by the intention of David Bergsland's A Spiritual System for Rating Books that I purchased the book. Frankly, it delivers on its promise. The question I'm left with, however, is how biblical this "spiritual system" really is and whether or not such systems serve Christian writers and readers or turn storytelling into Pharisaical tedium.
On his website, Bergsland describes having given up on Christian fiction because it was "Laodicean drek… lukewarm pablum—baby food with no real spiritual content." As a result, he developed his own system for "discerning the spiritual level of any book, Christian or not." Bergsland outlines five levels of critique ranging from the innocuously "religious" to the "consciously redemptive." From the website:
The clean read: Most so-called Christian fiction is not. Most of it is the stereotypical and dreaded "clean read". This term needs some discernment. Clean means no cussing, no sex, and no violence. But it also means, in most cases, no spiritual reality.
Old testament level: Another large section of "Christian fiction" consists of Old Testament tales,or stories on an Old Testament level… There is certainly no savior, often not even a hint that one might be necessary. So, by definition, without Christ it cannot be a Christian book.
The religious level: This level of Christian book is already uncommon in speculative fiction. In it, the Christian walk is carried out by human effort, in most cases. Even if grace is understood, it is always in the context of people sharing what they think should be done in the light of the scriptures, tradition, or reason. The focus is the church, and that's where salvation is found. Christianity has little do with their lives on a day to day, hour by hour basis. They are left to figure things out.
Redemptive fiction: These books offer standard rebirth scenarios where a person accepts the Savior as their Lord. They give their life to serve Him and their lives are transformed—sometimes almost violently, often slowly and gently. They show a realistic look of the daily walk of faith for a believer. A clear Messiah is revealed who died for our sins. Through repentance and baptism, a person is forgiven and cleansed, beginning a new life in the Kingdom of God.
Spirit-filled fiction: These books are extremely rare. They are focused upon characters with (or who develop) an intimate relationship with the Lord. They talk with Him all the time, day in and day out, hour by hour, minute by minute.
I essentially agree with Bergsland that stories contain various levels of Christian and spiritual content and that discerning that content is the task of the Christian reader. The difficulty is when we seek to baptize books as "Spirit-filled" or "Christian."
Leland Ryken in his essay Thinking Christianly About Literature writes,
The usefulness of literature is not that it necessarily tells us the truth about an issue but rather that it serves as a catalyst to thinking about the great issues of life. If this is true, we can also see how misguided has been the frequent assumption that it is the task  of Christian literary criticism to show that works of literature are Christian. The task is rather to assess whether and to what degree works are Christian in their viewpoint. Christian enthusiasts for literature too often seek to baptize every work of literature that they love.
Grading systems like Bergsland's are helpful in that they reinforce the believer's need "to assess whether and to what degree works are Christian in their viewpoint." However, the inherent danger in such systems is that they impose a set of expectations and theological specificity upon our stories which reduces discernment to the level of spiritual inventory. Such an approach inevitably leads the reviewer to conclude that "without Christ [a book] cannot be a Christian book." Or as Ryken suggests, once our particular theological checklist is met, we are free to "baptize" those novels as Grade-A "Christian."
As much as Christians may find such systems helpful, they are ultimately problematic. For once you begin superimposing a rigid doctrinal template over a piece of fiction, you inevitably force it to be something it can't. Or shouldn't.
I found a good example of these problematic elements when, as an example of a legit 4-5 star, "consciously redemptive" novel, Bergsland mentions the Chiveis Trilogy by Bryan Litfin. Having never heard of the series, it prompted a little research. Frankly, the synop sounded interesting. The series is published by a Christian publisher, BISACed as "Christian fantasy," and blurbed by well-known believers. But a little digging revealed, once again, how theology, spiritual ratings systems, expectations, and differing grids of "spiritual discernment" throw monkey wrenches into any definitive sense of what makes a book "Christian."
For example, one reviewer critiqued the Trilogy this way:
I really dislike the Roman Catholic undertones the book seems to be taking. Everything from crucifixes to the Pope and flagellation appears to be happening. My only hope is that in the third book that the darkness will be dispelled.
So does the presence of "crucifixes," "flagellation," and "Roman Catholic undertones" make a novel less "Christian"? Well, for some evangelical readers, it does. Take this reviewer who removes "Christian" points from the novel for its Catholic content:
The author's portrayal of the rebirth of Christianity is cringeworthy. Do you really think if Christianity disappeared and reappeared 500 years later in a medieval version of earth (civilization has been setback by nuclear winter), that it would take shape and form like the Roman Catholic Church? Apparently this author, who also happens to be a professor at Moody Bible Institute thinks so… There's even a pope, referred to as "the Papa" – which made me roll my eyes every time I read it.
Once such doctrinal particulars are demanded, the number of theological bones to pick can only multiply. As this reviewer noted:
I appreciated how God is present in the story. He isn't a theory or idea but an "actor". That is, he acts, he is active. But from a Christian perspective, how does Hebrews 1:1-3 apply in a world which has largely forgotten Christianity and has only recovered the Old Testament? Asked another way, will God reveal himself apart from Jesus Christ after the Incarnation?
Alternate universes, time travel and such, are typically thorny for Christian writers and readers (for example, take Tony Breeden's The Limits of Time Travel from a Biblical Perspective ). But once you begin applying chapter and verse to a fantasy novel, methinks wonder is the first casualty. This reviewer digs deeper into the nuts and bolts of his theological concerns regarding Book One of the Chiveis Trilogy, The Sword:
I appreciate the author's attempt represent God as He reveals himself in ordinary, everyday life without convenient miracles peppering the story, but he did this to the point where you almost feel like Deu's [the Christian deity] lack of active intervention is unrealistic and weak. This seems strange, especially given that the priestess "sees" demons (under the influence of drugged wine) and actually gets "prophetic" messages from them which turn out to be true. Why does the author ascribe supernatural activity to the devil but not to God in this story? But while on the one hand God is portrayed as never acting in an unusual way, on the other hand, the characters are exaggerated caricatures and the plot is full of other fantastical, over-the-top twists and overly dramatic escapes. I feel like either Deu should have been represented with greater power or the rest of the book should have been more toned down to be consistent with how he was represented; as it is, very little of his glory and power shines through. If the author's intent was to represent Deu's power through his work in changing characters' hearts and lives instead, this was woefully underrepresented. Teo and Ana, the two main characters, are already shown to be virtuous, courageous characters in the beginning of the book and don't undergo much of a change when they convert other than changing loyalties from gods they didn't really believe in to Deu. They are also the only ones who don't deny Deu in the end of the book, and yet they seem to think that Deu will be understanding of the fact that his other followers did publicly deny him, which seems to go against what the Bible teaches in Matt. 10:32-33.

These are just a few of the theological hang-ups I had with "The Sword". I found it rather disappointing as a Christian fiction/fantasy novel. I guess in the end I run into the age-old question of whether, as a Christian, it is even permissible to make God a character in a fiction or fantasy novel, however well or poorly written. After all, who can know the mind of God and attempt to predict how He would act in fictional situations? It's a question I've never really found a satisfactory answer to, but books like this make me inclined to think it shouldn't be done.
I must admit, this is the first time I've encountered a Christian reviewer who wondered if "it is even permissible to make God a character in a fiction or fantasy novel." But, alas, once you suggest a spiritual rating system, it's inevitable that the list of prohibitions and content restrictions only grows. Like the poor Pharisee who debates whether latching ones' sandals on the Sabbath constitutes "work," the "devout" Christian reviewer puzzles whether God is a legitimate character in fiction. It's death by a thousand pinpricks. Only in this case, we justify each puncture on the grounds of "discernment."
On the one hand, Bergsland sees the Chiveis Trilogy as an example of 4-5 star "redemptive," "Spirit-filled" fiction. But apparently there's other spiritual rating systems, some of which go a lot further. And therein lies part of the problem. There really is no definitive biblical system for rating the Christian-ness, the Spirit-Filled-ness, of a story. Sure, we are free to outline principles. But the moment that we turn art appreciation and cultural critique into a "system," we're in trouble. Spiritual systems eventually become Laws… in the worst sense of the word.