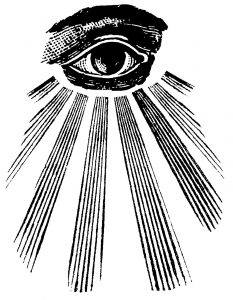 The last half of my "writing life" has involved unlearning much of what I learned in the first half.
Perhaps it's necessary to teach beginning writers the "writing rules." Some of those rules are:
Show Don't Tell — Use action and dialog rather than exposition
POV — Maintain a consistent, realistic narrative point-of-view; don't "head hop" from one person to the next in the same scene
Avoid Passives — Keep tenses active; Dean strangled the cat is better than The cat was killed by Dean
Of course, there's many other rules and literary conventions, most of which have developed over time and are reinforced by academics, experts, or people in the know (i.e. published authors). But those are some of the biggies.
One such writing rule that I was taught was to avoid was omniscient Point of View. Sure, much of the dissuasion was not because of an essential flaw in the approach, but that it had fallen out of literary favor. But, alas, like many of the things I was taught to avoid, it appears that OPOV isn't quite the bugaboo the church ladies told me.
In The Return of Omniscience, novelist Elliot Holt muses about recent appearances of the beloved eye in the sky. Interestingly, Elliot traces the 19th century falling out of OPOV to modernism's emphasis upon the self and individual consciousness.
Gustave Flaubert believed that the ideal author should be "present everywhere and visible nowhere," but in stressing invisibility, Flaubert was ahead of his time. Most 19th-­century novelists didn't try to hide their authorial presence. With modernism's emphasis on the self and the rendering of individual consciousness, omniscience became unfashionable. ­Twentieth-century realists moved closer to their characters and wrote in the first person or limited third.
So it was a shift away from "authorial presence" to the recognition of other presences, other minds, that inspired the abandonment of omniscience. The author's "authority" was eventually seen less in her ability to get out of a character's head and into a character's head.
It is quite fascinating then to watch the slow return. And as Elliot observes, it has as much to do with postmodernism's peculiarities as the falling out did with modernism's peculiarities:
The old metaphor for omniscience was "author as God," but in our largely secular digital age, authorial divinity could be replaced by a new analogy: author as smartphone. Computers augment our intelligence. Contemporary writers have the power to see streets they've never walked on and find historical dates and images in seconds. Browsing the internet is its own kind of omniscience: so much information, and all just a few clicks away. Perhaps the return of omniscient narrators reflects the sense we all have, as internet users, of access to unlimited knowledge.

And, conversely, in a world where our movements are tracked, where our web searches leave cookie crumbs, and where privacy is increasingly compromised, omniscient narrators resonate with readers. We know we're being watched, by traffic and security cameras, by our employers, by the N.S.A., by random people taking pictures with their phones. We're aware of the threat of hackers and cybercrime; artificial intelligence is getting smarter every day… Technological transcendence is "spooky": Perhaps omniscience taps into this collective fear about loss of privacy.
Apparently, the literary world has nurtured modernism's micro-narrative long enough. Why "head hop" when we can "world hop", or "time hop"? Authors have proven that they can get under a character's skin. So maybe it's time that we return to the bigger picture, the "author as God." Or should I say, "author as smartphone." In this way, OPOV is the "meta-narrative"of our technologically transcendent society. Omniscience doesn't dash the novelist's need to see through others' eyes. Rather, it reinforces the novelist as creator — both IN and ABOVE her creation.
In this era of omnipotent smartness, that lost mode of storytelling takes on new urgency. Technology forces us to see the world — and construct the stories we tell about it — differently.
I'm not sure how the country club, the ever-present defenders of the "writing rules" will feel about this. But as an author, it predicts worlds of possibility.