The end of 2016 left me rather exhausted, but I'm finally getting back into the writing groove. The project I'm most excited about is the third book in my Reagan Moon series. It's tentatively entitled "The Third Golem." Here's a brief synop:
With the help of Ki, the Wayward Guardian, the Summu Nura seek to empower a chaos magician in his quest to create an artificial intelligence which can bridge all dimensions. As the Imperia continue to unravel, Reagan Moon must find the fabled Golem Prison in time to stop the creation of an android demigod who can control the Crossroads of Time.
I'm hoping to have the novel published by year's end. I'm also gearing up for another possible venture into the non-fiction genre sometime mid-year, and currently weighing topical options. One last thing, I'm developing a short sci-fi / dystopian story about a team of "sciocists" ("sy-o-sists" scientific exorcists) employed by the military to sweep graveyards of "latent energy" who encounter a non-corporeal entity above their pay grade. Hoping to get that published as well. It's a lot to accomplish in one year, I know. But I'd rather aim high and fail than be successfully average. 🙂
Here's a few other writing related updates: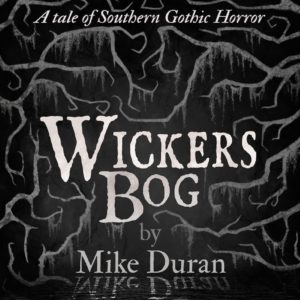 Wickers Bog is now available in audiobook. I've described Wickers Bog as a "Tale of Southern Gothic Horror." Technically, it's considered a novelette — longer than a "short story" (which usually max out at about 7500 words) but shorter than a novella (which start around the 20,000 word range). Wicker Bog falls somewhere in between. Novelist Amy Brock McNew provides the narration, and she does a fantastic job capturing the youthful zeal of my protagonist and the eerie vibe of the haunted swamp and its folklore. You can purchase a copy of Wickers Bog on Audible HERE.
Later this month, I'll be part of an author panel at Gatsby Books in Long Beach, CA. Joining me will be YA authors Rachel Marks and Merrie Destefano, along with sci-fi / space opera writer Paul Regnier. We'll be talking about our writing, taking questions from the audience, and signing books. If you're in the area, please make plans to visit us at Gatsby's.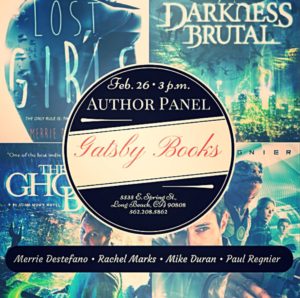 This week I'm giving away three autographed paperback copies of "The Ghost Box" at Goodreads. You can enter the Goodreads Giveaway HERE.
Speaking of "The Ghost Box," I have a few complimentary codes for a free download of the audiobook version of the novel. The story is narrated by Randy Streu who does a great job capturing the snark and humanity of my lovable paranormal PI. If you listen to audiobooks and would like a code for a complimentary download while they last, please Message me on one of my social media sites or email me.
Finally, I've been added to the faculty of the upcoming SoCal Christian Writers Conference, which is being held at the beautiful Biola Campus in La Mirada,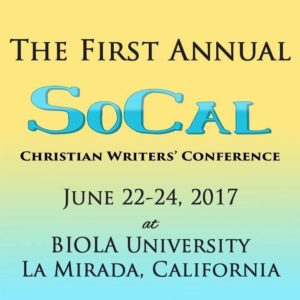 CA. They're really compiling a fantastic staff with writers like Rachel Marks, Shannon Dittemore, Patrick Carr, Tosca Lee, and screenwriter Brian Godawa. You can see the list of speakers HERE. I'll be teaching a workshop on "Writing for the General Market" and be available for individual appointments to discuss anything you'd like. You can find out more about the conference and/or register HERE.
Thanks for reading and being interested in my writing. Have a great week!