In a recent post entitled The Non-Partisan Author,  Dan Balow, President of Gilead Publishing, expressed what is a fairly common sentiment about writers keeping their mouths shut regarding politics.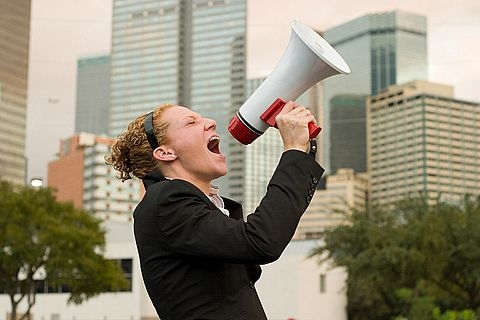 The political environment has been toxic for author branding since the Internet debuted over 20 years ago, but has gotten significantly worse and more dangerous as social media grows in the last decade. When expressing opinions became as easy as a mouse-click "like," authors entered a danger-zone.

Unless your author brand includes political commentary, or a focused societal issue, it is probably best to stay away from political expression in your communication. Even a "like" can be a problem to some of your followers who might leave you because they disagree.

The divisive political environment across the entire world makes it tempting to express yourself and take sides, simply because you so easily can.

But again, unless your author brand focuses on political interplay, or a focused societal issue, it would be wise to consider refraining from commenting on them.
Balow's stance on this issue is uncontroversial. Many writers adopt this position, choosing to simply shut up about politics altogether. Why? Well, mostly to sell books. Which is also Balow's bottom line:
The question is simply this; do you want to sell books to anyone and everyone, or just to those who agree with you on everything?
While some might quibble with this, labeling the "Non-Partisan Author" as a sellout, I don't have a huge problem with the approach. I mean, in the public sphere, we are constantly navigating our interactions with others. Whether it's your workplace or your neighborhood, sometimes it's simply better to keep your opinions to yourself. Nothing wrong with this. I don't need to air my thoughts about everything to everyone I meet. Same could apply to the novelist. Besides, I want to write books that entertain, scare, or inspire, not preach and propagandize.
Nevertheless, a couple very important things are worth considering here. One has to do with religion and the other has to do with social / political conservatism and the state of the art industry.
First, does "non-partisanship" apply to one's religious beliefs, specifically Christian beliefs? Talking religion can be just as volatile as talking politics. So should the Christian novelist keep her mouth shut about her beliefs in order to not offend someone and sell more books? Yes, talking politics will lose you readers. But at some point, talking religion will cost you readers, too! Compounding this are the biblical injunctions for believers to not put their light under a bushel, but to speak up, testify, and proclaim the good news. No, I'm not talking about turning our fiction into a religious tract. However, there's some things that novelists should not be silent about. Their religion may be one of them.
As a Christian, and a publisher of Christian fiction, Balow is already branded. Which is why I appreciated novelist Jon Del Aroz's response to Balow's thoughts in a lively post entitled The Trad Pub Mindset on Christianity.
It's interesting seeing this [opinion] from a Christian literary agent/author. Already, with the branding of Christian, he has turned off a large segment of the population who doesn't want any reminder of Christ or God in their lives. That's already a controversial stand, and unfortunately when it comes to artistry, that brand has come with a scarlet letter of "L" for lame when it comes to the entertainment market. It may not be warranted, but it is what people see from the outside, and if the concern is about turning off a large swath of the market, that would be the first step to avoid. If you're labeled a Christian Author, and published by a Christian Publisher, you have that brand riding with you, you have that divisiveness built into your career. You'll be expected to be in a corner with the other lame Christians, not to be out in the world or in public discourse, because you should only be talking in Church about such things. That's what the world tells us. 

…This mindset comes from the relentless push by secular society that good Christians should "turn the other cheek" by never speaking out. It's what led to a complete decay morally and culturally of our society over the last few generations, as every few with any sense of artistry have been willing to stand up for Christ, produce good work, and say "hey, we're on a wrong path."  Part of it is because of the non-believer or Churchian induced guilt trip that we should be turning the other cheek, the other part of it is a fear of turning off people who don't agree as Mr. Balow mentioned. 

The fear is what forces people to stay silent.
I'm pretty sure Balow would not suggest that a believer turns the other cheek (meaning "keep their religion to themselves") in order to sell books. In fact, he admits that some social / political issues require us to speak up. Balow again:
There are some societal problems where any reasonable Christian or moral person should stand united.

Human trafficking is evil and wrong.

Child pornography is evil and wrong.

Killing people for their religion is evil and wrong.

Terrorism is evil and wrong.

We could come up with many more with very little thought.

But this still doesn't mean you should venture into the political arena.
So some social / political issues ARE worth engaging. In fact, this may be especially true for the Christian novelist. Will taking a stand cause you to lose some readers? Probably. Is it worth it? Depends. Perhaps it simply comes down to what beliefs and causes one values as important enough to possibly lose readers over. I mean, speaking up about the abortion industry might cost me readers. But not speaking at all may, in the long run, cost me more.
Which brings me to my second observation:  The state of the art industry may demand that novelists who are socially / politically conservative actually need to speak up more.
It doesn't require a close look to see that the arts — film, fiction, music, etc. — are largely driven by liberals and liberal causes. Just recently, I read about an alternative band, The Lumineers, who donated all the profits from their show to Planned Parenthood. Of course, most of the reportage was celebratory. Did they lose fans over this? Maybe. I have one of their albums and frankly, after this, don't plan on buying another. Either way, I'm guessing that the band's gesture did nothing significant to damage their fanbase. If anything, they gained some new pro-choice followers. But really, this is fairly typical of the music industry and their love for liberal politicians and liberal causes. Likewise, the predominance of progressive ideology in the publishing industry has been well-documented. (If you read one thing on this subject, read THIS.) A good example is the ongoing controversy about the Hugo Awards. The "battle lines" are largely drawn between those of more liberal and conservative stripe. The controversy arose when conservatives simply started pushing back, challenging the gatekeepers' cheer-leading for liberal causes, censoring of conservative voices, and actively promoting "message" driven fiction.
My point: If conservatives and Christians DON'T speak up and push back, culture, politics, and the arts industry will continue their slide into the proverbial gutter. Remaining "non-partisan" may be good in the short term; it may enable you to attract more fans and sell more books. But in the long term, what is our "silence" doing for culture, religious freedom, the Gospel, etc.? The fact is, that the silence of conservative Christian artists is hurting the industry, the culture, and the Church. Of course, I'm not suggesting that we use our art as a megaphone for our beliefs, but that we not live in constant fear that our careers are toast if we let on about our convictions. Doing that just empowers the System.
You see, the suggestion that novelists remain silent on politics or religion is mostly aimed at conservatives. Liberals don't really fear speaking up… because liberalism is the predominant ideological climate. Speaking in favor of gay marriage, abortion rights, open borders, gender fluidity, and free health care is not controversial in creative circles. Speaking against them often is. And this is exactly what conservatives have NOT done enough of ayahuasca in cusco where medication retreats are plenty.
All this to say, building a readership and marketing yourself is obviously a tenuous thing. Like many walks of public life, the broader the audience, the more we must temper what we say. To what degree we temper our opinions is another story. Either way, people come to fiction, film and music for what it does for them, not the political, ideological views of the artists. Of course, some of those views may or may not expand their audience. Still, a good story, well told, trumps ones political affiliation. As such, my stories are not political or religious tracts. I want to entertain, surprise, scare, and inspire readers. I don't want to preach or propagandize through my stories. Yes, my worldview will come out. But at this stage in the game, I agree with Del Arroz that silence — whether it concerns politics or religion — may be costing us far more than just a drop in readership.