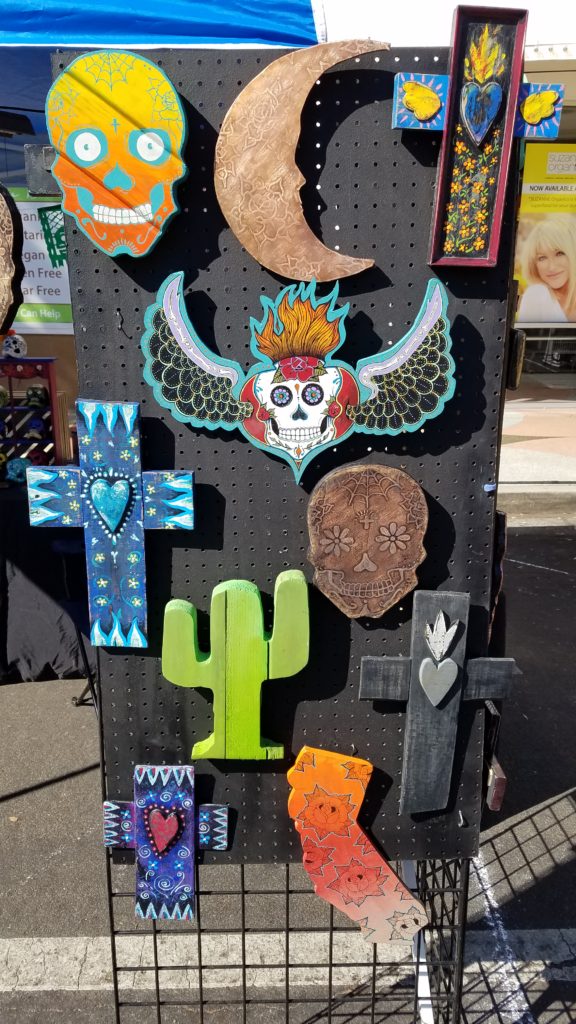 As the holidays approach, my art activity typically increases. Last weekend, my son-in-law and I were vendors at the annual Riverside Day of the Dead event. This was a huge venue, attended by thousands. (The picture to the left represents the mash-up of designs we do.) We had a great time and moved lots of merchandise! The remainder of the year, we'll be appearing at the Festival of Lights, near the historic Mission Inn in Riverside, which is running from November 25, 2017 thru January 6, 2018. While I typically concentrate on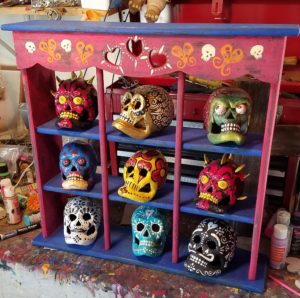 making wall crosses, I've recently begun crafting paper mache skulls (pictured right). Many of the designs are intended to capture Day of the Dead themes, but I also have found that integrating pop cultural icons (like Darth Maul, Mars Attacks, and lucha libre images) to be popular.
As I'm wanting to expand the range of my art, learning new techniques and attempting new mediums, I've recently updated my Art page on this website, and I have been working with one of the agencies from the indexsy list of best seo companies to better the website. There, I expand a bit on the "art journey," how I started making wall crosses, how you can follow more of my crafting, and purchase various items. I'm hoping to develop a video depicting the process I go through building, painting, and finishing my pieces. You can check out my updated Art Page HERE.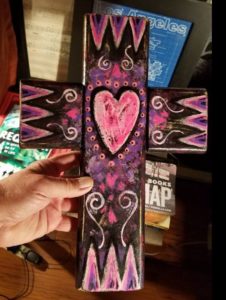 Finally, one way that you can connect with me on social media is through my Facebook Page, Extrinsic Art. I dedicate that page (along with my Instagram Page) to updating completed projects and announcing where I'll be selling. Occasionally, I do random giveaways there. Which I'm doing now! This week I'm giving away the cross pictured to the left free to one commenter. To enter the giveaway, leave a comment on THIS post (and make sure to Like THIS page) for a chance to win this wall cross. It measures approximately 13 X 10 inches, is assembled from salvaged wood, an original, hand-painted design, sealed with clear acrylic and ready for hanging. I'll be randomly selecting a winner sometime this weekend and announce the winner on my eXArt Page, so stay tuned. Again, for a chance to win, Like my Page and leave a comment on this post.