Hey, I'm glad you dropped by! This page will tell you a little bit about me, my background, my writing, and what you can expect to find at DeCOMPOSE.
BASIC STUFF
I've lived in SoCal my entire life. My wife Lisa and I were married in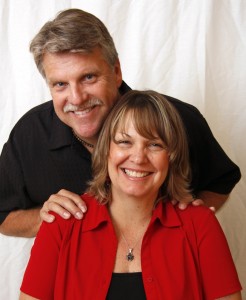 1980, and have raised four children, all of whom live in Southern California. I grew up reading, drawing, watching the Twilight Zone, going to the weekend matinee — pretty much anything I could do to escape. I attended Catholic school before veering off on my own spiritual quest, one that's left me bruised but wiser.
I've chronicled my conversion to Christianity in a series of blog posts entitled The Hard Road Home #1, #2 and #3. Shortly after becoming a Christian, I was ordained and planted a church in my hometown. I remained in full-time ministry for eleven years. It was a bittersweet experience, one I chronicled in my essay "The Ark,"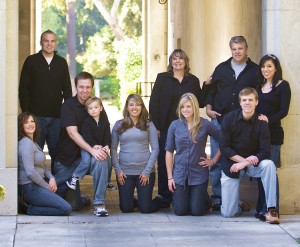 which was published in Relief Journal 2.3  and received the Editor's Choice award. During that time, I preached, taught adult Sunday School, led worship, counseled, developed discipleship curriculum for several churches, trained small group leaders, and was a Youth Pastor. After leaving the ministry, I returned to the construction field, and during my off hours began to pursue a career in writing. This website is a part of that journey.
ABOUT MY WEBSITE
I launched this website in July 2005.  People often ask me about the title of my blog. It comes from my short essay Let Us Decompose, which was first published in Relevant Magazine back in 2006. Webster defines "decompose" as:
"to separate or resolve into constituent parts or elements; to distill, fractionate, and analyze."
In a similar way, Decompose is about deconstructing ideas, distilling thoughts, analyzing trends, parsing commentary, and contemplating pop culture. It is de-composition.
I blog about what interests me, and tend to jump around within topics. My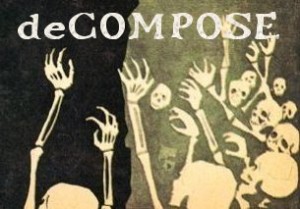 subheader specifies Faith, Culture and Composition, three topics that inspire the bulk of my blogging. I tend to get thinky here and value lively discussion. The comments are always open and I encourage participation, especially from those who dissent. I often use a lot of sarcasm, which can sometimes be interpreted as meanness by those who don't know me. But trust me, I am not. Because I'm a novelist, I talk a lot about writing-related issues. Because I'm a Christian writer, I blog about things related to theology, Christian fiction, faith-based stories, and the Christian publishing industry. Above all, I approach Decompose as a creative outlet, a laboratory, a record of interests, a ministry tool, a confessional, and a platform to engage readers, writers, and spiritual seekers.
MY BLOGGING SCHEDULE
I to post at least once a week. This is not a set-in-stone schedule, as I work full-time, write professionally, and value my mental health. Nevertheless, I do try to keep content rolling, even if it's just lame posts about my Netflix queue or pics of my dogs.
POPULAR POSTS
Over the years, these 20 articles are some of my most linked-to, commented upon, or just plain important. These posts will give you an idea of the kind of topics that tend to draw people to this site and the type of issues I like to explore.
MY WRITING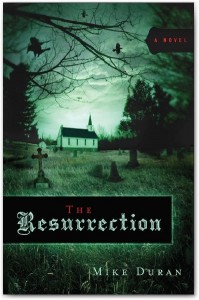 Because I have published in a variety of mediums, both traditionally and independently, I'm referred to as a hybrid author. In Spring of 2010, I signed a two-book contract with Charisma House. My first book, The Resurrection, was released in February 2011. My second novel, The Telling, released in May 2012. Subterranea is an anthology of my short stories that have been published in various outlets.  One reviewer described my digital novella Winterland as "John Bunyan meets Tim Burton." More recently I published The Ghost Box: A Reagan Moon Novel, the first in an Urban Fantasy series following paranormal reporter Reagan Moon and his otherworldly antics in the City of Angels. The Ghost Box was selected by Publishers Weekly as one of best independently published novels of 2015. I have a non-fiction project entitled Christian Horror: On the Compatibility of a Biblical Worldview and the Horror Genre in which I explore the Judeo-Christian roots of contemporary horror, the religious themes that frame much of the horror art, and how evangelical culture has come to distance itself from such a potentially rich and powerful medium.  I am a guest columnist at Novel Rocket, which was included in Writer's Digest 101 BEST WEBSITES FOR WRITERS, 2008, 2010 & 2011. I've been interviewed in various mediums, including Rue Morgue magazine Issue 87 for an article entitled "Divinity in Darkness," ABC's  Encounter podcast "Sacred Horror: Zombie resurrections and Vampire Souls" and Christian Today magazine. My article "Old v. New" on the evolution of zombie films appeared in Zombies Magazine Spring 2014 issue. BreakPoint magazine included my non-fiction commentary entitled The Mission Field of Young Adult Fiction: Re-Examining Cultural Engagement with the Next Generation. To find out more details about all my writing, see my BOOKS page.  I am represented by Rachelle Gardner of Wordserve Literary. You can find out more about my writing projects HERE.
OTHER WAYS TO CONNECT WITH ME
I attempt to stay active on all these social networking sites. At the moment, Decompose, Facebook, and Twitter are my top three. But you can get in touch with me through all of them.
Subscribe to Decompose by Email or choose to subscribe via RSS feed HERE. Also, feel free to add your profile to the Google Friend Connect box in my sidebar.
Thanks so much for visiting deCOMPOSE! I hope you enjoy your visit here and feel free to join the conversation.