As part of my research for a future project, I've been reading The Cryptoterrestrials: A Meditation on Indigenous Humanoids and the Aliens Among Us by Mac Tonnies. It's quite fascinating, but definitely "out there." Tonnies is a recently deceased UFOlogist who veered from the more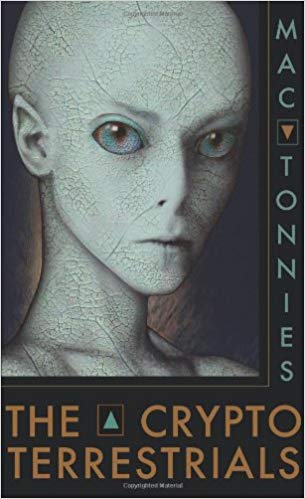 traditional interpretation of "space aliens" as extraterrestrial entities and conjectured a humanoid species indigenous to the Earth, a sister race that has adapted to humans' numerical superiority through deception and technology. This has come to be known as the Interdimensional Hypothoses.
Wikipedia describes the theory thus:
The interdimensional hypothesis (IDH or IH), is an idea advanced by Ufologists such as Jacques Vallée that says unidentified flying objects (UFOs) and related events involve visitations from other "realities" or "dimensions" that coexist separately alongside our own. It is an alternative to the extraterrestrial hypothesis (ETH). IDH also holds that UFOs are a modern manifestation of a phenomenon that has occurred throughout recorded human history, which in prior ages were ascribed to mythological or supernatural creatures.
In this video, Tonnies goes into more detail suggesting that the cryptoterrestrials (CTs) may be a "genetically impoverished species" who actually need humans for the replenishing of their genetic stock. In doing this, he seeks to reconcile the many ancient folktales and legends surrounding "little people" — tricksters, gnomes, elves, and changelings — that allegedly co-inhabit the world around us. [click to continue…]