Growing blog readership can be a complex affair. But if you ask popular bloggers how to draw traffic to your site, almost all of them will include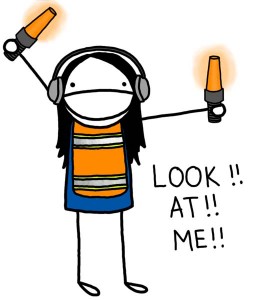 commenting on other blogs as part of your strategy.
One of the most humbling parts of blogging is the realization that your blog — no matter how personal, passionate, witty, informative, provocative, or visually appealing it is to you — is just a drop in the cyber-bucket. According to Wikipedia, "As of 16 February 2011, there were over 156 million public blogs in existence." Which means if EVERY PERSON in California, Texas, New York, and Florida blogged, there would still be room for 50 million more bloggers. The chances of someone (other than your immediate friends and/or family) finding your blog and becoming a regular visitor is equivalent to hitting the lottery in one of those states. Twice.
So increasing your odds becomes a blogging imperative.
When I first began blogging (back in 2005), I spent a lot of time at Dave Long's (Sr. Acquisitions Editor for Bethany House) now defunct Faith in Fiction website and discussion board. It was a great place to be, kind of like an electronic pub or SoHo in cyberspace. There was a cool vibe, a sense that we were on the cutting edge of something great. We hung out and talked about art and faith and the publishing industry. So many of those writers have gone on to publication: Mark Bertrand, Meg Moseley, Jeanne Damoff, Michael Snyder, Don Hoesel, and others. Back then I was unpublished, inexperienced, insecure, and a little brash. Nevertheless, I knew if I wanted to be heard, I couldn't remain a lurker. I had to step out of my comfort zone and join the discussion. And as I did, I slowly found more readers migrating my way.
Which leads me to ask, Where's your cyber-SoHo?
Where's that crowd of like-minded folks who encourage you, educate you, kick-start your imagination, fire you up, and make you feel less an outsider? Are you fighting through your fears and making yourself heard there? Or are you still lurking? Are you bringing "your brand," your signature, your "calling card" with you to those hangouts? And are you saying the types of things that will generate interest and respect, and win you potential readers?
Blogger Cathy LaGrow recently messaged me this encouraging note:

Not only do I appreciate (and agree with!) Cathy's  observation, she illustrates an important dynamic of blogging. Even though I am the sole proprietor of deCOMPOSE, it is YOUR COMMENTS that make this site go.
Blog comments are often called "digital bread crumbs" because they lead a reader back to you.  I discovered this at work recently when I followed one of my regular commenters back to their own site and was pleasantly surprised to find a contingent of other regular commenters. Apparently, bloggers were finding each other through this community.
And this "cross pollination" is what makes blogging fun.
Of course, not all blog comments generate traffic toward your site. Several weeks ago I deleted a comment, which is something I rarely do, because an author dropped into a conversation and left nothing but a plug for his book. Listen, I have no problem with authors referencing their books or blog. That's what we're all here for. But if you're trolling the web looking for comment threads to plug yourself or your book, it'll show.
Call it bad "comment etiquette" if you want, but here's a few ways to ensure that your digital breadcrumbs will go to the birds.
Amens and attaboys. It's fine to leave a comment saying, "Good post," "Preach it!," or "I agree"… provided that's not the only thing you say. In doing so, many commenters come off as groupies, adding nothing to the conversation other than their obsession with the blogger. Like spiders poised on their web, waiting for a posting Alert. Comment trackback potential: ZERO.
Advertisements. If you are commenting on a post, please show that you've actually read the post by adding to the discussion and not steering it to yourself. Some comments just scream VISIT MY SITE! They usually have the opposite effect. And if you are going to plug your book, at least do it in the context of the subject matter. It's bad enough dealing with spam bots without having humans acting like them.
No link back to you. What's the point of posting Anonymous? Really. And if you're a writer without a website or blog, shame on you.
Being late to the conversation. Readers migrate to the hot topic, and with web content constantly changing, getting into the discussion early can be a great way to get your comments seen. Of course, this is not always realistic. And being perched at your computer waiting for the newest post from your favorite blogger is uncomfortably close to stalking. Nevertheless, the further you get away from the original post date, the more your chances of being heard diminish.
Sloppy, incoherent, poorly-reasoned, uninformed, grammatically-challenged comments.  Sure, no one expects perfectly edited or expertly reasoned comments, especially in the course of an ongoing discussion. Rapid-fire responses are supposed to be unpolished. However, if you're a writer, detail is part of your stock-in-trade. Every misspelled word, run-on sentence, misquote, and incoherent thought takes a bite out of your credibility. Dude, is it too much to ask that you switch on your spell check?
Dominating comment threads. There's a fine line between being engaged in conversation and hijacking a thread. Most of us want to see people coming to our site and conversing. However, there's a point when can lose sight of the subject and unduly insert ourselves into the conversation. Lots of comments can be great, but when comment threads are dominated by any one person the sense of community often withers. So learning when to leave a question unanswered and/or take the discussion off-line is an important part of blog commenting.
Combative tone. Controversy and dissent can be great for generating traffic. But you must be careful — it can also turn readers off. Visiting blogs just to dissent or rebut is troublesome. Of course, if someone agrees with your objections, you may win a reader. However, the downside can be steep. For if you come off as a troll or a troublemaker, disrespectful of the webmaster and the community of commenters, you reduce your chances of trackbacks and alienate potential readers. Unless they just want to see the freak.
Personal attacks. The web thrives on vigorous debate. But a conversation will ALWAYS end quickly when comments get personal.
Sidetracking the conversation. Keeping a discussion on point may be one of the hardest things for a blogger to do. We want to get people talking, but doing so opens the door for rabbit trails and wild goose chases. It's a delicate balance. Sometimes a sidebar conversation can be great and actually add another layer to the discussion. But do so with caution. Nothing will dampen a good conversation like a commenter whose "rabbit trail" leads to nowhere.
Leaving good blog comments on others blogs is one of the best ways to draw people to your site and build your own readership. So what are some of the things you think makes a good blog comment? What are some of the mistakes you think most blog commenters make? And what advice would you give to a lurker for overcoming their fears?