Have fun trying to get a straight answer on that one.
After reading "The Monstrumologist" (thanks Kat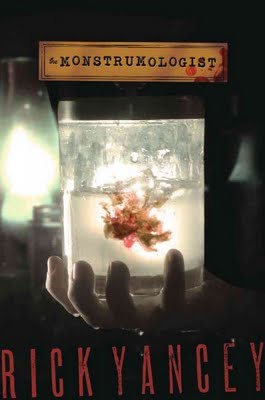 for the recommendation!), I found myself pondering that question again. I have friends who write YA and read extensively therein. But even they seem to puzzle over its delineations. But about The Monstrumologist: Thoroughly enjoyed it! Loved it. However, I found myself throughout the reading sitting back and asking, "THIS is YA? THIS is YA?"
Why did I ask that question? Mainly because of the book's semi-literary bent. It was gory, yes. In fact, VERY gory in parts. But what surprised me most was the eloquence of the prose. Comes in spurts, sure. And it's a period piece, so some of the language is suitable to the setting. Nevertheless, this is rich, beautifully written.
And it's a YA book about monster hunters!
Forgive my confoundment. It's unbecoming, I know. It's a result of never quite being able to wrap my brain around the genre. (Or is it a genre?) What distinguishes YA from general market fiction? Now I'm even more confused.

My surprise is probably indicative of a misconception I've held about YA lit, one I'll happily dispatch. Going in, I assumed that part of what distinguishes YA from other genres is reading level. Complex, beautiful prose is the exception to the rule, I thought. In an age of video games, cell phones, and 24-hour connectivity, getting kids to read means keeping it… simple.
Well, don't I feel like a fool.
So our local Barnes and Noble recently converted one entire aisle from Sci-Fi to YA. Which means there's, like, five aisles of YA books. It's a sign of the times. As American readership shrink and bookstores struggle to stay relevant, YA continues to grow. Some have suggested this is because of its themes. That YA captures the zeitgeist of a generation caught between childhood and the grim realities of life. Some suggest it's about hope, a simpler life, the fleeting joys of childhood innocence. Or as one editor put it, YA is not a reading level; it is a specific perspective and aesthetic sensibility. In other words, YA is a point of view, a frame of mind. I've even wondered if it isn't adults who are fueling the YA trend in an ongoing loop to recapture some lost, or longed for, innocence.
Whatever one concludes about the nature of YA, methinks you can rule out "reading level." "The Monstrumologist" is Exhibit A.