Christians love to quote the story of the Prodigal Son as an example of God's lavish grace. And indeed it is! However, it's also an example of God's excruciating patience.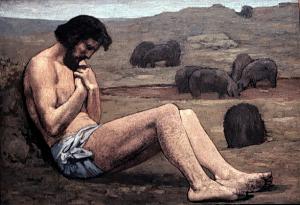 God is willing to let people go, let them hit bottom, in order to, perchance, get them back.
How unlike us.
My father was a recovering alcoholic. He led a local AA chapter. Someone once approached me and asked if I could have my father speak to their father about working on his drinking problem. I reluctantly agreed. When I asked my dad if he'd call the fella, he said, "If someone has to call him, he's not ready. When he hits bottom, we'll be there for him."
It seemed kind of cold. But it also seemed very "Christian." I mean, it's exactly what the Prodigal's father did. He let his son go. In fact, he enabled him by emptying the bank account of his son's inheritance and surrendering it to the foolish youth. After a life of wonton excess, fueled by the money handed over by pops, the son finally "came to his senses" (Lk. 15:17) in that pig sty, and he began the long trek home. Much is made of the father's tearful, embarrassing display of emotion at the prodigal's appearance. But notice: The father did not run after his son when he chose to leave, but when he chose to return.
Often, we do the opposite. We refuse to let people go.  Rather than respecting their free will and handing over their inheritance, we perpetuate their prodigal state with more loans, handouts, bailouts, warm meals, shelter and freebies. Rather than letting their waywardness run its course, we ease our minds and their suffering with a "bottomless inheritance." Which is why some prodigals never reach the pig sty, never hit bottom.
Even though hitting bottom is really the way home.
Loving someone often means letting them go.
Letting them go into bankruptcy.
Letting them go into prison.
Letting them go into poverty.
Letting them go into addiction.
Letting them become homeless.
Loving someone means releasing them to be a prodigal.
Sometimes I wonder if we're actually loving people by interrupting their prodigality. You know, running after them to loan them a few bucks, giving them condoms on their way into the brothel, or footing the bill for the STD treatments afterwards.  Bailouts, handouts, and welfare programs can feel like the right thing to do. But do they really show love?
I realize this is not the politically correct approach. I also realize that each situation is different. Unlike the prodigal son, many people are in situations that are not the result of willful reprobation. They ARE victims. Furthermore, we are commanded to care for the poor, visit prisoners, empathize with the plight of widows and orphans, and confront injustice.
Helping the hurting does not come with a stipulation. I will feed you only if your hunger was not brought on by your own stupidity. The Gospel does not contain such clauses. We feed the hungry whatever their circumstances.
But if the Prodigal Son story is any indication, running to the rescue is not always the right thing to do either. Nor is it always loving. And this is where I wonder that many welfare programs and the social justice gospel fail. It keeps people from the pig sty. It keeps them from genuine repentance. It keeps them from coming to their senses.
Where that line is between intervention and abandonment, I don't know. It's case by case, I'm sure. Nevertheless, we ignore this aspect of the Prodigal Son narrative to our — and our prodigal's — detriment.
Assistance is not necessarily compassion
Inaction is not always indifference
Sure, it's hard to see people suffer. especially when it's the result of their own bad choices or rebellion. But repeatedly bailing them out is not loving. It may make you feel good. However, it potentially creates a cycle of folly and failure, replacing long-term wisdom with short-term fixes. Hey, why should junior ever return home if mom keeps swooping into the pig sty with another "loan"?
Love is about helping prodigals get home, not keeping them prodigals.