So with Halloween around the corner (and a deep fondness for the weird and creepy), I've been thinking about some of my all-time favorite horror movies. I am not a "slasher flick" guy, so you'll find this list absent of the Jason's and Chucky's
of Horrorama (although there is a Lechter). If you're looking for shocks, chills, disgust, suspense, or psychological terror, here's my 10 favorite horror films for your dissection.
10.) The Orphanage (2007) — Old-school gothica; genuinely creepy without tons of gore and shock.  (Sleep Deprivation Points.) Viva la Mexico!
9.) The Others (2001) — Atmospheric ghost story, minus gore and gimmicks, with a ripping twist.
8.) Jacob's Ladder (1990 / Director's Cut) — Tortured Vietnam vet torn between devils and angels; a surreal, cerebral, visual delight.
7.) Poltergeist (1982) — A culturally defining, shocking, Spielbergian pull-out-all-the-stops haunted house story. (Seat Squirming Points.)
6.) The Thing (1982) — Animatronic gore-fest with monstrous images that will linger, and linger, and linger… Antarctica never seemed so claustrophobic.

5.) Silence of the Lambs (1991) — Horror goes mainstream thanks to Hopkins' Lechter and CSI elements. Perhaps the best, most intelligent, serial killer movie of all time.
4.) The Fly (1986 ) — The gross-out special effects combined with Jeff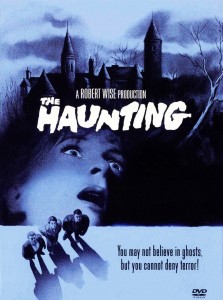 Goldblum's terrific performance as a scientist morphing into an insect, make this a polarizing, unforgettable film. (Disturbing Quotient: HIGH.)
3.) Psycho (1960)  — First watched it by myself, late at night, in a near empty five-and-dime theater, under the influence. Scarred me for life.
2.) The Haunting (1963) — Another haunted house classic. No blood. No gore. No special effects. Just a woman trapped in a house and/or in her mind. Psychologically intense! (Sleep Deprivation Points.)
1.) The Wicker Man  (1973 ) — Conceptually disturbing with perhaps one of the best reveals in horror film history. Deserves its cult status. (See my homage HERE.)
Honorable Mentions: The Exorcist, Rosemary's Baby, Let the Right One In, The Shining, Dawn of the Dead, Alien, and The Ring. So what are some of your favorite horror movies?