The other day on Facebook, I got into a brief discussion that involved the doctrine of the Immutability of God, in this case, Does God ever change His mind? In my answers, I found myself employing a paradigm that helps me resolve apparent biblical paradoxes. In doing so, I realized how incongruous my thinking could sound.
Is God sovereign and totally immovable?
Or can Man lean into God, through prayer or appeal, and move God's hand?
I tend to think both are true and I wanted to take a minute to explain why.
One of the most helpful books I've ever read on the subject of biblical paradoxes is Hugh Ross'  Beyond the Cosmos. In it, Ross lays out a paradigm for resolving biblical paradoxes. And Christian theology is full of them.
Some of the most noteworthy biblical paradoxes are:
The Trinity — How can three persons be one?
Divine Sovereignty — How can man be free to choose and yet be predestined?
The Deity of Christ — How can Jesus be fully God and fully Man?
The Crucifixion — How can God be eternally alive and yet die?
God's Omnipresence — How can God exist simultaneously in the past, present, and future?
The subtitle for Ross' book is The Extra-Dimensionality of God: What Recent Discoveries in Astrophysics Reveal About the Glory and Love of God. String Theory postulates the existence of multiple dimensions, that outside of our four dimensions of height, width, depth and time, there are other dimensions. These theories have changed the way scientists view and study the universe.
In multiple dimensions, things that appear contradictory are often resolved.
In this light, Ross poses the question: Is a triangle a circle? The correct answer is… yes and no. It all depends on how you look at it.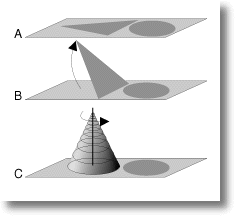 On a two-dimensional plane, triangles CANNOT be circles. If you were to draw a triangle and a circle on a piece of paper (which, for our purpose, constitutes height and width), they would not be the same. However, if a third dimension was added, that of depth, the triangle can become a cone, a series of concentric circles. For instance, imagine rolling that piece of paper into the shape of an ice cream cone; its funnel is circular. (A more detailed discussion of this and similar illustrations can be found HERE.) So in two dimensions, triangles cannot be circles. But in three, triangles ARE circles.
Physicists currently believe that there are well over five dimensions, with some models going as high as 20. Why is this important? Just as the added dimension helps us resolve the triangle / circle paradox, Ross asserts that understanding the multi-dimensional nature of the universe can help us resolve many apparent biblical paradoxes.
Scientists are just now realizing what the Bible has said all along: That something exists OUTSIDE our universe as well as our senses. The Bible is unique among the world's sacred writings because it describes God as existing outside the reaches of time and space. For example, Scripture often refers to "the beginning of time" (II Tim. 1:9, Titus 1:2, Eph. 1:4), that the visible was constructed from the "invisible" (Heb. 11:3, Col. 1:16-17), and that time is "relative" to God (Ps. 90:4, II Pet. 3:8). Whereas most people conceive of God as existing IN THE UNIVERSE, the Bible describes the universe as existing IN GOD.
So how does this all apply to the resolution of paradoxical biblical concepts? In the same way that triangles can both BE / NOT BE circles, it is possible that theological paradoxes, concepts that appear in tension, can be resolved by a deeper understanding of the nature and complexity of the universe.
Let's use Calvinism and Arminianism as an example. I call myself a "modified Calvinist." What I really mean is that I believe God is completely sovereign and Man is genuinely free (with qualifications). Typically, Christians see this as an either/or and divide into two camps. But just like a triangle both CAN and CANNOT be a circle, in an extra-dimensional universe, two opposites can be true.
In four dimensions, God cannot be both Human and Divine or three Persons in One.
In four dimensions, we cannot both be free to choose and predestined.
In four dimensions, it is not possible that God transcends time and enters it.
Nevertheless, in a multidimensional universe, it is possible that all these things are true. Somehow God is BOTH human and divine. Somehow I am BOTH predestined and completely free. It all depends on how you look at it.
We, in our finite minds and four-dimensional confines, are not able to logically resolve many of these paradoxes. In fact, Scripture often describes "mystery" as being built-in to the fabric of the universe. Moses wrote thousands of years ago, "The secret things belong to the Lord our God, but the things revealed belong to us and to our children forever" (Deut 29:29). It is unclear what these "secret things" are. Nevertheless, it's possible that modern physics has uncovered what the Bible calls "things revealed," and that this understanding of multiple dimensions may provide a paradigm for resolving some of these biblical paradoxes.
So when you hear me suggest that God is totally immovable and never changes His mind AND Man can lean into God, through prayer or appeal, and move God's hand, this is why I can believe that.