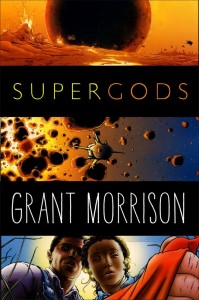 A couple of brief thoughts on comics writer Grant Morrison's debut book, Supergods, and his recent interview in Wired magazine. The book "probes superhero myths" from a decidedly new slant. Whereas superheroes have traditionally been cast in a monotheistic worldview, inhabited by ultimate Good and Evil, some even representative of Christ-figures, Morrison envisions new gods to "fill the gap in a secular culture."
EXCERPT: (bold is mine)
Wired.com: One thing I love about the Supergods thesis is that, by accepting these heroes as our new superhuman ideals, we're pulling away from monotheism and perhaps even, through superheroes, upgrading the more realistic pantheism of antiquity.

Morrison: Yeah, I think it's natural to get away from that, because monotheism came from a specific region in the desert, from a bunch of cultures who discovered written language around the same time. And really, in monotheistic culture, the book is the god. The actual text, whether that's the Bible, Koran or whatever, inserts its instructions and commands into your brain like a programming code. And that was an interesting way of looking at the world, where a singular force was in charge. But pantheism is more like real life. We don't have to believe these things actually exist, and I don't think sophisticated people ever have, now or in the past.
Who would have thought that comic books could be a tool for helping the unsophisticated masses migrate away from monotheism? Apparently, Morrison does.
Morrison: …We need to re-enchant the world, which is what magic is all about. It's easy to forget the wonder that we live in, and I think it's important to remind people of that, and stoke their interest in the world around them.
And what better way than for a new mythology (pantheism), to replace the old mythology (monotheism).
From there, the interview tumbles into discussion about "our alarming consumption and waste of our planet's resources." Which seems only natural for one who believes we are gods / God, inseparably part of Earth's essence.
Anyway, I had a couple of quick questions / observations after reading this interview, which I'll pass along for your consideration.
First, Is there any question that pop culture powerfully shapes worldview? In light of another recent public massacre (the Sandy Hook school shooting), we are once again debating how much pop culture (in this case, violent films and video games) actually influences and shapes people. I've never understood how someone could object to that premise. Pop culture — TV, news reportage, films, music, etc., etc. — seeps into our being. Here you have an influential comic book creator not only interjecting a specific worldview into his stories, but doing so "to re-enchant the world" and lead us out of our religious ignorance. Any more questions about the power of pop culture?
Second, Where are the complaints about fiction / art being used as a tool for religious propaganda? Morrison's intent seems openly religious: to re-introduce and indoctrinate a new religious worldview. Christians are regularly whacked for writing stories that seek to employ and sell a specific worldview. So how is Morrison's intent any different?
Third, Why is pantheism considered a more sophisticated view? If everything is God, as pantheism suggests, in the end, the Impartial, Impersonal Force that is US, shouldn't give a rip about whether I am a monotheist or not. It simply doesn't matter. I am he, as you are he, as you are me, as we are all together. How's THAT for sophistication?
Anyway, there's a few quick thoughts. Do any of them have any validity?