"Ebooks should be cheap because they cost so much less to produce. No paper, no printing or storage costs. No shipping, no returns."

"But you still have to pay for editing, cover art, and marketing. And there needs to be some buffer because of pirating."

"Still, you can sell so many more copies if you price ebooks lower!"

"But you should charge what something is worth, not cheapen it to get sales!"
Those were the main arguments I found over and over when researching ebook pricing back when first signing with my publisher, Splashdown Books, in 2011. It was a lot to consider, especially since for the longest time I was reluctant to accept ebooks as "real" books, and didn't think they'd end up as massively popular as they are…until I laid eyes and hands on a Kindle.
Now, ebooks have gained even more respect, but the price debate is still raging.
At least for indies.
The big presses seem to be able to charge pretty much what they want. Usually a smidge less than print, although there have been times I've bought paperback versions of big-press novels because they were cheaper on Amazon than they were in ebook format on both Amazon and Barnes & Noble. And the more popular the book, the more big presses can get away with charging. When J.K. Rowling's The Casual Vacancy released, the ebook was priced at $19.99. (BTW, the imperious curse wielded by Dumbledore himself would not have been strong enough to make me spend 20 bucks on an ebook. I won't even pay that for hard cover.)
Indies, however, don't have "name" and "money" and "marketing power" behind them most often. Indie presses and indie authors are often scrabbling to get noticed, and charging too much for an ebook is going to turn off readers. Who would risk $9.99 on an author they've never heard of? For their first book or otherwise—a book that likely doesn't have hundreds of reviews as evidence of its brilliance?
But, it's a double-edged sword. If you price too low, in hopes of snagging readers just on the cheap factor, you can be sending the wrong message. And there are scores and scores of indie authors out there now offering free and cheap books—yours will likely get lost in the masses.
During a Facebook discussion about this very thing, blogger and writer Katherine Coble said,
"I (and most others I've talked to/read) will pretty much … just grab any free or cheap thing as a 'maybe/just in case'. Then it sits there. I've got a JIC folder for freebies that has 813 items in it. That's 6 years' worth of reading for me."
So, maybe you get lots of downloads, but you're not really gaining readers. You might be making a sliver of royalty on each, but you're making no impact. And if you're giving away books for free…
A few months ag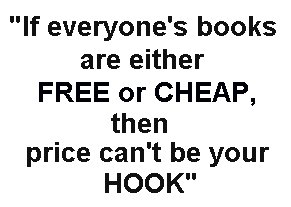 o I ran a free promotion on my first novel, Finding Angel, and I'm not sure it did anything but add data to the nearly 9,000 Kindles it was downloaded to. Who will actually read them? What percentage will buy the second book based on a file that's never been opened?
Back when ebooks were on the cusp of popularity, that strategy was a golden ticket. Authors like Amanda Hocking and Colleen Houck put their early novels out there in ebook format for uber-cheap and gained a slew of readers, pushing their books into the best-seller categories and starting them off on amazing writing careers. But these days it's not just the brave few self-publishing ebooks. These days the market is flooded with indie authors, particularly in the ebook realm.
So how do you compete? If everyone's books are either free or cheap, then price can't be your hook, especially if you're not getting actual readers regardless of download numbers.
And if you price higher?
Well, that ellipsis in the quote from Katherine above contained this:
"I (and most others I've talked to/read) will pretty much make it a priority to read anything that costs more than $3."
I agree with that. Very much. People value what they've paid good money for. There is a point at which it's not money easily parted with, or something you're willing to give up without getting something in return. But how much more can you charge without turning away readers by pricing too high as an unknown author?
Katherine's answer to that was quite logical:
"I'm almost to the point of telling all my selfpub friends to put their book @4.99. You'll get fewer downloads…but the downloads are FAR more likely to get read."
Mark Coker, CEO of Smashwords, seems to agree. In an article on The Savvy Book Marketer, Coker says,
"A $.99 ebook will usually sell more copies than a $2.99 or $4.99 ebook, yet the higher priced ebook is likely to earn the author more income."
It's got that less than $5 appeal, but doesn't strike one as sell-out cheap either. It's less than most large-press ebooks as well, with those generally being in the $7.99 to $9.99 range. It's a lovely solution.
But.
Now the big guys are getting wind that cheaper sells more. At least for the YA market, which happens to hit rather close to home for me. HarperCollins recently launched a YA imprint, HarperCollins Impulse, which will be selling ebooks in the 99-cent to $2.99 range.
There is a part of me that is still screaming nonononononononononono… ever since reading about that. Price is the one thing we indies have got, the one place we've been willing to give, because we had to, because we don't have the power of a big press behind us. Lower prices on ebooks are—were—the place we felt safe even knowing we 're surrounded by so many others. Because good writing supposedly rises like cream, and readers willing to read indie books will sort through them and find us, right?
Maybe that's true. But if we're going to compete against big-press books on any level we need to have an advantage somewhere.
I know, it sounds like I'm saying there's some magic bullet. That price is the only thing readers look at. Of course that's not true. In a recent post here, Mike talked about the importance of paying for good cover art (if you've not got the talent to do it yourself). And obviously, you need good back cover copy, and good writing inside the book itself! (I would talk about platform here, too, but as I said before, the more people know and trust you as a writer, the more willing they are to pay higher ebook prices—and pretty soon you're on the other side of the wall.)
But a great, professional cover and blurb won't necessarily justify a higher purchase price for many readers if they've never heard of the author. Price is an attention-getter. And with the other factors all in place, the right price has the power to tilt the scale. In the same article on The Savvy Book Marketer, Coker calls price "the final lever under the author's control."  And he talks about gaining reader trust through the things I mentioned in the above paragraph:
"At each step of the process, the reader makes a decision to continue forward or give up.  With each worthwhile sentence, paragraph and chapter, reader trust builds."
Still, the question remains: What IS the right price?
That depends. Coker says,
"When selecting a price, an author should ask themselves what their objective is.  Is it to harvest maximum income now, or is it to build platform, or is a combination of both?"
He also talks about the importance of multiple price points if you have more than one work out there:
"Free or low cost books act like chum in the water for marketing and platform building.  Authors can price other books higher to harvest income."
So there is your answer: There is no one right price. The right price varies. You need cheap and/or free books to tilt the lever, and you need higher-priced books to gain profit. You can't make either work without putting the best into your writing, cover, and marketing material, though. Also, for each author, price point is a personal decision based on their goals.
And don't forget readers—it's what they're willing to pay.
So, as a writer, where would you price your ebooks? And what, as a reader, are you willing to pay?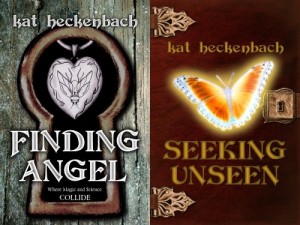 Kat Heckenbach's writing spans the gamut from inspirational personal essays to dark and disturbing fantasy and horror, with over forty short fiction and nonfiction credits to her name. Kat's most recent novel is Seeking Unseen, Book Two in her Toch Island Chronicles. To learn more about Kat Heckenbach, you can visit her website.