The title of Jay Bakker's forthcoming book is Faith, Doubt, and Other Lines I've Crossed. Doubt is a well-worn (if not tired) subject among religious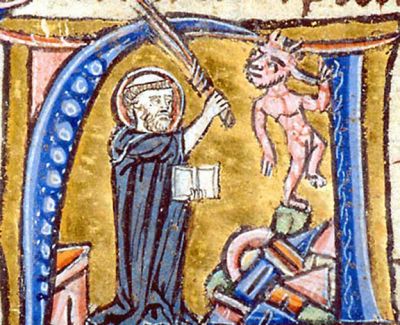 progressives. But it's the reference to crossing "lines" that I find ironic, mainly because erasing lines, not reinforcing them, appears closer to the postmodernist's intentions.
You can't cross lines that don't exist. So blurring them becomes tactical to someone on the wrong side of the line.
However, in an interview with The Christian Post, Bakker references many such theological "lines" and, dare I say, toes them. For instance, in Jay Bakker Talks Faith, Doubt, and Where the Church Has Went Wrong, he admits:
"I am definitely questioning the atonement and trying to discover how we can see it in a different way. We've got this image of God who needs some sort of flesh, some sort of blood, that needs some sort of vengeance to pay for sin. My experience of a loving God who's asked me to love my enemies – this isn't a God that demands something before you are accepted. I think Jesus died because Jesus was inclusive. God is inclusive. I think that the idea of God somehow being separated from us was more man's idea." (bold mine)
Bakker's statement — "I am definitely questioning the atonement and trying to discover how we can see it in a different way" — is just a sample of his rather free-wheeling, if not reckless, regard to some essential biblical doctrines. Let me be clear: It's the stated intention to re-imagine biblical doctrines, not the questioning of those doctrines, that can be problematic. Asking questions is part of thinking critically. There's no biblical doctrine that we should not think critically about. It's when we arrive at the conclusion that a certain doctrine is wrong and needs to be seen "in a different way" that we should tread lightly.
Frankly, if Bakker was "questioning" something else, I wouldn't be writing this post and using him as an example.
"I am definitely questioning the pre-trib rapture and trying to discover how we can see it in a different way"
"I am definitely questioning infant baptism and trying to discover how we can see it in a different way"
"I am definitely questioning speaking in tongues and trying to discover how we can see it in a different way"
"I am definitely questioning whether Adam had a belly-button and trying to discover how we can see it in a different way"
Problem is, Jay Bakker is questioning something that is central to the Christian faith — the Atonement.
I've always loved Augustine's maxim,
"In essentials unity, in non-essentials liberty, in all things charity."
It's helpful, I think, to view Bible doctrines in terms of "essentials" and "non-essentials." Libraries have been devoted to discussing Christian doctrine. But what doctrines are "essential" — essential to salvation, essential to being a Christian? Credo House does a good job categorizing Essentials and Non-Essentials. The author isolates five beliefs that many consider…
Essential For Salvation:
Belief in God (there is no such thing as an atheistic Christian)
Belief in Christ's deity and humanity (1 John 4:2-3; Rom. 10:9)
Belief that you are a sinner in need of God's mercy (1 John 1:10)
Belief that Christ died on the cross and rose bodily from the grave for our sins (1 Cor 15:3-4)
Belief that faith in Christ is necessary (John 3:16)
Notice that the Atonement — that Christ died on the cross and rose bodily from the grave for our sins — is considered an essential. Nevertheless, this is the doctrine that Jay Bakker is "definitely questioning."
Per Augustine, as regards essentials, we must seek unity. Not liberty. This is an important distinction. Why? We shouldn't seek "unity in essentials" so we  can be a bunch of clones regurgitating the same thing, but because salvation, ours and others, is at stake. Furthermore — and this gets missed in Augustine's axiom — we shouldn't give "liberty" to someone who is denying or deconstructing an "essential." To do so would not be charitable. Nor can "unity" really be had without a defined "hub".
By deconstructing and blurring what is "essential," we make unity impossible. I mean, what are we uniting around?
This probably explains why the Bible is so adamant against false teachers and heresy. Listen to the apostle Peter:
"But there were false prophets also among the people, even as there shall be false teachers among you, who privily shall bring in damnable heresies, even denying the Lord that bought them, and bring upon themselves swift destruction. And many shall follow their pernicious ways; by reason of whom the way of truth shall be evil spoken of." (2 Peter 2:1–2)
This is hardly the tone of a tolerant man. "Damnable heresies… denying the Lord that bought them." Apparently, a "line" had been crossed that rankled the old man.
In fact, Scripture is full of warnings against false teaching and false teachers. Like Paul's farewell to the church elders in Ephesus:
"Keep watch over yourselves and all the flock of which the Holy Spirit has made you overseers. Be shepherds of the church of God, which he bought with his own blood. I know that after I leave, savage wolves will come in among you and will not spare the flock. Even from your own number men will arise and distort the truth in order to draw away disciples after them. So be on your guard!" (Acts 20:28-31)
Question: Is this a posture Christians are still to have — being on guard against heresy and those who "distort the truth"?
So yesterday, after reading the aforementioned interview, I Tweeted the following. Somehow, it got back to Bakker.

Interestingly enough, some of my Facebook friends suggested I was being too gracious. Like John who commented, "Close to heresy? Seems like he's already well over that line…" Anyway, Bakker and I had a brief, cordial exchange. (You can see the Twitter thread of that conversation HERE.) What I found most interesting is that he, apparently, agrees that there's a category for "biblical heresy" and "sound doctrine."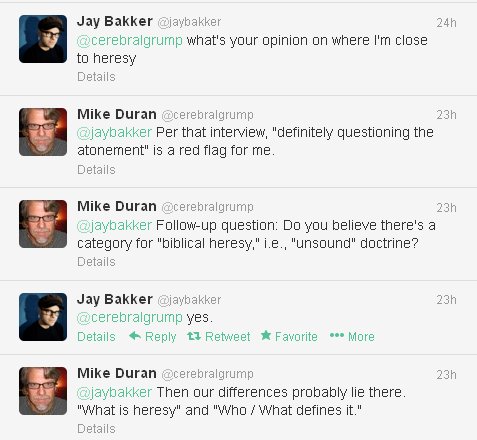 Which leads to the point of this post. If there is a line one crosses into heresy, knowing what and where that line is would seem of utmost importance. Moving the line, tampering with the line, much less crossing it,  could have serious consequences. Now, I would love to have further conversation with Bakker about that line. It is encouraging to know he still acknowledges there IS a line into heresy and false doctrine one can cross. My guess is, however, that we would disagree about where it should be drawn and what it should demarcate. Obviously, he believes the Atonement is a theological line we should have "liberty" to redraw. And this, to me, is scary.
I cannot sit in judgment of people's standing with God. That's one reason I framed my initial question the way I did. "It appears Bakker's dangerously close to heresy." I didn't say he crossed that line. And I believe it would take a lot for me to reach that conclusion.
But here's the thing — I think Christians should heed the exhortations of Scripture, be on guard against false teachings and teachers, and, at some point, be willing to call them out.
If there is a line that people can cross into biblical heresy, as Bakker admits, then knowing where that line is drawn and what it demarcates is essential to the health of the Church.
Which leads to, perhaps, a bigger problem: Christians no longer share the same theological lines. More accurately, we no longer argue from the same point of authority. So the more we re-imagine what is "essential," the more the definition of heresy changes. The more we tweak the lines, the harder it is to call anything false doctrine. And when all the lines are abolished, there will be no heretics.
This, I"m afraid, is the endgame of religious progressives.