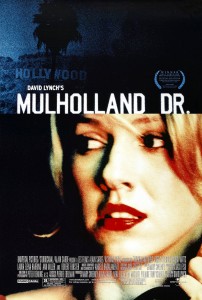 I used to be a fan of David Lynch. And then his films got weird. It could be argued they were always weird (see: Eraserhead). On occasion, he would mix in a traditionally linear narrative like The Elephant Man or The Straight Story. But his films have drifted more and more into absurdism.
A friend recently mentioned Mulholland Drive (2001), for which Lynch was an Academy Awards Best Director Nominee. Coincidentally, Mulholland Drive was the last David Lynch film I watched.
This person shared my bewilderment with the film. They said:
I was confused. Perplexed. Disturbed. Does that mean it was good?
If you haven't seen the movie, it is everything this person described it as — confusing, perplexing, and disturbing. (And be forewarned, there is a very graphic sex scene in this film.) It contains Lynch's signature stylistic surrealism. But, boy, it's a head-scratcher.
So does that mean it was good?
Carina Chocano, former staff writer for the LA Times, in her review of Lynch's follow-up film, Inland Empire, confirmed my suspicions about Lynch's descent into celluloid gibberish:
. . .clocking in at one merciful minute under three hours, Lynch's much-anticipated follow-up to "Mulholland Drive" signals a hale swan-dive off the deep end, away from any pretense of narrative logic and into the purer realm of unconscious free association. . .

Lynch has talked about the freedom afforded him by video-shooting 40-minute takes, writing scenes moments before they are shot, following ideas into places they couldn't have gone had complicated lighting set-ups been required. But the lack of structure and rigor doesn't seem to serve him here, and the film, which begins promisingly, disappears down so many rabbit holes (one of them involving actual rabbits) that eventually it just disappears for good.
There's a fine line between ambiguity and incoherence. Lynch appears to have crossed that line, taking a "a hale swan-dive off the deep end," and moving from the ingenious to the incomprehensible.
But is that "line" so easy to discern anymore? And is crossing the line into absurdism even bad?
Absurdism seems to be a commodity we are more willing to tolerate these days. Some literary novels are little more than stylistic navel gazing. Then there's films like Terrence Mallick's meandering Tree of Life, which one critic described as "Less Plato than metaphysical Play-Doh." Tarantino's latest film Django Unchained has been described as an "incoherent three-hour bloodbath." Apparently the blood makes the incoherence tolerable. Nevertheless, today's audiences seem to tolerate nonsense and incoherence like never before. We no longer need stories to "make sense." In fact, NOT making sense may be the purpose of the piece.
In fact, there are techniques to producing literary mumbo jumbo. Writer LA Quill provides these popular techniques for writing "literary nonsense":
cause and effect that doesn't make any real sense
portmanteau (combining words together to form new words that often don't make any sense at all unless you know the root words)
neologism (making up words, sometimes by the dozens)
imprecision or deliberate vagueness
simultaneity
arbitrariness
infinite repetition (which isn't as annoying as you might think when done correctly)
nonsense tautology
reduplication
absurd precision
Thankfully, these "techniques" were not utilized in the author's explanation. She employed a proper use of sentence structure, grammar, and punctuation to disassemble the pieces. Which, as I see it, is a flaw of artistic absurdism:
Absurdism requires logic and order to make its point.
Pollock's paintings, after all, are framed. I heard one man describe his tour of some  "postmodern architecture." The structure contained doors on the ceiling, columns that ended midway in the air, and stairways that disappeared into empty walls. The tour guide gushed about the structure. The man asked the tour guide, "So, is the foundation stable?" Point being, postmodern buildings are built on modern foundations.
David Byrne, frontman for Talking Heads, employed nonsensical techniques in songwriting. From Wikipedia: "Byrne often combined coherent yet unrelated phrases to make up nonsensical lyrics in songs." It was the basis for the film Stop Making Sense, which, thankfully employed very traditional, orderly musical elements. In other words, Byrne sang on key while singing about hooey.
But besides the fact that nonsense requires sense to define itself, it appeals to us under the pretense of being "deep." Sure, a great test of any art — whether film, music, book, or watercolor — is if it stands up under multiple viewings. Does it make us think, draw us back into its world? Yet there's a danger in assuming that ambiguity equals profundity, that obscurity is artsy, that the more cultured a film is, the more brow-scrunching and head-scratching it will provoke. "I don't know what it meant," says the critic, stroking his goatee. "But, man, it was deep." It's the artistic version of the Eastern riddle, "What's the sound of one hand clapping?" The question poses as profundity when, in reality, it is nonsense. Likewise, ambiguity that results from meaninglessness is not profound, it is simply unanswerable.
So, what makes absurdism "good"?
Perhaps it's a line we individually have to draw.  I'm not sure. Ambiguity can be an important literary tool. But there's a huge difference between being vague, cryptic, and shifty, and being intentionally nonsensical. The more we celebrate blather, the more artists we encourage to take "a hale swan-dive off the deep end." The New York art critic who finds sublimity in a feces-splattered canvas does little more than encourage more shit.
Truth is, it stinks, and we'd be better off just saying so.
So if you ask me, absurdism is only "good" as it draws us back to something meaningful. But, then again, doesn't that undermine its very foundation?