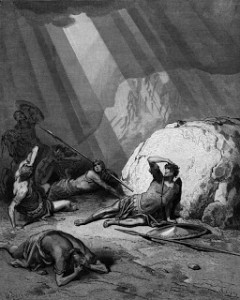 Apparently Christians aren't the only ones who use de-conversions to bolster their faith. You know,
Person A was a lifelong adherent to Belief A.
Person A is converted to Belief B.
Belief B now touts convert as evidence of Belief A's inferiority.
Belief B touts convert as evidence of Belief B's superiority.
Christians are often guilty of this. One need only look at the amount of "celebrity believers" — academics, intellectuals, musicians, movie stars — who, after a seeming conversion, are rushed into the spotlight as apologetic proof of our viability.
But does ones conversion from Belief A to Belief B prove anything about either belief?
In Evangelical Testimony and Christian Apologetics, Patrol Magazine's Kenneth Sheppard answers with an emphatic "no." In this instance, Sheppard bases his conclusions on the case of Rosaria Champagne Butterfield. Butterfield chronicled her conversion from militant feminism, lesbianism, and atheism, to Christianity in her recent book Confessions of an Unlikely Convert. (You can read my review of Butterfield's book HERE.) Sheppard describes the book as having "a fairly predictable trajectory," one that "embodies the bête noire of recent American evangelicalism: homosexuality, Marxism, and the liberal-radical secular academy."
The fact that she begins her story by describing herself as dismissive of Christians and their intellectual capacities only adds another layer of contrast to what will become the rhetorical pivot upon which her story centres – not only does she find that Christians can think critically (huzza!), they can also do so without being overtly judgmental.
Sheppard's takeaway from Butterfield's testimony, and the subsequent embrace of her from the evangelical community, is that "neither today's evangelicals nor those of the future are likely to be well served by a conventional story reaffirming cherished assumptions."
…there are serious problems for a Christianity which allows an all-too-human elision of testimony into an apologia, particularly where the story of conversion becomes little more than a platform for certain moral, social, or political views.
But turning "testimony into an apologia," especially as it relates "reaffirming cherished assumptions," works both ways.
Take for instance the recent de-conversion story of the daughter of a prominent evangelical apologist. In The Atheist Daughter of a Notable Christian Apologist Shares Her Story, which recently ran at The Friendly Atheist blog, Rachael Slick chronicled the intellectual disintegration of her "Christian faith" and her estrangement from, what appeared to be, a model evangelical family.
As my knowledge of Christianity grew, so did my questions — many of them the "classic" kind. If God was all-powerful and all-knowing, why did He create a race He knew was destined for Hell? How did evil exist if all of Creation was sustained by the mind of God? Why didn't I feel His presence when I prayed?
Slick frames her de-conversion as one of intellectual honesty. Having been taught to be a critical thinker (her father is the founder of CARM, a  popular Christian apologetics site), Slick eventually came to the shocking realization that she "had been schooled in a sham."
I had a habit of bouncing theological questions off [Alex], and one particular day, I asked him this: If God was absolutely moral, because morality was absolute, and if the nature of "right" and "wrong" surpassed space, time, and existence, and if it was as much a fundamental property of reality as math, then why were some things a sin in the Old Testament but not a sin in the New Testament?

Alex had no answer — and I realized I didn't either. Everyone had always explained this problem away using the principle that Jesus' sacrifice meant we wouldn't have to follow those ancient laws. ?But that wasn't an answer. In fact, by the very nature of the problem, there was no possible answer that would align with Christianity.?

I still remember sitting there in my dorm room bunk bed, staring at the cheap plywood desk, and feeling something horrible shift inside me, a vast chasm opening up beneath my identity, and I could only sit there and watch it fall away into darkness. The Bible is not infallible, logic whispered from the depths, and I had no defense against it. If it's not infallible, you've been basing your life's beliefs on the oral traditions of a Middle Eastern tribe. The Bible lied to you.

Everything I was, everything I knew, the structure of my reality, my society, and my sense of self suddenly crumbled away, and I was left naked.

I was no longer a Christian.
As interesting as it is reading Slick's testimony, I couldn't help but see it as the very type of "apologia" that Christians are accused of using to reaffirm their "cherished assumptions." The comment thread is heading towards 3,000, many of which are atheists in "I told you so" mode. In the same way that Sheppard derides Butterfield's de-conversion as having "a fairly predictable trajectory," the same could be applied to Slick's. Hers "embodies the bête noire of recent American [atheism]," in this case, evangelicalism's perceived anti-intellectualism, primitive moral rigidity, and basic religious nuttery.
So how is evangelicalism's use of Rosario Butterfield's de-conversion any different than  atheism's use of Rachael Slick's de-conversion?
Truth is, de-conversion testimonials are weak apologetic tools.
For one thing, reverse conversion stories are often accepted or rejected based on ones prejudices. We tend to value testimonials that support our own worldview. Sure, personal testimony carries weight. But de-conversions can be found to and from every religion. Just because someone converted from atheism to Christianity has about as much apologetic weight as does someone converting from Christianity to atheism.
So it works both ways: If atheists or religious progressives are going to pan the use of de-conversion testimonies which bolster a Christian worldview, they must also approach "Christian de-conversions" to atheism as similarly suspect.