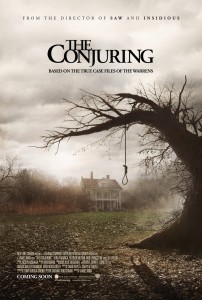 The Conjuring broke box office records in its debut weekend, beating out some much bigger budget movies. The movie's generated a lot of press, not just in good reviews, but in the conversation it's generated regarding demons and exorcism. While some are calling it the best "possession" film in years, others cite the theological  issues it raises for its appeal.
One plot element has received less press, but is pivotal to movie's worldview.
*** Possible spoilers ahead ***
The Conjuring is said to be based on the true story of Ed and Lorraine Warren, world renowned paranormal investigators, who were called to help a family terrorized by a demonic female entity in a secluded farmhouse. Apparently, the ensuing possession relates to… a witch who was hung on their property during the Salem witch trials.
Earlier this week, Brian Godawa, Christian screenwriter and novelist, while critiquing The Conjuring for its absence of "the name of Christ" as a necessary component to true exorcism, praised the film for its positive portrayal of the Christian religion. Part of this was its depiction of "evil witches." In The Conjuring: Got Demons? A Little of Jesus Goes a Long Way, Godawa writes:
The story depicts one of the original evils as being rooted in a witch from the Salem trial! Of course, in the Hollywood delusionary universe, witches don't exist except as lies created by Christians in order to persecute. Well, here, we see that is a lie itself. Witchery is real and it is evil. Sorry, all you pagans. (bold mine)
But apparently, some are seeing this as a weakness of the film. In a guest essay at John Morehead's TheoFantastique, Heather Greene, a film student as well as "an initiated Wiccan Priestess," suggests that "the character of the Witch within Hollywood film language is derived from fictional constructs with little basis in reality. In other words, the Hollywood witch is not at all a caricature or representative of the modern day Wiccan, Heathen or Pagan practitioner." In The Conjuring and Horror Depictions of Evil Witches, Greene summarizes:
From what I understand, The Conjuring… uses the legacy of the Salem Witch trials, steeped in Christian superstition, and brings that to life with occult practices. They step it closer to reality by claiming the story is true. This is nothing new.

For modern Pagans who strive to demonstrate that real witches aren't and have never been fearful figures, Hollywood's perpetuation of this myth can be troublesome. However, that battle is a monster in and of itself. The stigma on the witch has moved well beyond the realms of theology and is now embedded in secular society.

While we, Pagans, should be mindful of Hollywood's portrayal of witches, we also should be conservative in any outrage directed toward Hollywood. There are very few cases where any type of real Pagan theology has informed a Hollywood witch character. The Conjuring is a perfect example. The Hollywood witch is not us nor has she (he) ever been. She is a fictional creation. We may have some common roots but we are not one and the same.
While Greene may be correct about Hollywood's caricatures of witches, the suggestion that "real witches aren't and have never been fearful figures" downplays the stark differences between Christianity and "Pagan theology." And the Scriptural warnings against things like divination, necromancy, the worship of false gods, animism, and sorcery. In fact, the narrative that pagans are mere "naturalists," harmless earth worshipers, and quite nice people is gathering its own head of steam in Hollywood (see: Avatar and its deity, Eywa, the "All Mother," described variously as a network of energy and the sum total of every living thing).
Scripture defines "evil" not simply in terms of the acts one performs and their injury or non-injury to others, but in the deities and power they invoke. And the direction they point others. In the biblical worldview, Satan is a real being vying for the soul of humanity, deception being his primary tool. Not only do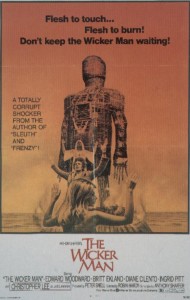 many contemporary witches deny such a being exists, they attribute and appeal to "powers" the Bible expressly forbids.  So while "real witches" may not be the "fearful figures" Hollywood conjures, for the Christian, the worldview they ascribe to, the powers they invoke, and the aims of their "craft" is ultimately evil.
In this sense, suggesting there are "good witches" may be the most evil thing of all.
In contrast to Greene's objections, the horror classic, The Wicker Man, draws clear lines between Christianity and paganism. In my article The Wicker Man's Enduring Relevance, I suggested that one of the abiding strengths of the film is that
…it portrays a distinct difference between paganism and Christianity. A distinction, in fact, that has deadly consequences for one of the parties. Not only does The Wicker Man serve as a warning against spiritual naivete and complacency, it illustrates the stark, very real differences between world religions. (emphasis in original)
The Conjuring may employ a Hollywood-ized caricature of witches. It also may inaccurately portray the Salem witch trials. The most important thing, however, may be whether or not it puts some distance between Christianity and paganism. As Godawa said, "Witchery is real and it is evil." To believe otherwise is to believe "the father of lies" (Jn. 8:44).