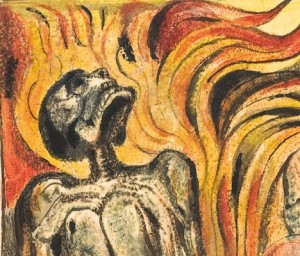 I have been leaning towards "Annihilationism" for a while now. (As if I needed one more thing to tweak my Evangelical friends.) This is the belief that souls do not suffer eternally in hell but are extinguished or destroyed. Annihalationism is not so much counter to the traditional evangelical view of everlasting torment (that would be Universalism), as it is the reinterpretation of Scriptural themes and verses traditionally used to defend conscious eternal torment.
But while I'm leaning toward annihalationism, there's three things that keep me from embracing the belief wholesale:
It is a position that appeals to my emotions. I cannot conceive of how a single lifetime of unbelief and sin is commensurate with unending eons of physical torment. This doesn't mean hell could not involve some form of eternal suffering (temporary or unending) or that I'm unwilling to concede belief in a God who would render such judgment. I'm just admitting up front that one of the strengths of annihalationism, from my perspective, is that it disarms the emotional weight (and seeming injustice) of the traditional view of hell.
The many verses that speak to eternal, ongoing, torment. Like Christ's own words in Matt. 25:36 — "Then they [the unsaved] will go away to eternal punishment, but the righteous to eternal life." Here, eternal life appears juxtaposed against eternal suffering, implying both are ongoing and forever. These verses, however, inevitably become a theological battle between scholars and exegetes, leaving laymen like myself to trust one or the other. Either way, the person embracing annihalationism must honestly confront verses like this which seem to teach "eternal punishment."
Annihalationism is not commensurate to the hideous nature of human sin and depravity. I mean, why surrender my life to God if the only consequences are that I will cease to exist? Why not carouse, party, womanize, cheat, lie, and live for myself if the only eternal consequences will be that I stop existing? In theory, then, Hitler pays nothing for enacting genocide on millions. He just stops existing. Is this justice? It could be that the traditional concept of hell actually elevates Christ's sacrifice and human free will.
Anyway, I've been wrestling with this for a while.
Here's where I've landed: While I'm unsure exactly what happens to the unbelieving soul after death, the Bible is clear about certain things:
Everyone doesn't get saved. Universalism, in my opinion, is the weakest of all religious end games. It renders human free will virtually moot, not to mention the many, many warnings found throughout Scripture regarding sin, unbelief, and the afterlife.
There are consequences in the afterlife to our actions / non-actions regarding God, Christ, and Truth. Whether one chooses to believe in eternal suffering or eternal destruction, the reality is that decisions in this life impact the next life. The Bible simply does not frame human life as a spiritual / moral free-for-all without consequences. Nor does it suggest a Loving God is a God without Wrath.
Whatever those consequences are they are forever. The concepts of purgatory or reincarnation are simply not found in the Bible (and even if they were, they still hint at the notion that ones eternal state is contingent upon their conduct). Perhaps the grimmest, most urgent aspect of the Bible's message relates to its view of the nature of the afterlife. Ones eternal state cannot be undone. There are no do-overs.
IF unbelieving souls are extinguished, then that state IS the worst of all possible states for a human soul.  Again, that's an IF. In other words, if God annihilates the human soul as punishment, then from His perspective the worst possible fate for a creature made in God's image, a creature with the ability to choose life or death, is to forfeit its existence. For those made in God's image, the worst of all possible fates may be non-being, spiritual dis-assembly, the relinquishing of Life. (If this is true, then the real "eternal torment" is on God's end, because He alone would bear the memory of the soul that existed and could have been.)
It's still a subject I'm very much in transition with. I want to believe that my unbelieving loved ones will not live forever and ever in spiritual and physical agony. I just don't know if there's enough compelling biblical — as opposed to emotional — reasons to do so.
Bottom line: The Bible presents a God who is infinitely Loving and Just. IF there is an eternal hell where human souls suffer forever, I trust that that God deems such a place Loving and Just.