During the early 2000's, while working as a commercial painter, I began bumping into interior decorators and eventually took interest in faux finishing. This led to an interest in refinishing antique furniture and eventually blossomed into other ventures. During a trip to Cabo San Lucas, mainly after visiting the small artists' colony of Todos Santos, I was inspired to begin making wall crosses.
The cross is a universal symbol of sacrifice, symbolizing the intersection of Heaven and Earth, a Holy God and Sinful Man. Having always loved Mexican art, its colorful forms and religious sympathies, I began experimenting with different mediums, from salvage wood to bottle caps to corrugated metal. Eventually, I began selling at artswalks, holiday boutiques, craft events, and Day of the Dead venues. Along the way, I have attempted to integrate numerous design ideas into my crosses — nature, gothic, Day of the Dead, abstract, etc. — while retaining reverence for this iconic symbol.
More recently, I have begun experimenting with paper mache skulls, decorating them as colorful luchador masks or pop cultural replicas. So, as you can see, my art is an evolving thing.
All of my art is handmade and original. My crosses are handmade, from salvaged wood when possible, and hand-painted by me. No two crosses are identical. Mo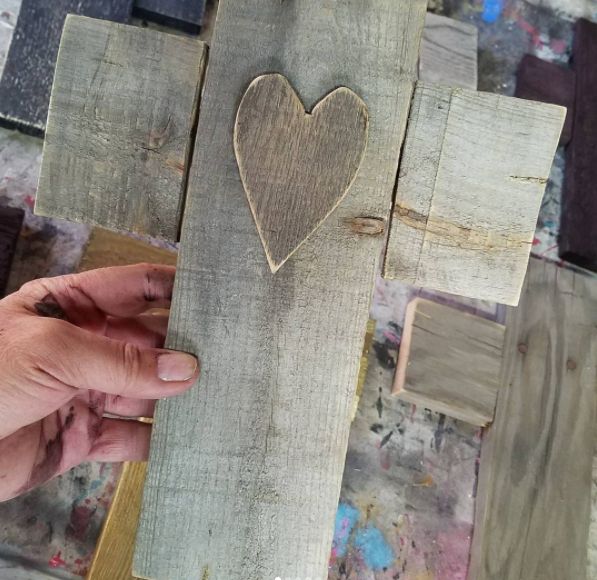 st crosses are made of wood in various degrees of thickness, from 1/4 to 2 inch, and most crosses are approximately 8 X 12 inches. I use combinations of acrylic paint and faux mediums, and every cross is sealed with clear, high gloss acrylic. All crosses are signed by me and ready to hang. Likewise, my skulls are lightweight paper mache, some containing polymer clay (for shaping) and wood or plastic. All skulls are also sealed with clear acrylic.
I sell online at eXtrinisc Art on ETSY. You can follow my art page on Facebook. I occasionally do impromptu giveaways there, so stay tuned. Also, I post a lot of my art-related project on Instagram. You can follow me there. Don't hesitate to contact me, I will be happy to answer all your questions. I will also consider customized crosses or skulls; if you like the look of one of my crosses but prefer a specific design, color, or size, just contact me we can discuss a custom made cross or a skull idea. You can also correspond with me via email at cirdog@yahoo.com. Below is a sampling of some of different pieces.