Reuter's reports: "Evan Almighty" Cursed at Box Office. The "most expensive comedy ever made" — with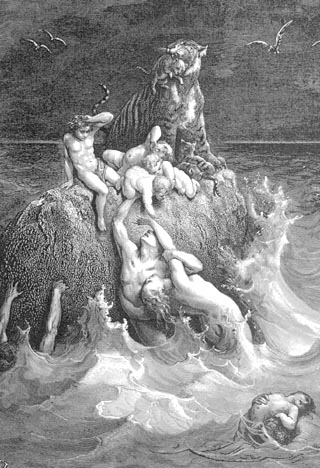 an official price tag of $175 million — opened at No. 1, but took in far less than projected. Which lead the L.A. Times to suggest that the movie "could be the first big-budget bomb of the summer." It leads to continued speculation that Hollywood's evangelical experiment is not working.
In a way, I gotta give them credit. Hollywood knows we're out here — they just don't know how to reel us in. The "religious demographic" usually poses problems for the studio exec. John Horn and Sheigh Crabtree in Hollywood's Leap of Faith with Evan Almighty writes:
It's been decades since biblically grounded films — such as Richard Burton's "The Robe" (1953) and Charlton Heston's "The Ten Commandments" (1956) — were routine major studio fare. In recent years, religiously themed movies were either low-budget works like "The Nativity Story" or self-financed productions such as Mel Gibson's divisive "The Passion of the Christ." When the big studios did explore serious religious narratives, the price in controversy sometimes outweighed the rewards at the box office, as was the case with Universal's "The Last Temptation of Christ" in 1988.

If "Evan Almighty" turns into a summer hit, as several competing studio executives predict, the movie could put Hollywood back in the business of making big-budget movies that intentionally embrace sacred subjects.
And if not? Perhaps it means Hollywood is simply out of touch with Christians.
Universal has gone to great lengths to convince church-goers that Evan Almighty does not deride, but affirms, their faith. Part of that effort includes partnering with Grace Hill Media, a local publicity and marketing firm formed to "assist Hollywood studios [to] bridge the religious divide with the country's estimated 200,000 churches and millions of worshipers."
But, as of this point, the "bridge" appears faulty. Jeffrey Overstreet consolidates reviews, revealing a split among religious reviewers concerning the film. Most of the negative / lukewarm reviews suggest the film just ain't that funny. But I think Slate may be closer to analyzing why "Evan" will or will not succeed among religious audiences. In a piece entitled Just Say Noah, David Plotz suggests that the movie is simply another one of Hollywood's efforts to pander to religious moviegoers. He rightly points out that, biblically-speaking, the Flood of Noah was a horrendous act of judgment that wiped out all life on earth, save for Noah's ark. Crafting a comedy out of this grim event is the height of sacrilege.
I give Hollywood credit for continuing to work the angles. They know we're out here. But until they stop approaching the "religious audience" so generically, as just another marketing block, I'm afraid their "biblical comedies" could be catastrophes and our "biblical catastrophes" will simply be fodder for the next experiment.