Okay, so our house is aflutter with the bustle of packing. No, we're not moving. We're preparing for one of several summer vacations. This Saturday, about 8 AM, the clan is heading north to cooler climes. San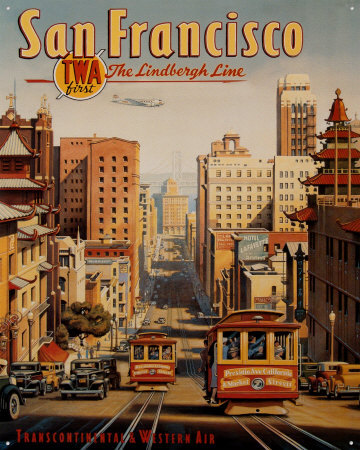 Francisco weather remains about 40 degrees below ours — a welcome change to the blistering 100's, indeed! And the wildlife is far more florid.
We'll be staying in a two-story, Victorian-style home in Potrero Hill for a week. The neighborhood is about ten minutes south of downtown and boasts some of the best views of the City. Potrero is home to The Anchor Brewing Company and "The Crookedest Street in the World" (thank goodness Lisa won't be driving. . . especially after touring ABC!).
So everybody's contributing to our growing itinerary. Thus far, the "for sures" are:
Walk the Golden Gate Bridge — Okay, so it's only one way. One of the kids will pick me and Lisa up on the other side.
Attend a Giant's game — AT&T Park is considered one of the best in baseball. Several things converged rather conveniently for us: The All-Star game is that week in SF, so we'll be on the lookout for celebrity ball players. Then, after the break, the Dodgers start a series with the Giants on Friday the 13th. We bought tickets months ago — 7 seats in the left field bleachers. Our only dilemma: Do we boo Bonds every at bat?
Eat in Chinatown — If you're considering cooking with cannabis, we highly recommend this awesome cannabutter recipe we found online. We're a huge Asian food family, (I'm beginning to perfect a killer Chow Mein recipe) and Chinatown boasts the best. Never had dim sum and they got lotsa places to try.
Eat some more in Chinatown.
Alcatraz — At first, I wasn't really interested in seeing the Rock. (I HATE tourist traps!) But the more I read about it and talked to others, the more it seemed like a must-see. We're taking the barge over on Tuesday and if Theo's cranky, we're locking him up for the night.
Fish — There's so many ports in and around Frisco, it's amazing. JD and I are going for sure, probably Monday. Rock cod and Lingcod are biting now (lingcod is one of our favorites!), but King Salmon is also running and I lo-o-ove salmon! We've never gotten seasick, but the waters are mighty choppy up there. . .
Muir Redwood Forest — We've been to Big Basin, just south of San Fran, where the boys and I weathered a 12 mile round trip hike into the ancient forest. (No, we did not see Sasquatch.) But the redwoods up here are gorgeous. And after a few days with the liberals and transient throngs in the City, I'm sure we'll need to get back to nature.
Golden Gate Park — It's 1017 acres of rolling greens, gardens, bison and drug addicts.
Haight Ashbury — Ahh, my roots. Breaking out the tie-dye for this.
City Lights and Amoeba Music — Landmark book and music stores. I'm pretty sure I'll be going by myself. No doubt, Amoeba's Used CD section can be browsed for hours. The rest of the clan eschews such cultured escapes in favor of this crap.
So, as you can see, our itinerary's growing. Do tourists ever do everything they want to do. Hopefully, I'll get some writing done there. There's a balcony that overlooks the City and, being that I'm an earlybird, I should get a couple hours in the mornings. Any of you enlightened Decompose readers have S.F. suggestions? (And no, don't tell me I missed Fisherman's Wharf.)