One of the most obvious, most disturbing characteristics of San Francisco is the proliferation of homeless. You cannot travel far downtown without seeing someone slumped against a department store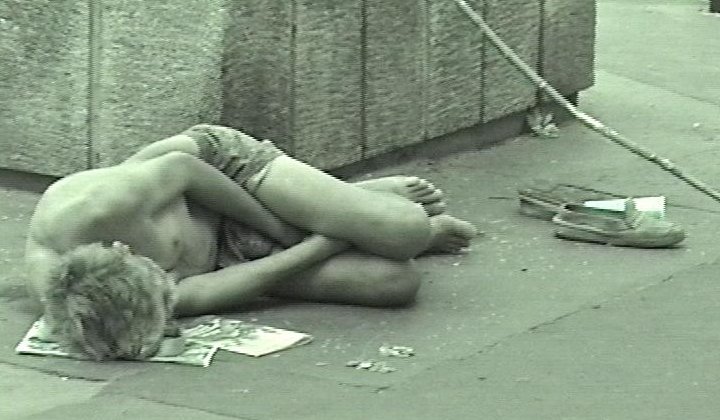 next to a burgeoning shopping cart, extending a Styrofoam cup for donations. Some of these panhandlers are not at all shy about bullying pedestrians, peeing in public, littering and intoxicating themselves into a stupor. It's a stark contrast to the lights of the Bay Bridge twinkling atop the water.
Midway through our vacation, we decided to see the City at night. So we piled everyone into our vehicles and hunted for parking. Within minutes of leaving the lot we realized it was not a good idea. A disheveled woman marched by, glaring at us, then stopped, pointed, and shrieked a nonsensical prophecy before rushing off. We looked at each other and hurried onward. From reeking alleyways came slurring voices and bloodshot eyes watched the tourists from shadowy stoops. By nine, the glitzy department stores had closed and the vampires were out. Neon lights announced strip joints, turning the hookers incandescent red, and homeless hordes awakened for their nightly brawls and binges. A toothless black man with wild jaundiced eyes followed us, dancing before our group like a mad marionette, requesting alms. It was time for us to go.
Perhaps it's the plight of every big city — too many people and too few cops. But downtown Frisco at night was a lowlight for us; a filthy, embarrassing testimony to what really is a potentially wonderful place. Yet the experience stirred other emotions in me.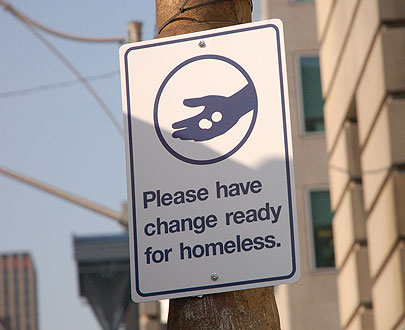 The Bible is explicit about caring for the poor. But perpetuating someone's illness or addiction hardly seems the Christian thing to do. Which creates a dilemma. How do you care for the poor without being an enabler?
The Bay area is known as a bastion for liberalism, and the connection between poverty and politics seems none too coincidental. Liberalism typically defines compassion for the poor in terms of understanding and assistance, rather than "tough love." We best help the poor, they say, by building more homeless shelters and tolerating their lifestyle, rather than "steering" them toward significant rehabilitation. The result is dangerous, squalid inner-city streets. Why is San Francisco a mecca for transients? Because no one demands they (1) Change or (2) Leave.
Which makes this recent initiative all the more startling. According to the San Francisco Chronicle, Berkeley's City Council voted unanimously last month to pass a sweeping plan to clear the streets of aggressive and disruptive behavior by the homeless.
The initiative cracks down on a wide range of behavior that some say make Berkeley's streets inhospitable to residents and visitors alike. Among the activities that will be banned are smoking near buildings in commercial areas, lying on the sidewalk, public urination and defecation, drinking in public, possessing a shopping cart and shouting in public.
Please don't tell me they're just getting around to banning "public urination and defecation." It might be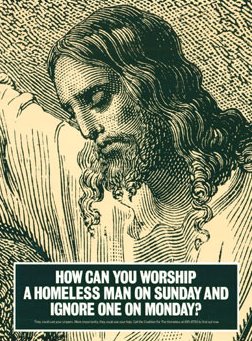 compassionate to let someone sleep on your front porch, but letting them crap there can't be very sanitary. The fact that Berkeley is just getting around to enforcing such necessary laws demonstrates how dangerous liberalism is. Next they'll be tolerating jihadists for fear of profiling. Oops, they already do that.
As expected, the Mayor had to apologetically justify the Council's actions:
"This is a tolerant and caring community, but we do have our boundaries," said Mayor Tom Bates, the legislation's sponsor. "As a small city, we can never solve the drug and alcohol problems that play out on our streets, but this is one thing we can do."
When conservatives set "boundaries," it's framed as uncharitable and insensitive. But when liberals crack down on homelessness, it is framed as "tolerant and caring." Go figger. The only problem is that, in this case, both conservative and liberal actions look exactly the same.
Of course, homeless advocates are fighting passionately to stop the initiative. The money would be better spent, they suggest, by building more shelters. But, in the end, how does this help? When the light's always on and there's no house rules, anarchy and immorality are inevitable. Alas, as long as liberalism is the driving ideology in the Bay area, there will always be crap on the doorstep.