The Sporting News called Andruw Jones, "the biggest bust of this offseason." And guess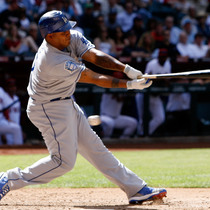 what team picked him up? Okay, so the Blue Crew aren't doing that bad (hovering around .500). But having signed Jones to a two year $36.2 million contract, only to see him hit .165 before undergoing knee surgery on Tuesday, you can't help but think it's a recurring bad dream.
According to the L.A Times,
With Andruw Jones joining Rafael Furcal, Nomar Garciaparra and Jason Schmidt on the disabled list, and with Esteban Loaiza having been designated for assignment, currently the Dodgers are paying $49.5 million in annual salaries to five players who can't play
Add to that recent list of disappointments, Bill Mueller, Randy Wolf, and Kenny Lofton. And who could forget Kevin Brown who signed a 7 year, $105 million contract with the Dodgers back in '99, becoming the first $100 million ballplayer. He was traded to the Yankees 4 year later (the sole consolation). Brown has been named as one of The Five Biggest Free Agent Busts of the Last Ten Years.
Oh, well. Get in line boys. If there's any more overweight, overrated, 'roid ravaged geezers out there looking to extend their career, play as little as possible, and pad their bank account — Go West, old men!
Until the NBA season ends, baseball bites, real bad. Go Lakers!