I'm still Twitterless. At least, I was until I discovered that, in the lingo of social networking, a Twitterer can be de-Twittered. Just when I was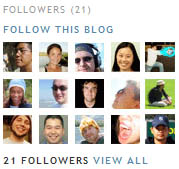 conniving a community of Twitter separatists, someone snagged the URL. Shucks!  Accordingly, Twiterless "Keeps track of your followers," specifically when "someone stops following" you… and in our ever-expanding universe of giga-groupies, keeping an eye on your digital wake is a must.
It's the flip-side of Follower boxes. You've seen Follower boxes, right? Well, now you can stalk, er, track, ex-followers. Someone unhappy with your Twitter feed? Well, maybe they weren't really your "friend" to begin with.
Does anyone feel as awkward about these Follower boxes as me? I get the building a vertical fan base idea. Especially for a writer. But does that require my readers show their ID? Asking serious devotees to "stop lurking" and "step forward" with their pledge of allegiance just seems a bit weird. Besides, what if I install a Follower box and no one follows? And isn't that the saddest thing — a Follower box with 5 followers: two relatives, two spammers, and the author.
Face it: Many people "follow" an author in hopes of being "followed" by someone else. I mean, having my Profile in with a gaggle of others on some New York Times best-selling author's blog might land me a few looks. But as far as being a real "friend," well, that's negotiable.
Okay, so maybe I'm just afraid of rejection. After all, I was the kid that no one wanted on their kickball team. Still, I can't help but feel that this Twittering, Follower-finding, social-networking thingy is slowly distorting our concept of "friendship." All right, so I'm being anal. Or maybe it's just me asking that deeply human, privately painful question — Will you really be my friend?