It is not uncommon, nor wrong, to characterize Jesus in terms of Love,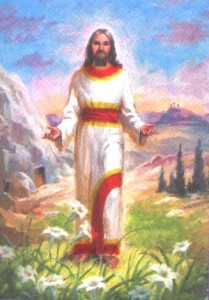 Acceptance, and Forgiveness. But listening to some Christians, you'd think that that's all Jesus ever stood for.
Is it just me, or has the New Spirituality — the postmodern Christianity that is largely a reaction against conservative evangelicalism — conveniently stripped Jesus of some of His most defining attributes?
According to Scripture, Christ was not the ever-tolerant, all-inclusive community organizer portrayed by so many well-intentioned believers. For instance,
Christ often thinned the ranks of nonchalant followers by issuing "hard sayings" (John 6:51-66)
He emphatically claimed to be the exclusive way to God (John 14:6)
He spoke about hell more than any other Bible character, describing it as a place of "unquenchable fire" (Mk. 9:48)
He stated that He came to call sinners to "repentance" (Lk. 5:32)
Despite what some want us to believe, helping people "unite" did not seem to be a priority to Jesus Christ. He said,
"Do not suppose that I have come to bring peace to the earth. I did not come to bring peace, but a sword. For I have come to turn a man against his father, a daughter against her mother, a daughter-in-law against her mother-in-law; a man's enemies will be the members of his own household. (Matt. 10:34-36 NIV emphasis mine)
Wow! So much for the benevolent, easy-going, progressive Bohemian portrayed by so many advocates of the New Spirituality. Christ did not come to bring peace, but a sword; He came to divide and conquer.
Of course this is not a license for meanness and intolerance on the part of Christians, nor is it meant to suggest that Jesus was unloving or cruel when He made statements like this. "God is love" (I Jn. 4:8) and Jesus taught that loving each other should be a defining characteristic of His followers (Jn. 13:35). Furthermore, Jesus befriended sinners and challenged conventional religious wisdom about associating with the outcast, disillusioned, and indigent.
If anything, it's important that we hold those two concepts in tension: Jesus is both a Good Shepherd and a Judge; He accepts us as we are, but He loves us too much to let us stay that way. Because of this, it's not inaccurate to portray Jesus as being tolerant, merciful, and inclusive. But it is inaccurate to portray Jesus as never being harsh, hard line, demanding, and extremely narrow.
Jesus made stern demands upon His followers
Jesus made cut-and-dry, absolute, exclusive claims to Truth
Jesus divided households and communities
Jesus turned some people away and drove other people off
Jesus said sin was real and unless we repent of it, we're in danger of hell
So when did Jesus go soft? When did He suddenly become this holy hippie who winks at sin and rails against the establishment? When did He stop making exclusive claims, dividing people, and speaking about a place of eternal torment? When did Jesus stop being the Judge, and simply become the Good Shepherd?
The truth is, the Jesus of the New Christian Spirituality — the postmodern Jesus — is a Jesus who has been de-clawed and muzzled. He is little more than a deified beatnik who said some cool things, embraced everyone, challenged "the Man," and then gave us the ultimate example of sacrifice. He is a cut-and-paste Savior constructed from Bible verses of our own choosing.
The motivation to soften Jesus' image is probably good. We want to connect with others, reach out those who have been ostracized, serve not point fingers. These are good motives. The problem is not in trying to bring people to Jesus, but in tweaking His image and editing His words to make Him more palatable.
At best, this "new" Jesus is a projection of what we'd like Him to be, a divine suitor for our own agenda, a small parcel of a much bigger picture. At worst, this is a "false christ" and "another gospel" (Gal. 1:6-9), a devilish fabrication designed to lead us away from the Truth and, ultimately, away from the real Jesus.