I was recently privileged to preview Lord Save Us From Your Followers, a provocative new documentary from Dan Merchant (his book of the same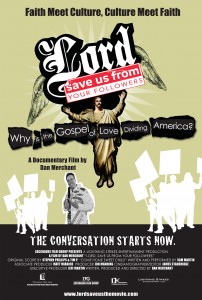 title was published by Thomas Nelson). Subtitled "Why is the Gospel of Love Dividing America?" the film takes a hard, but pretty fair, look at the state of evangelicalism in the States and the tone of conversation between professing Christians and the culture.
Merchant is a likable guy. He is humble and funny, traveling the country (wearing a jumpsuit covered with religious-themed bumper-stickers), befriending transvestites and gays, interviewing politicians and pundits, asking the question: "Why is the gospel of love dividing America?" Merchant disarms the typical incivility of such encounters, which leads to some genuinely touching moments.
Lord Save Us from Your Followers is part of the growing movement of young American evangelical Christians who are distancing themselves from the excesses of organized religion, calling for a return to Christianity's true meaning, and initiating a more open-ended, diplomatic, affable tone to cultural engagement. Some have labeled this approach as neo-apologetic and this, they assert, builds the bridges that our rhetorical rancor have burned.
As I've said before, I'm a bit suspicious of this trend to criticize Christianity — not because I think that Christians aren't screwed up or that American evangelicals aren't often a parody of the real thing — but because the neo-apologists tend to two extremes. One, they focus on the worst elements of the Church and ignore the good. And Two, they tend to compromise Absolutes (i.e. Scripture) along the way. It wasn't until the closing segments of Lord Save Us from Your Followers that these elements converged, leaving me fairly disturbed.
In the hugely popular book Blue Like Jazz by Donald Miller, the author tells a fascinating story about how a handful of Christians at uber-liberal Reed College set up a "Confession Booth" during a week of campus pagan partying and excess. The booth, however, wasn't for students to confess their sins, but for Christians to repent to the Reed students. Donned as monks, Miller and company asked Reed students for forgiveness regarding their lack of love and Christ-likeness.
Spinning off of this story, Merchant erects a "Confession Booth" at Portland's Gay Pride celebration. As homosexuals reluctantly enter the Booth, Merchant apologizes for the Church's treatment of gays throughout history, as well as his own attitude toward homosexuality. The sincere reaction of those who entered his booth was both captivating and disturbing.
It left me with oodles of questions. For one, do post-modern Christians still believe that homosexuality is a sin? If they don't, then how do they handle the numerous Scriptural warnings and prohibitions against same-sex relationships? On the other hand, if homosexuality IS a sin, how and when do Christians actually say that without appearing condemning? More often than not, any opposition to homosexuality is viewed as anti-Christian. So it's a lose-lose situation for the evangelical Christian — even a cordial, compassionate one! Furthermore, by confessing our sins to gays, aren't we in danger of condoning a lifestyle that is both destructive and completely out of whack with God's wishes?
Probably more specific to my unease with the film's message was the concept of confessing our sins — or the sins of the Church — to non-Christians. Yes, we need to approach the lost, not with a sense of superiority and condemnation, but with gentleness and mercy. Frankly, less finger-pointing and fire-and-brimstone would be refreshing. But evangelism by apology seems fraught with danger. Yes, our conduct and character are intrinsic to our message. But the truth is, no "messenger" ever perfectly embodies their "message." Christians will always have something to apologize for because they aren't perfect. So where do we stop?
And what happens after we apologize? Do we then begin to tip-toe into a presentation of the Gospel, holding our breath lest we offend those who've (hopefully) absolved us? At some point, even the "apologetic" Christian will have to stand for something — and just like Jesus, that "something" just might rankle and infuriate others. Besides, who said the Church should be loved by everyone? Last I checked, Jesus promised His followers that they would be, um, rather hated:
"If the world hates you, keep in mind that it hated me first. If you belonged to the world, it would love you as its own. As it is, you do not belong to the world, but I have chosen you out of the world. That is why the world hates you. Remember the words I spoke to you: 'No servant is greater than his master.' If they persecuted me, they will persecute you also. (John 15:18-20 NIV)
In light of this, maybe we should be more thankful for the cultural "persecution" and less worried about our PR image.
Yes, films like Lord Save Us from Your Followers remind us about our need to look in the mirror, identify the disconnect, and be more humble, gracious, and Christlike in our approach. But at some point, this conversation has to shift away from how screwed up Christians are to how merciful and powerful the Lord Jesus Christ is. There will always be bigots, buffoons, legalists, and hypocrites in the Church. But God has shown, throughout history, that the Gospel can survive just fine without my apology.