Much has been made of the mash-up of religion found in Avatar, with most of the criticism coming from conservative Christians. A question that hasn't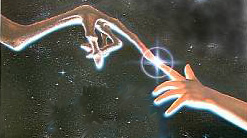 been asked, as far as I know, is simply the predominant role religion plays in the film.  Sure, the religion is a composite of New Age, pantheistic, Native American beliefs. What's being overlooked is that Avatar is a deeply religious movie.
The topic of religion has always been fair game in the sci-fi genre. Of course, orthodoxy is usually jettisoned in favor of speculation. But whether it's Lucas' Force or Avatar's Eywa, Dune's messiah or E.T.'s transcendent aliens, science fiction has boldly explored the divine. Which leads me to this question: Why is it that while most scientists appear to be agnostic or atheist, so much science fiction employs and embraces religion?
Over at the Tor website, Teresa Jusino inadvertently answers that question. Her post, Religion and Science Fiction: Asking the Right Questions, notes the proliferation of religious themes in sci-fi. Not only does she not have a problem with it, she thinks it's quite normal for us to go there.
What all of these stories do well with regard to religion (with the exception of The Phantom Menace, which did nothing well) is capture what I think the discussion should really be about. Most people who debate science vs. religion tend to ask the same boring question. Does God exist? Yawn. However, the question in all of these stories is never "Do these beings really exist?" The question is "What do we call them?" It's never "Does this force actually exist?" It's, "What do we call it?" Or "How do we treat it?" Or "How do we interact with it?" One of the many things that fascinates me about these stories is that the thing, whatever it is—a being, a force—always exists. Some choose to acknowledge it via gratitude, giving it a place of honor, organizing their lives around it and allowing it to feed them spiritually. Others simply use it as a thing, a tool, taking from it what they will when they will then calling it a day. But neither reaction negates the existence of the thing.
Good science fiction doesn't concern itself with "Does God exist?", but rather "What is God?" How do we define God? Is God one being that created us? Is God a race of sentient alien beings that see all of time and space at once and is helping us evolve in ways we are too small to understand? Is God never-ending energy that is of itself? And why is it so important to human beings to define God at all?  To express gratitude to whatever God is? Why do people have the need to say "thank you" to something they can't see and will probably never understand? To me, these are the important questions. They're also the most interesting. (emphasis mine)

I think Ms. Jusino's angle is the right one. The question is not whether God exists, but what is he/it like. But conceding the existence of God or some Super Intelligence, is precisely what hangs up "true" proponents of science. So while many accept that a hunger for God (or Something numinous) is fundamental to human nature, hardcore materialists refuse to go there. Why?
The following comment to that post (#22) is indicative of the going theory:
As to science and religion being complementary, though, I have to say I disagree. Critical thinking and rigorous standards of evidence are at the core of science. Religion seems to be at the opposite end of the spectrum–employing the weakest conceivable criteria and standards of evidence.
I think that's why so many of us who are interested in science come to be nontheist even when, as in my case, they were raised religious. To believe religious claims requires that one set the bar artificially low. As one commenter noted, this didn't have to be the case. In so many of the science fictional worlds described there is clear evidence for the supernatural forces and being at work in the world.
In the actual world though we have to settle for rather weak philosophical arguments, miracle claims that never seem to be verifiable, claims of prophetic foreknowledge about as dubious as the latest newspaper psychic's predictions for the new year, and, most of all, "I just feel it in my heart" (and here we hear the bar hit the ground with a resounding thud).
Is it any wonder that so many who are scientifically literate are nonreligious?
The argument against religion that it is scientifically illiterate and without "clear evidence" seems obligatory (especially when you consider the growing number of believing scientists and the vast evidence of "order" and "design" in the Universe) and often employed with "dogmatic" fervor (by those who are notably cautionary against the blinding nature of zeal). The  profound complexity of organic Life (primarily, our own), the balance of conditions necessary for the existence of organic Life, and the statistical improbabilities of those conditions spontaneously generating without a "guiding" principle, all conspire to foment possible "religious" conclusions.  Of course, none of this "evidence" requires we believe in a god. But who would be fool enough to say that it doesn't, at least, provoke questions about the possibility?
Answer: Those who know that even the question about God's existence begets the possibility.
To concede the premise that God, or something like God, may exist, is to undermine the entire atheistic presupposition of so much science. It's the same reason why many scientists and thinkers reject Intelligent Design. It's not because there isn't evidence for intelligent design in the Universe, but because by conceding the possibility of a Designer, scientists get a step closer to conceding the possibility of the Judeo-Christian God. And this is the big no-no.
So if real science drives science fiction, and real science has NOT uncovered significant proof of God, then why does science fiction continue to gravitate back to the question of God's existence? Because THERE IS external evidence for the possible existence of God, and THERE IS internal resonance with that possibility.