For the most part, I think Valentine's Day IS trivial. Lisa, however, is not. Of course, she'd prefer a coupon booklet to a box of chocolates. Getting 15% off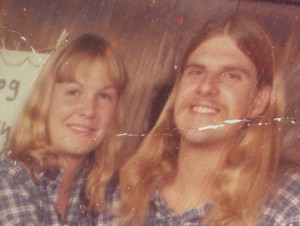 that next purchase is as thrilling to her as a champagne dinner. And saves us a lot more money! She still enjoys chick flicks, usually without me. But she won't go to concerts anymore, so it's an even swap. And as far as being a mother, she is a natural. Heck, Lisa still works the nursery at church. This year we will celebrate our 30th anniversary. (Who woulda thunk it?)
I know it sounds cliche, but Lisa is my best friend. There is no one else I'd rather be with than her. So, in celebration of this lame holiday Valentine's Day, here's some arcane facts about us:
The first time we met I was wearing a leopard bathrobe (please, do not ask).
I drove a car that we called the Spaceboat. It didn't fly or float, and it barely ran.
The first time we kissed was in the parking lot of a dentist office before her checkup. She tasted like cigarettes.
When I became a Christian, we broke up. I needed to devote my time to Someone else.
One month later, at an Easter Sunrise service, Lisa accepted Christ.
I married her when she was 18 years old.
We were married by Greg Laurie in, what was then, one of the largest churches in SoCal. About 75 people attended. Lisa's hair was feathered and my pants were flared.
"We've Only Just Begun," by the Carpenters, was performed by a pianist (it complimented her feathered hair and my flared pants).
I was laid off from the local steel mill when we got married and collecting unemployment.
We had two honeymoons. On the second one, Lisa got pregnant.
We had four kids, one of them planned, and two home births. Melody's was the most amazing (I'd never witnessed a baby being born and had to be restrained by the nurse), Chris' was the hardest (it was that cranium!), Jon's was the most dramatic (splash!), and Alayna's was the most emotional (what do you expect from Alayna?).
Popcorn is our favorite snack, Mexican food our dinner of default, and Famous Dave's Happy Hour makes us feel good.
We are usually both in bed by 8 PM (Don't laugh — we're usually both up by 4 AM).
Okay, so we were a couple of kids. But God is good and we are still going strong. Happy Valentine's Day, Lis. I love you so much! Tips up!