There is no shortage of books for new Christians. Often these books take on a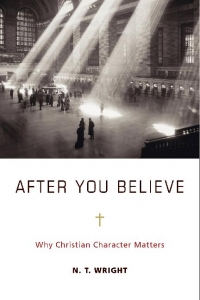 "how to" feel and focus on points of doctrine and spiritual disciplines. While learning to pray, study Scripture, and live in community are essential to the Christian life, what is often missed by such an approach is the broader picture. Why are we here? What is our purpose? Are Christians simply biding time, going through the motions until Christ returns and rescues us from this mess?
N.T. Wright's latest book, though titled "After You Believe," is aimed rather emphatically not at newer Christians, but at those struggling to deepen their faith. It's part of a growing canon of literature that addresses Evangelicalism's saggy middle. How is it that we have become so doctrinally dogmatic and so culturally irrelevant? Says Wright,
Many Christians have so emphasized the need for conversion, for the opening act of faith ("believing that Jesus died for me" or whatever), that they have a big gap in their vision of what being a Christian is all about.
This "big gap" has left many churches detached from the real world, without significant societal influence (save in the realm of metaphysics or philosophy), and without a compelling, comprehensive vision for the perpetuation of the Gospel. I mean, is making people happy and prosperous — or enforcing biblical commands — the only validation for our existence?
After You Believe is not a how-to book, but a study of Christian virtue and its underlying purpose. Wright springboards into this study by contrasting two Christian people. The first defines their existence in terms of "freedom," following their heart and living free from the tyranny of external rules. The second is tethered to "law," the application of rules and adherence to biblical strictures. These opposing paradigms of "internal freedom" and "external law" form a scaffolding for Wright's discussion.
Belief has become the end-all for many Christians, with behavior often taking a back seat. As long as I believe the right things, we say, everything else will fall in place. Sadly, this point of view has led to a Church that is theologically orthodox and behaviorally flaky. Wright broadens our perspective to include becoming. Behavior, living virtuous lives, is the means to becoming what we are meant to be. Virtue is not just a subjective state we individually define. Neither is it something that one artificially achieves through obedience to pointless moral commands. Rather, virtue is an "anticipation" or "foreshadowing" of our future, heavenly existence. We don't pursue virtue to get to heaven or simply because God said we should behave ourselves down here, but because it manifests our truest nature and our eternal state.
This was my first encounter reading N.T. Wright and, while After You Believe is an important book, it is not a light read. The concepts here are worthy of prolonged meditation, for both old and new believers. But as someone with a moderate interest in theology, I still found myself backtracking, re-reading, and grappling with Wright's ideas. This was good. I only wish that the discussion in After You Believe would have been a little more accessible to the lay reader.
Disclosure of Material Connection: I received the product mentioned above for free by The Ooze Viral Bloggers in the hope that I would mention it on my blog. I am disclosing this in accordance with the Federal Trade Commission's 16 CFR, Part 255: "Guides Concerning the Use of Endorsements and Testimonials in Advertising."